Seeking the Top 100 Public Spaces in the U.S. and Canada
Planetizen and Project for Public Spaces want you to help us determine the best public spaces in the United States and Canada. Add your favorites to our list, and vote for other submissions to move them up in the rankings. The results will be published on October 20th, 2011.
Two years ago, we asked you, our esteemed Planetizen readership, to help us determine the Top 100 Urban Thinkers. With thousands of votes, the crowdsourced list was provocative, unique and – to our amazement – very comprehensive. We'd like to access that same collective brainpower for our latest venture, in collaboration with the experts in this area, Project for Public Spaces (PPS).
In evaluating thousands of public spaces around the world, PPS found that successful ones have four key qualities: they are accessible; people are engaged in activities there; the space is comfortable and has a good image; and finally, it is a sociable place: one where people meet each other and take people when they come to visit. Use these guidelines to help you choose your own selections, or use your own criteria to select your favorites.
Technically, there many examples out there of seemingly "public" spaces that are actually privately owned public open spaces, or POPOS. While the public/private distinction is interesting and sometimes problematic, we're going to ignore it for the purposes of this list. If Redwood Park, which is operated by the Transamerica Pyramid Building management in San Francisco is in your opinion one of the best spaces for the general public to gather and enjoy each other's company, feel free to nominate it. That said, let's draw the line at fully-enclosed private malls.
PPS offers another way to think about the success of public spaces, using the handy chart below. Imagine that the center circle on the diagram is a specific place that you know: a street corner, a playground, a plaza outside a building. You can evaluate that place according to four criteria in the red ring. In the ring outside these main criteria are a number of intuitive or qualitative aspects by which to judge a place; the next outer ring shows the quantitative aspects that can be measured by statistics or research.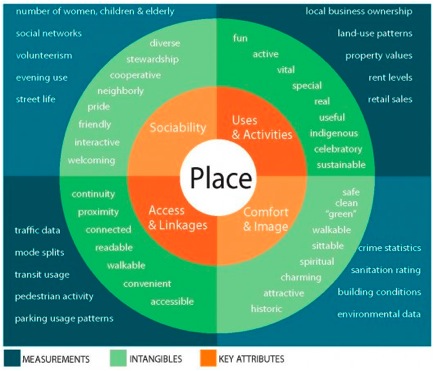 For ideas, images and more, you can browse PPS' database of Great Public Spaces. For the purposes of this survey, we're not limiting the selections to, say, civic squares. A lot of the best public spaces today are pedestrian corridors, parks or markets.
If you're ready to vote, head over to publicspaces.ideascale.com and add your suggestions. You can also vote on other submissions. Voting will close in one month on 10/15, and we'll release the results shortly after.