Urbanist Peter Kageyama's new book suggests that the "loveability" of a city as a factor in its success is greatly underappreciated. Mike Lydon has this review.
---
When discussing cities, "livability" may not be easily defined, but it is certainly measured and referenced with increased frequency.
But what about lovability?
Peter Kageyama, founder of Creative Cities Productions, tackles this question in the recently published For the Love of Cities: The Love Affair Between People and Their Places.
In the introduction to this fast moving 215-page book, Kageyama asserts that when considering the improvement of cities, the pursuit of livability, no matter how it is defined or measured, is not enough.
He writes: "Livable is good-it's a fine aspiration that we have yet to achieve on any large scale. But I think we can do better. Instead of merely livable, I think we need to start thinking about how we make our cities more lovable. When we love something, we cherish it; we protect it; we do extraordinary things for it."
The work of Jan Gehl, Richard Florida, and Charles Landry-a triumvirate of urbanists known for deftly quantifying a city's more qualitative characteristics-clearly informs Kageyama's work. Indeed, you won't find a single dry economic, public health, environmental, or other statistical indicator between the book's cover. Nor will you find the standard recounting of America's city planning history-I've read enough of those too. And while the author does briefly lean on James Howard Kunstler's work to describe how Americans have built too many places not worth caring about, this is simply a book about cities, those who love them, and why that matters when discussing their future.
Thus, you will discover that San Diego has the most dog-friendly beaches; that Providence is home to the most grant makers per capita; and that Pittsburgh's Primanti's Bros. offer a deeply loved, place-based cuisine. Quirky facts these may be, but the author explains that they are just a few demonstrable ways cities become more appealing and more lovable to their current and potential inhabitants.
While the book covers a range of relevant topics- the importance of walkability, openness, and increasing public engagement through social media-the book focuses mostly on "co-creators" and how they make cities more lovable. And according to Kageyama successful cities consistently attract and retain an evolving community of co-creators – those committed entrepreneurs, artists, performers, organizers, and concerned citizens-who "make things, and make things happen."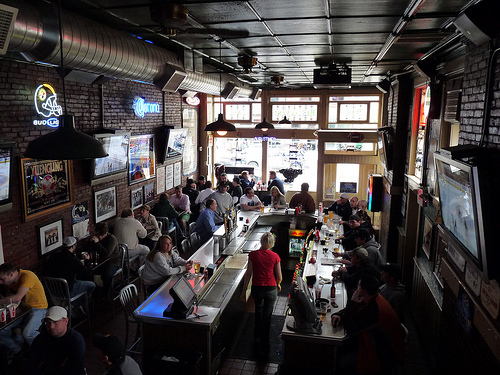 The author notes that while such a group represent a fraction of the population, they help produce a majority of the uniquely urban experiences consumed by the rest of us. The author aptly compares this phenomenon to Wikipedia, where less than 1% of users actively defines the user experience and encourages people to return time and time again. Thus, co-creators are critically important in not just growing a city's creative capital, but it's social and economic capital as well.
Throughout the book, Kageyama identifies many co-creators in cities across the country, which makes For the Love of Cities an interesting, but also a light read. It's almost a who's who for some of America's up and coming creative hubs-Kageyama's unapologetic bias towards underappreciated rust belt cities, including those he has worked with in producing the Creative Cities Summit, certainly shines through.
Indeed, if you are looking for love in St. Louis, the author introduces the reader to STL-Style, a local apparel company that shows its civic pride through the celebration of that city's idiosyncrasies. Or, if interested in knowing more about Detroit's growing cultural and entrepreneurial renaissance, the author shares with us the story of Phil Cooley, proprietor of Slow's BBQ, Claire Nelson of the Bureau for Urban Living, and the work of Broken City Lab, a Windsor, ON-based artist collective involved with re-imagining the post-industrial city. Co-creators and their various initiatives are also highlighted in Tampa Bay, Lexington, New Orleans, Cleveland, and elsewhere.
In the final chapter, Kageyama implores that co-creators should be intentionally engaged and networked, as "the role they play is too important to leave to chance or serendipity." Presumably, he believes municipal leadership should help take the reins in attracting and connecting the co-creating cohort. Or at least, the municipality should not stand in the way.
In the book's concluding pages, the author also notes that even a city's most engaged citizens can get burned out, move away, or undertake other obligations that cause them to go "into hibernation." Yet, Kageyama asserts that co-creators are a self-renewing resource in places where they are nourished.
"The opportunity and ability to produce, to make new things and to contribute to our places is fundamental to our human nature. Most of us will not act on these impulses but potentially all of us can. And for those that do want to make and contribute, our communities need to find ways to encourage, grow, and channel this unique natural resource that is our innovative, creative and entrepreneurial capacity."
If the book has a weakness, it's the overuse of love and relationship analogies (Holding Hands With Your City, Marrying Your City, Breaking Up, etc) found throughout the book's nine chapters and many sub-sections. Additionally, the book could have used another round of editing, as words seem to go missing in the middle of select sentences, including a quote from this writer.
Nonetheless, by aggregating "lovability" indexes, profiling a number of impassioned citizen-co-creators, and sharing his own personal anecdotes, Kageyama skillfully supports the book's main premise: good things happen when citizens develop a passion for place.
So, the questions remains: Have you loved your city today?
This six-course series explores essential urban design concepts using open source software and equips planners with the tools they need to participate fully in the urban design process.
Learn the tools for implementing Universal Design in planning regulations.
View More