The Dichotomy of Global Home Prices
Hong Kong and Singapore experienced a double-digit growth in the housing market. And so did Ireland - albeit in the opposite direction. In the U.S., prices dropped about 5% from last year. What gives?
The Economist reports:
"America's housing market has overshot the fair-value mark, as measured by the long-run average ratio of house prices to rents. Rents are rising: an increase in the cost of rental housing contributed to May's robust American inflation data. With home ownership looking a better deal, prices should stabilise [...] The pace of sales has been sluggish but an index of pending home sales posted a surprisingly large gain in May."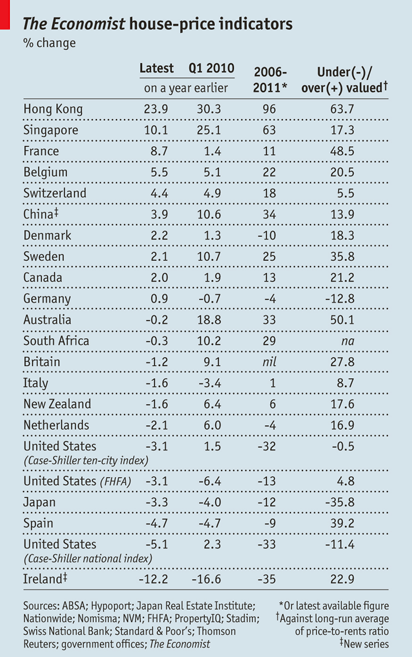 "The best news of all may be the ongoing improvement in credit conditions. Delinquencies have trended downward since late 2009. Consumer-debt payments relative to incomes are at a 17-year low and household credit scores are rising. Banks are still being stingy with credit but households are better positioned than they were to take advantage of cheaper homes."
Topics