When it comes to Jane Jacobs, planners pick and choose what they find useful, says Roberta Brandes Gratz, missing Jacobs central argument for grass-roots, bottom-up planning. Gratz reviews a new book "Reconsidering Jane Jacobs."
---
Planners have a problem. It is something of a conundrum. On the one hand, they acknowledge the value of the urban principles of Jane Jacobs and want to claim to apply them. At the same time, however, they argue that Jacobs' advocacy of community engagement has degenerated into NIMBYism, is out of control and has undermined the authority of their profession.
This, indeed, is a problem because community engagement was a cornerstone of Jacobs' philosophy. Of course, she meant engagement before plans are drafted by the professionals not after. The former gives stakeholders the chance – no guarantee – to influence the outcome; the latter almost guarantees community resistance. Jacobs' way is not usually the professional planner's way.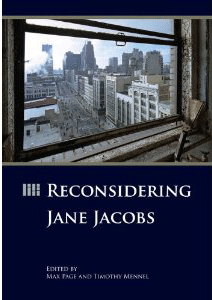 In this interesting collection of essays by planners, historians and academics, Reconsidering Jane Jacobs
, edited by Max Page and Timothy Mennel, we find both this frustration expressed, along with some interesting perspectives from different professions. Too many planners think that Death and Life was about planning, about them. Although Jacobs opened that book with "This is an attack on current city planning and rebuilding," that seminal work is really about understanding how cities work, the importance of observing the city on the ground, and recognizing how everything is connected, always changing, always organic and much too fluid to be readily reflected in a Plan. Jacobs' condemnation was of a field wedded to theories of how things should be instead of how they were and in the process denying the essence of urbanism itself.
As scholar Peter Laurence points out in the chapter "The Unknown Jane Jacobs: Geographer, Propagandist, City Planning Idealist", the young Jacobs, who studied a diversified assortment of subjects at Columbia University, was drawn primarily to the Department of Geography, "whose multidisciplinary approach appealed to Jacobs." Ecology, both human and natural, is a theme that runs through all of Jacobs' work and is more reflective of her thinking than planning ever was.
It may come as a shock to many that, as Laurence notes, Jacobs "idealized the field of city planning and supported urban renewal" in the early 1950s. But it should not shock anyone who understood that Jacobs modus operandi was to learn from the city, to observe what works and what doesn't and, most importantly, to be perfectly willing to be proven wrong. In fact, in the last years of her life, Jacobs was working on a book about how her thinking had changed and where she saw things differently. Early on, as Laurence points out as well, Jacobs admired Philadelphia's master planner Ed Bacon. But as all know who ever heard her sharp critiques of Bacon's heavy-handed planning strategies – "the vistas, the beautiful vistas is all he wanted to show me," she would say – Jacobs could change her opinion of a person or a place depending on how things actually played out on the ground.
Laurence's contribution importantly spotlights many of the phases of Jacobs' career, from her early work for a steel industry trade magazine through her wartime work with the State Department and early free-lance articles on the fur and flower districts of New York. So many components went into her non-academic education that the staggering breadth of knowledge reflected in all her writing becomes comprehensible. This is an important piece to understanding that Jacobs' aim was to initiate a "different system of thought about the great city."
Architecture and history professor Max Page's contribution ("More Than Meets The Eye") goes far in presenting the broad scope of Jacobs' writing and influence, noting that she had "a particular ability to explain the workings of seemingly incomprehensible cities." This, simply, is exactly what she set out to do, although to many commentators who feel the need to bring her down a peg erroneously claim she advocated low-rise neighborhoods, opposition to bigness, resistance to infrastructure and other ideas found nowhere in her non-prescriptive writing.
As Page notes: Many who profess to understand Jacobs' ideas don't, and many more who profess not to know of her work have in fact been deeply influenced by it."
Interestingly, co-editor Timothy Mennel posits Jane Jacobs' view of the city in supposed contradiction to the view of Andy Warhol. "Much as Jacobs sought to look at the streets of the city with fresh eyes and to draw attention to their nuances and functions, Warhol seems to be asking viewers of his paintings to consider the codes and gestures by which people move through social space." Yet, one might argue that Jacobs is actually doing both.
English professor Jamin Creed Rowan ("The Literary Craft of Jane Jacobs") notes that Jacobs "thought of herself first and foremost as a writer" and spotlights the literary influences of her time, placing her in an interesting perspective. Her clear, accessible style, he suggests, is what brought her such a wide audience.
Richard Harris, a professor of geography and earth sciences, speaks for many academics when he refers to her "lack of rigor, her reliance on anecdotal examples, her inconsistency in citing sources, and her apparently cavalier approach to research." Jacobs was a journalist, an observer, a commentator. She frustrates academics who abide by different rules, rules that Jacobs made no attempt to live by. It may be true that she was "ill-equipped, as well as disinclined, to construct a fully documented narrative" but, above all, Jacobs wanted the reader/observer to determine that proof. Harris concedes that "In sum, she steadily grew a body of theory about how and why cities matter."
Ironically, Harris quotes the much revered Lewis Mumford who condescendingly dismissed Death and Life as "Mother Jacobs' Home Remedies." In reference to the urban redevelopment Jacobs focused on, Mumford said, "there is no dividing line between the dynamic forces Mrs. Jacobs favors and the cataclysmic forces she opposes." Really? No difference between organic, incremental development and big master plans like urban renewal? Why is Mumford always cited so uncritically while Jacobs needs to be reconsidered? A re-examination of Mumford reveals many questionable assumptions and declarations, starting with his disdain for Rockefeller Center. He's more of a suburbanite than his admirers might acknowledge.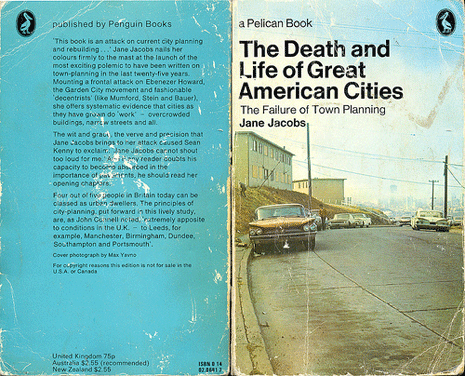 But, back to the Planners' Lament so well articulated by Planning Professor Thomas J. Campanella, who observed that "the planning baby was thrown out with the urban renewal bathwater" and the profession became "fragmented and balkanized" with a "chronic identity crisis." If planners want to understand their reputation for arrogance, this piece is a must. "And there are times when citizens self-interest and the greater social good do overlap," he observed.
What a slap in the face of citizens that statement is yet, ironically, he proceeds to tell the most interesting story of how a "group of citizens-most with no training whatsoever in architecture, planning, or design-came up with a very good idea that planners should have had?" (Emphasis his.) The idea, hatched over a cup of coffee in a local gathering place in Hillsborough, North Carolina? The town should build a train station and persuade Amtrak to stop there which it did until 1964. One thing led to another. Local officials, other citizens, the newspaper, all agreed. Campanella's students did conceptual plans. The town proceeded to buy the land for a station and "Amtrak, unprompted, produced a study showing that a Hillsborough stop would be profitable."
This might not have come from "visionary" planners but it is, in fact, exactly the kind of grass-roots, citizen-based planning that Jacobs was all about. So in the Reconsideration of Jane Jacobs, maybe there is room for reconsideration by planners of the value of this bottom up process that Jacobs celebrated, a process that considers both the local and the "greater social good."
Jacobs never said that citizens should "rule," just that they should be engaged and listened to and, like in this very revealing tale, respected. More often than planners would like to acknowledge, the best ideas for positive change emerge from citizen engagement. It is so logical that those who live or work in a place understand it best, understand its needs and flaws. In the process, those local ideas, just like the above example, improve the larger world, something Campanella seems to think can only come from planners. Few planners and architects really fully understand Jacobs' idea of urbanism. They pick and choose elements to include in their designs and plans but neglect to understand the organic nature of the whole. Jacobs' urbanism can't be "designed," "planned," "codified." It is a process that unfolds over time within a framework of principles and not developed at one time. Jacobs was not about "physical form," planning professor Jill L. Grant ("Time, Scale and Control: How New Urbanism Mis(Uses) Jane Jacobs") suggests although Grant correctly notes that Jacobs "affirmed that good design makes a difference in outcomes." Jacobs perhaps overused Greenwich Village as a laboratory, even though she also wrote perceptively about Harlem, Boston's North End, Philadelphia's Rittenhouse Square and other places. To fully understand Jacobs' ideas about mixed use – especially her emphasis on industrial uses, diversity and density, one has to consider Jacobs' whole body of work.
Grant notes perceptively: "Covenants and design codes limit the potential for design changes, seeking to freeze form in a unique moment in time. The libertarian streak in Jacobs would rebel at new urbanism's unwillingness to let time exact its traditional influence on the city." Grant does a good job spotlighting the irreconcilable differences between the two but, actually, this need to control, the leaving of "little space for democratic action or organic transformation of urban form over time," applies to most planners and urban designers.
There seems to be an insatiable need by many planners to use Jacobs selectively to satisfy their own need to prescribe, codify and control which is antithetical to fundamental Jacobs. The real challenge to the profession is to shift away from having to be controllers and proscriptive experts and toward being better listeners, observers and enablers of authentic urbanism. This collection makes that clear.
---
Roberta Brandes Gratz is an award-winning journalist and urban critic whose most recent book is The Battle for Gotham: New York in the Shadow of Robert Moses and Jane Jacobs
.
The Right to Mobility
As we consider how to decarbonize transportation, preserving mobility, especially for lower- and middle-income people, must be a priority.
Early Sharrow Booster: 'I Was Wrong'
The lane marking was meant to raise awareness and instill shared respect among drivers and cyclists. But their inefficiency has led supporters to denounce sharrows, pushing instead for more robust bike infrastructure that truly protects riders.
This six-course series explores essential urban design concepts using open source software and equips planners with the tools they need to participate fully in the urban design process.
Learn the tools for implementing Universal Design in planning regulations.
View More