Sharing Burritos Across the Border
Architecture prof. Ron Rael redesigns the U.S./Mexico border to encourage interesting interactions rather than just exclusion.
Rael is not a fan of the border, reports David Zax, but figures if it's going to be there, it should be better.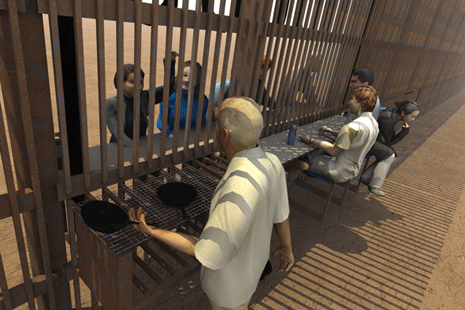 image courtesy of RAEL SAN FRATELLO ARCHITECTS
Zax writes: "Among the stations he [Rael] envisions along the wall are a volleyball court, a confessional, a lending library, a water catchment system, a wastewater treatment plant, a solar farm, and even a "burrito wall" featuring "a food cart inserted into the wall, allowing people from each side of the border to share a meal, chat and conduct business, all within full view of security.""
Published on Thursday, March 31, 2011
in