Buses Add Car Racks to Ease L.A. Drivers' Uneasy Transition to Transit
Rising gas prices have pushed many in L.A. to ditch their cars in favor of public transit. But the switch has been tough for some car-tethered Angelenos, so the MTA has added car racks to its buses for those not ready to leave their cars behind.
The car racks were installed last month, and have already become popular among new riders. Lines of cars can be seen at rush hour waiting for buses with empty racks.
"It's really made the idea of riding the bus much more palatable," says Harris K. Telemacher, a lifelong Angeleno who started riding the bus for the first time when the racks were installed. "I mean, I have a car, so why wouldn't I bring it with me?"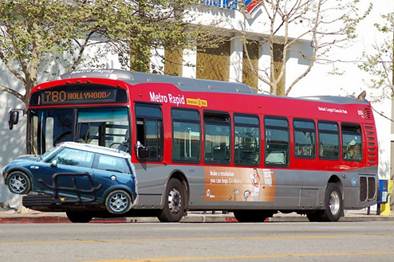 Published on Friday, April 1, 2011
in
Topics