With gas prices increasing rapidly, Scott Bernstein of the Center for Neighborhood Technology says the most effective solution is to reduce the demand by creating more "location-efficient" communities.
---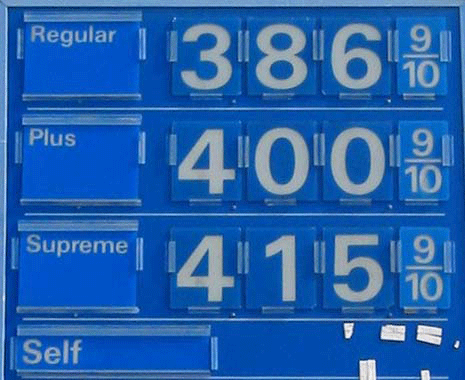 With some regularity and predictability, Americans begin driving more in late spring, putting pressure on gasoline supplies and prices. Summer 2008 was a watershed moment: gasoline prices topped $4/gallon. Here in Chicago we're rapidly approaching yet another defining moment. Gas prices increased a whopping 36 cents in the two weeks between February 21 and March 7, although the average price has hovered around $3.72 since then.
We last experienced $3.72/gallon gasoline on April 21, 2008, so in a sense we're running at least a month ahead of the 2008 price run-up. Lessons from that price spike offer constructive insights about how Chicagoans might avoid the effects of high gas prices this time around and into the future.
Between July 2000 and July 2008, the average price of a gallon of gas increased from $1.99 to $4.30 in the Chicago area, increasing three times faster than the cost of housing and six times faster than the region's area median income. The price spike cost the Chicagoland economy-its families and businesses-billions of dollars, with little benefit. We don't produce petroleum or gasoline in Chicago; we consume it. We do tax it, but that tax is a flat per-gallon amount (and has remained the same for decades), so price increases don't do us any good. Chicagoland's households consume 2.4 billion gallons of gasoline per year. Each penny of price increase costs us $24 million; each dime $240 million; each dollar $2.4 billion; and so forth.
The current rapid increase in gas prices has prompted talk of opening the nation's Strategic Petroleum Reserve, but this will at best buy us a couple of months nationally, with no assurance of relief here. The best long-term response to rising gas prices is to reduce demand for gas. President Obama spoke about reducing demand in a press conference last week and the need for more fuel-efficient cars. Increasing the energy efficiency of our cars is important, but equally important is the need to reduce the number of miles we drive.
Chicagoans have reduced their driving before. According to the Illinois Dept. of Transportation, annual vehicle-miles traveled (VMT) per household decreased 4.1 percent in the six county region between 2005 and 2009. VMT per household in Chicago fell 2.5 times more than VMT per household in suburban Cook County and the collar counties. "Location efficiency"-a fancy term for convenience and accessibility-accounts for the difference in VMT reductions. Areas well-served with public transit and nearby jobs and services simply require less travel because residents have the option of walking, riding a bike, taking public transit, or driving. The Center for Neighborhood Technology, the organization I lead, has mapped this down to the neighborhood level for Chicago and 336 other regions of the country with our Housing + Transportation® Affordability Index.
Our research shows that households in "location-efficient" communities were less vulnerable to the 2008 gas spike. Comparing July 2000 to July 2008 gas prices (and assuming driving behaviors remained the same), we found that transportation costs as a percentage of income increased from 9.7 percent to 12.6 percent for households earning the area median income in the most location-efficient communities. Meanwhile, typical regional households earning the area median income in the least efficient and least convenient places saw their transportation costs increase from 27.9 percent of their income in 2000 to 35.8 percent of their income in 2008.
Residents of the most location efficient communities-cities and suburbs served by transit-were able to hold down their costs partly by increasing their use of public transit, and in fact those places saw the greatest increases in transit ridership. Communities with poor transit access had the lowest increases (or even declines) in transit use over that period.
The stakes are high. Financial pressures caused by rising gas prices may push households coping with unemployment and under-employment into even greater financial distress-less disposable income, lower savings rates, mortgage defaults and foreclosures, and personal bankruptcies. All parts of our region face this situation, but foreclosure data suggest the suburbs are worse off, given that the number of foreclosures were more than twice the number of foreclosures in the city between 1998 and 2009.
There are common sense near- and long-term solutions to the gas price squeeze. Reducing demand for gas means expanding the number of location efficient communities. Projects to make that happen, such as expanding transit, will take a sense of urgency, investment and some mechanism for sharing risk.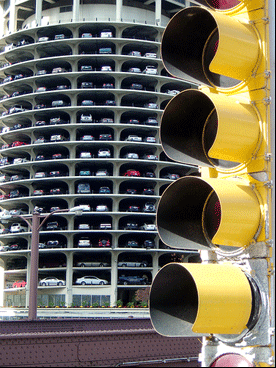 Investment is certainly difficult given current budgets at all levels of government. However, Los Angeles is advancing a plan to complete a $40 billion, 30-year transit expansion program in just 10 years. The city is negotiating with officials in Washington to secure federally backed bonds that will be paid off with a half-cent sales tax that residents approved in 2008. One new transit line is already being piloted using this model. Congressional leaders and President Obama have  proposed a national infrastructure bank that would allow other regions to share risk with the federal government. A local-federal approach could accelerate CTA, Metra and Pace improvements and shrink the amount of time Chicagoans will remain exposed to volatile transportation costs. Our new mayor-elect, Cook County board president, and Governor Quinn need to champion this now.
There are other ways our elected officials can help Chicagoans avoid the brunt of high gas prices and reduce the cost of living this year. Strategies include:
Maximizing the use of employer-administered pre-tax transit benefits, an underutilized "use it or lose it" federal tax break. Employees can save up to 40 percent on their commuting costs, and currently Cook County employers can receive up to $1,700 for enrolling employees in the program.
Committing to maintain transit service despite ongoing budget problems. Cutting service would transfer even more transportation costs to the city's residents, which would be counter-productive to economic recovery efforts.
Promoting car sharing and carpooling. Chicago's homegrown car sharing company, I-GO, can get people where transit doesn't. Members save over $5,000 annually by sharing instead of owning a car. Roughly 400,000 Chicagoland commuters already save money by riding to work with a friend. Our leaders should encourage more of that.
Creating a comprehensive plan for the region's transit system that will position Chicago to take advantage of new public resources as they become available. The federal government is working its way through the reauthorization of the surface transportation bill, and savvy local initiatives that lower the cost of living and doing business while creating jobs are those likely to receive support. 
Our region's households and businesses spend over $60 billion annually on transportation, representing a $60 billion drag on economic recovery. The status quo is no longer an option. The region's newly elected leaders need to move quickly to protect their residents from volatile transportation costs.  There's no time to waste.
---
  Scott Bernstein is the president of the Center for Neighborhood Technology, which is based in Chicago. 
    
Planning for Congestion Relief
The third and final installment of Planetizen's examination of the role of the planning profession in both perpetuating and solving traffic congestion.
Urban Design, Transport, and Health
The Lancet medical journal published a series of articles that explore how to evaluate and guide urban planning decisions to create healthy and sustainable cities. Live long and prosper!
This six-course series explores essential urban design concepts using open source software and equips planners with the tools they need to participate fully in the urban design process.
This course aims to provide an introduction into Urban Design Sketching focused on how to hand draw master plans using a mix of colored markers.
View More