Infrastructure for Animals
A recent international design competition sought innovative and attractive solutions for allowing wildlife to cross busy highways. The winning designs take various strategies to go over or under the traffic.
Lisa Rochon explains the impetus behind the design competition, "...when animals wander blindly onto highways, the results can be devastating. There's the sad, ugly loss of life, of course (mostly of wild animals, but occasionally of humans as well). But there's also a more literal price tag. In the United States, the cost is estimated at $8-billion (U.S.) a year in insurance claims and car repairs. In Canada, damages are pegged at about $250-million annually, according to the Western Transportation Institute at Montana State University."
HNTB with Michael Van Valkenburgh Associates, Inc contributed the winning design, but finalists Janet Rosenberg & Associates of Toronto contributed this eyecatching design: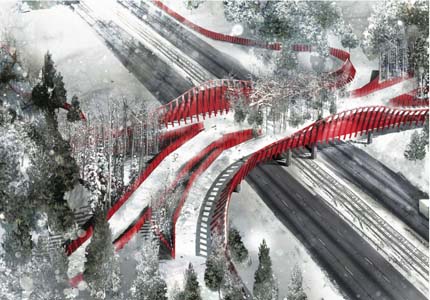 The ARC Competition