<span>My hometown of Winnipeg is going through a <a href="http://www.winnipegfreepress.com/breakingnews/Bike-path-should-be-finished-before-lawsuit-settled--103638144.html">particularly nasty battle over cycling infrastructure</a>. Its current mayor, Sam Katz, while he may be reviled by rapid transit advocates for cancelling one BRT scheme and <a href="http://www.winnipegfreepress.com/local/epc-endorses-light-rail-transit-98007694.html">then muddling another </a>(will it be a bus? A train? A streetcar?), has nonetheless managed to accomplish more for cyclists than his predecessors. In recent years we have seen new bikelanes, multiuse pathways and a cycling culture invigorated by such events as Winnipeg&#39;s <a href="http://www.downtownwinnipegbiz.com/home/events/ciclovia/">Cyclovia</a>.</span>
---
My
hometown of Winnipeg is going through a particularly nasty battle over cycling
infrastructure. Its current mayor, Sam Katz, while he may be reviled by rapid
transit advocates for cancelling one BRT scheme and then muddling another (will
it be a bus? A train? A streetcar?), has nonetheless managed to accomplish more
for cyclists than his predecessors. In recent years we have seen new bikelanes,
multiuse pathways and a cycling culture invigorated by such events as
Winnipeg's Cyclovia.
Now,
however, Winnipeg's streets are being torn up for some 36 cycling projects,
ranging from segregated bike lanes to roundabouts on residential streets, all
funded by federal stimulus monies – which must be spent by the end of the
fiscal year.
Perhaps
predictably, the complaints levelled against the city (and broadcast in the
media) have been nothing less than deafening. Whether because of the loss of
car lanes or parking, the brevity of the consultation period or the
inconvenience of the construction itself, Winnipeg's car culture appears to be
going into shock.
I
wish the folks who are so angry about the construction could see the future –
to look past the churned-up streets and see what the city will look like, and
what a livable place it can become.  
For a glimpse of this future, I suggest they look at
Montreal, where I travelled this past weekend for the International Congress on
Climate Change, hosted by the Canadian Institute of Planners, and featuring such renowned speakers as Wade Davis , Jan Gehl and Larry Beasley. The event was
attended not just by Canadian planners but also planning professionals from
other Commonwealth nations, all there to discuss and share mitigation and
adaptation measures – among them reducing automobile use and promoting
human-powered transport.
Montreal was an excellent choice for such a conference. It
is by any standard a world-class city, boasting not only a large and diverse
metropolitan population, but many architectural treasures, astoundingly busy
downtown retail and restaurant trades, an extensive and highly effective rapid
transit system and renowned universities.
It also has outstanding cycling infrastructure: most of the
major streets in the downtown have either bicycle roadways segregated from the
cars by concrete and streetlamps, or else generously painted  lanes. Where streets narrow the lanes are
carried onto plazas and sidewalks, so that the routes are continuous.
Most ingeniously, the cycling infrastructure is centered on
Bixi, Montreal's bicycle rental scheme. Every few blocks it seems, one comes
upon a station of racks for the (largely absent) Bixi bicycles. For a 24 hour
period, subscribers (or visitors like myself) can swipe a credit card and ride
one the sturdy vehicles to the station of your choice, where you simply replace
it in the rack and go shopping, out to eat or catch the Metro.
I had the pleasure of renting one of the city's 3,000 Bixi
bicycles on the morning preceding the conference. Not only was it extremely
convenient and easy to use, it afforded me a much greater range of travel and
allowed me the liberating feeling of being able to dine and shop without
worrying about having my bike stolen. After all, it wasn't my bike.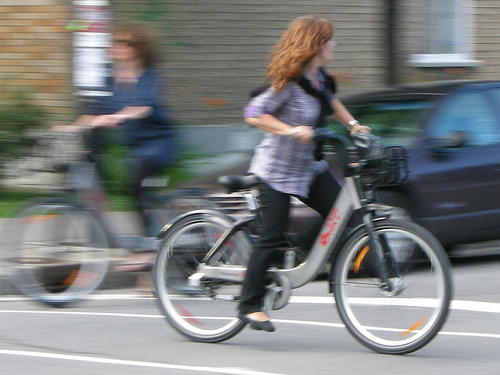 (Photo: manskilo [flickr])
What I think is key to the success of Montreal's cycling
environment is how well the built infrastructure and the Bixi scheme support one
another. The segregated bikeways give you a safe place to travel, and the Bixi
proves the ideal vehicle for using them. The stations are near major
destinations (such as concentrations of restaurants) so hopping off and on to a
different Bixi is as easy as changing buses. Montreal is a city of both bricks
and Bixis, as it were: Emblazoned as they are with the words "Bixi Montreal",
the bikes and their stations appear to be as much a part of the cityscape as its
parks, benches and traffic lights.
The Bixi – heavy and highly distinctive – also made me feel
both more visible and respected as a user of the road. Cars and buses gave me a
wide berth. The bikes are heavily used by a wide range of customers: over the
few days I was there I saw young adults, the elderly, parents with children and
one soldier in full fatigues all riding the comfortable and well-lit bikes. Few
people seemed to wear helmets, and I felt quite safe without one myself.
After parking and locking a Bixi for the last
time, I couldn't help but reflect on the controversy raging back home. Perhaps
once the changes are in place, a bike rental service like Bixi – fun, appealing
and a boon to tourists and residents alike -- might help my fellow citizens
ease into the transition to a less car-dependent future – a transition which,
the conference made all too clear, is an economic, social and moral
necessity. 
---
Making Healthy Places
The editors of the book "Making Healthy Places," recently published in a second edition by Island Press, discuss the intersections of public health and planning, including key concepts such as green gentrification, health impact assessments, and AI.
The Great American Exodus: A Conservative's Perspective
During his keynote speech on September 11 at the National Conservatism Conference in Miami, Florida Governor Ron DeSantis describes the demographic shifts in America since he became governor in 2019 in what he calls the 'Great American Exodus.'
This six-course series explores essential urban design concepts using open source software and equips planners with the tools they need to participate fully in the urban design process.
This course aims to provide an introduction into Urban Design Sketching focused on how to hand draw master plans using a mix of colored markers.
View More