Don't demolish a Mies van der Rohe building in Chicago
See the building and the walls in the lower left?  They're designed by Ludwig Mies van der Rohe.  They're part of the ensemble he designed at the Illinois Institute of Technology (IIT).  Mies and his office designed this corner around the same time they were designing the masterpiece on campus - Crown Hall.  
See the building and the walls in the lower left?  They're designed by Ludwig Mies van der Rohe.  They're part of the ensemble he designed at the Illinois Institute of Technology (IIT).  Mies and his office designed this corner around the same time they were designing the masterpiece on campus - Crown Hall.  
But now, this piece of the campus ensemble is threatened with demolition.  To erect in its place a generic train station that has nothing to do with Mies or this place - IIT.
The station could easily be erected just a few feet away, just across the street - on vacant land - thus preserving for posterity a work by one of the greatest architects in history. 
I've written on this previously here (scroll down).  Some people wondered if it was really by Mies, and if so, was much care put into it?  
I now give you scans of the drawings for this project, scanned from the published Ludwig Mies van der Rohe Archive in the Museum of Modern Art in New York City. They're stamped with Mies's name.

You see the care he put into this with these highly detailed drawings for this modest structure.
(Click each to enlarge)


Looks to me like great care went into this. You're going to tear this down when you could easily put the train station on vacant land right across the street?


Some say, "people in the office designed the Test Cell" - but how do they know that? Are they basing their judgements on the seeming simplicity of the building and the beautiful walls? Have they have taken the time to really look at this work, this important piece of the campus? It is not an immediate satisfaction, like some of the one-liner buildings that have gone up since it. Architect Rem Koohaas noted that most kids today walking into Mies's masterpiece Crown Hall will not understand its message. It's the same with the Test Cell.

Those I've heard say, "people in the office designed the Test Cell" are speculating. We haven't heard from anyone who was there how much work Mies himself put into this. Knowing something about how he worked, I doubt he would have not cared how this corner of the campus looked. We ought not write history by speculating. Mies's work is too important for that.

It goes without saying that many of the great drawings and collages in "Mies in America" were not "by" Mies. They were done by people in the office. We know that's how architects work. Many great paintings "by" for example, Michelangelo, involved the work of others. That does not detract from their importance or from the great ideas in them.



Remember, Mies and his office didn't build a lot. As we saw in the recent exhibition "Mies in America," they would spend months on the tiniest detail that many of us might not even see, but they believed that that was "Architecture," and that we would be affected whether we knew it or not. And yes, the Test Cell is listed under 1950 in the "Mies in America Building Chronology 1937 - 1969" compiled by Elspeth Cowell and printed in the catalogue of "Mies in America."



My eyes aren't good, does this say,
"MIES VAN DER ROHE ARCHITECT CHICAGO, ILL." ?



Some articles on this issue show a bad photo of just the "simple" building and say it can go. Here is the most important view, again.


(click to enlarge, to see the beauty)
See how the Test Cell (lower left) begins the ensemble? It is just the beginning of the symphony that is Mies's design, his master plan, for the campus of the Illinois Institute of Technology (IIT). This was always supposed to be a "background" building. It was always supposed to to lead you in to the campus. It is not a "destination" building. As you see above, it is part of a whole.
The view above would be lost forever.

Some of the same people saying it's okay to tear this down say that not every building should call attention to itself. They're right. Good neighborhoods and places are ensembles, made up of great buildings that knock you out, and others that calm you down, rest your eye a bit, and prepare you to take in the great monuments. The latter is this Test Cell by Mies van der Rohe.
Some say the Test Cell can be torn down because it was not built to Mies's specifications. Researcher
Grahm Balkany
believes they are basing this on the drawings above on page 295. They are slightly different that what currently stands there. But if you click on the scan of page 295 to enlarge it, you can make out that the west and south elevations are stamped, "void." They were changed before construction. Balkany says, "This is more indication that the project mattered - why revise the design if it were not important?"
What stands there today looks close enough for me to say "save it." The Test Cell was there for almost twenty years while Mies was alive and working for much of that time on the IIT campus. Mies's acknowledged masterpiece Crown Hall was not built exactly to his original specs (it was going to be taller.) And what we already have there is a lot closer to what he wanted than this station that doesn't fit in, and doesn't acknowledge architecturally that IIT is one of the great sites in Architecture history. And the more complete IIT is, with the highest amount of integrity, the better for all.
A critic said of the Test Cell, it is not an "'A' building or even a 'B+' building,'" but he gave no grade or even comment on what is planned to replace it. Which is this:
by Skidmore, Owings and Merrill, Chicago office. Is that an A or a B+? Or worse? It would be alright on the empty, vacant land directly across the street, literally a few feet to the south.
Somehow, this station will cost about $11.7 million dollars. Since Metra is to get some $6.8 million in federal stimulus funds, and President Obama says he cares about culture, let's at least try to get the Federal government to pay the small amount it would cost to redesign the station to be built a few feet to the south. With a little creativity and sensitivity to history, this issue is so easily solved.
Moving the train station to the empty land across the street would also place it
closer
to, and more convenient to U.S. Cellular Field, where the White Sox play.
As planned, it will destroy the great, historic, Modernist view I showed above. The view up that street, with Mies left and right, you walk it, and when you get to the end you find one of Mies' great ninety-degree turns, which he used so effectively to take you into the Farnsworth House, into his 860-880 Lake Shore Drive Apartments, into the Barcelona Pavilion. The well thought out entry sequence, taking you through ninety degree turns, takes you out of your world and into a new world. Here, when you get to the end of this alley, you make a ninety degree turn and you see
Crown Hall.
That's partly why this little Test Cell is modest. To prepare you for that. It's like Frank Lloyd Wright's little entryway at the Guggenheim Museum, before you enter the great spiral space. Could we tear that down and still get the full effect of Wright's atrium? No, you need context, you need comparison, you need to move through the architect's work, transition slowly, leave your world behind, enter a complete work of art.
Mies does this masterfully, for example at the Farnsworth House. You make your turns through the woods, before you reach the house. At the stairs, you put first just one foot on the travertine, you are slowly leaving the world and the past. Take another step and two feet and your body is on the travertine, but you are still surrounded by the outdoors. Then, as you move forward, you're on a larger, more encompassing platform of travertine, but still surrounded by outdoors. Move forward a bit more and you're under his roof. You must make one of those famous ninety-degree turns, pass through a thin wall of glass, and you're "inside." Now you have a floor underneath you, a roof above, and glass walls around you. Mies does not give it to you all at once. He could have turned the front door towards the driveway instead of away from it and he could have made the journey into the house more direct. That's not Mies's way. We ought to keep his procession to Crown Hall, his procession onto the IIT campus, so we can appreciate it, enjoy it and learn from it.
Especially when there are blocks of empty space directly to the south, where that train station could go.
Right across the street, directly south of the Test Cell is empty land.


Then we'd have a train stop at IIT, and more of Mies van der Rohe's work. What is so difficult about that? Where is the Illinois Historic Preservation Agency?

Look how much empty land there is right there, right along the tracks on the left of the photo. Put the station there!



Here's the Test Cell, and beyond it, empty land where the station ought to go.



Directly south of Mies's Test Cell, directly across the street stands this:



The city owned this land recently. They sold it to a very politically-connected developer, who has put up what you see in the background. The city and/or Metra could cut a deal to get it back. He's not going to build on it in this economy anyway.

Here's a photo of the land on the southwest side of the intersection of 35th and Federal.


You could also move the station here, to everyone's benefit. If the station were here, hundreds of thousands of White Sox fans would be let out closer to White Sox park than they would be if they got out under the tracks and across the street at the Test Cell. The fans would not have to cross 35th street, which gets busy with cars at game time. White Sox Park - U.S. Cellular Field stands just to the right of this. (Hey, would U.S. Cellular like to buy naming rights for the Test Cell? Just trying to think of everything to save it!)

Or on the northwest side of the tracks you have this:


You could put the ADA ramps for the Metra station here, and then incorporate the rest of the station into Mies's Test Cell on the other side of the tracks.


The only land at the intersection of 35th and Federal with any building on it is the one Metra chooses to build its station on, and to destroy a work by Mies van der Rohe in the process.

Aren't we more creative as problem solvers than that?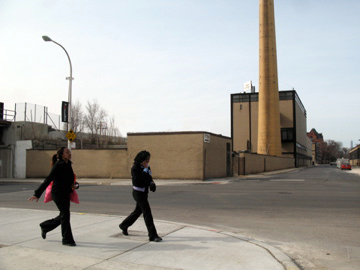 -Edward Lifson blogs at Hello Beautiful!