Friday Funny: Google Maps for Stinkiness
At the Japanese website Nioibu.com, visitors are geomapping odd odors, from gasoline fumes to curry.
"People in Japan who enjoy sharing news about odors can use Nioibu.com to mark their location and circumstances.
A few examples: watermelon smell, ferret odor, old lady stench, gasoline fumes, and curry."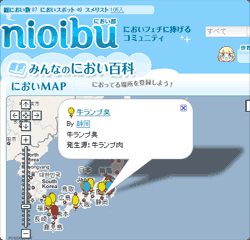 Published on Tuesday, December 9, 2008
in
Topics