Wes Marshall and Norman Garrick illustrate the problem with parking plans today, and how to fix them.
---


Parking has long been treated as a commodity of little value, one that is given away cheaply as part of the cost of running a city. In fact, most cities mandate a minimum level of parking in their zoning codes, in essence saying to developers 'go ahead and provide as much parking as you want just so long as there is enough to satisfy the demand'. But, as we all now understand, this approach has had some unexpected and far-reaching consequences. As we begin once again to put a premium on urban places in the face of rising gas prices and global climate change, the long-standing approach of treating parking as a loss leader that can be overlooked is becoming increasingly untenable. We are at a turning point that provides an opportunity to craft parking policies that support the need for more vibrant cities.
One idea that deserves a fresh look is the concept of a parking cap. The use of parking caps explicitly acknowledges that some parking is necessary in a modern city, but at the same time, too much parking is highly detrimental to urban life. This approach basically flips the conventional parking mindset on its head. It is a method that helps to make sure that the need to provide parking does not dominate all other considerations in creating viable urban places. Surprisingly, even though a cap has been adopted in a handful of cities, this sensible approach has been a non-starter in most places, and we are still stuck arguing about how to satisfy the so-called parking demand.
One major problem with the current focus is that parking demand is tricky to pin down, since demand itself is a function of supply, especially in urban places. Those cities that have been busy ripping themselves apart to provide enough parking are the same ones that use the most parking. So we end up with this curious situation: in our state capital, Hartford, people complain that there is not enough parking - when in fact over 30 % of the surface area in the downtown area is covered with some type of parking facility. The truth is that many cities like Hartford have simultaneously too much and too little parking. They have too much parking from the perspective that they have degraded vitality, interest and walkability, with bleak zones of parking that fragment the city. The have too little parking for the exact same reason - they have degraded walkability and thus increased the demand for parking.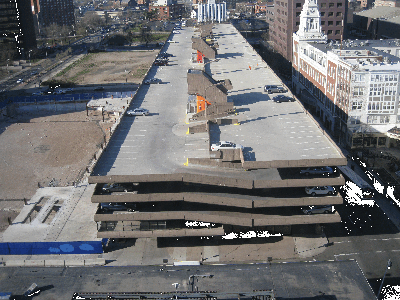 A 2003 study we conducted of six medium sized New England town centers provides strong support for this point. Three of the centers we looked at were traditional urban downtowns with their fabric largely intact (West Hartford, Northampton and Brattleboro). Three were centers built or transformed along more contemporary suburban patterns (Glastonbury Center, Somerset Square in Glastonbury, and Avon Center). The traditional urban centers in our study provided 50% less parking and ended up using 50% less parking than the more contemporary centers. Of course, it should be recognized that the differences between the traditional and contemporary centers lie not just in terms of the amount of parking supplied, they also differ on a range of other dimensions. The traditional centers have managed parking, they charge for parking, they have on-street parking, and they exist in the context of a connected network of streets. All of these factors contribute to the differences in use, but the smaller parking supply is a key element, as it allows for the existence of a much more coherent urban place than would have otherwise been possible.
The traditional town centers not only supplied less parking and used less parking, but they were also much more vibrant - with more than three times as many people on site at any one time. Surprisingly, the three traditional town centers in our study had very conventional parking policies in their zoning regulations, to the point where it would not be possible to replicate these well loved centers given existing parking regulations where minimum parking requirements far exceed the amount actually used. These traditional centers are basically a fortunate legacy of an older approach to urban planning.
So why have more places not adopted proactive parking policies that put place first? Judging from the responses to our study, the existing policy approach to parking used by most cities does not appear to have any natural allies; both town officials and developers alike have told us that they dislike the current practice. Each group thinks that the other is to blame for the muddle of the existing policy. What this tells us is that it is time to start paying more attention to an issue that is often an afterthought, but which has such a big effect on the performance of urban places and on transportation sustainability.
Another New England city, Cambridge, MA is one example of a place that has developed a parking policy structured around limiting the amount of land and other resources that can be devoted to parking. In addition to the parking maximums established in the early 1980s, Cambridge tries to tackle the source of the parking demand issue with regulations that focus on reducing the number of people driving alone. Whenever a new or expanded non-residential parking facility is proposed, the Parking and Transportation Demand Management (PTDM) ordinance requires developers to implement multiple transportation demand management strategies such as providing bicycle parking, discounting transit passes, and prioritizing carpool parking. For projects of twenty of more parking spaces, the developer must commit to a mode share goal typically specifying at least 10% percent reduction in single occupancy vehicles compared to the last census as well as prepare a full PTDM plan for review by the city. Without an approved PTDM plan, projects cannot receive building permits, variances, etc.
Not only has Cambridge been able to increase the use of alternative modes, they have also reduced traffic congestion and maximized the amount of land available for uses other than parking. One key to the success of the plan is accountability, since the mode share pledges are regularly monitored and enforced by a PTDM officer. Another is the fact that the parking policy is strongly linked to wider community goals, including urban vitality and environmental stewardship. In fact, their PTDM division is a division of the Department of Community Development; also under the same Community Development flag are the planning, economic development, and housing divisions. This organizational structure supports a coordinated effort toward reaching the wider community goals. This is an overall model that is worth emulating for cities searching for a more balanced, multimodal approach to transportation and parking. Developing an urban friendly parking policy is perhaps the most effective tool that can be employed at the local level to encourage a greener and more sustainable approach to transportation.
---
Norman W. Garrick, PhD Norman is an associate professor of civil and environmental engineering and director of the Center for Transportation and Urban Planning at the University of Connecticut. He is also a board member of the Congress for the New Urbanism.
Wesley E. Marshall, P.E. Having spent time with Sasaki Associates and Clough Harbour and Associates working on a wide variety of planning and site design issues, Wes is now a PhD candidate in transportation engineering at the University of Connecticut and a researcher with UConn's new Center for Transportation and Urban Planning. Recent work includes a comprehensive reassessment of on-street parking, investigating the effects of parking on urbanism, and examining the influence of the road network on transportation safety and sustainability.
Denver Freeway Widening Plans on Hold
The Colorado Department of Transportation's plan to widen the Interstate 25 freeway through Denver is one of a few plans to widen urban freeways under consideration in the United States.
This six-course series explores essential urban design concepts using open source software and equips planners with the tools they need to participate fully in the urban design process.
This course aims to provide an introduction into Urban Design Sketching focused on how to hand draw master plans using a mix of colored markers.
View More