<p> The common wisdom about walkable neighborhoods holds that density – proximity to destinations – determines the number of walking trips. An ideal walking distance of a quarter mile is usually prescribed between residences and the nearest transit stop or retail center. <br /> <br /> I don't dispute that walking distance is important, especially when I'm lugging an armload of groceries. However, some trendy high-density development favors compactness at the expense of comfort and safety. <br />
---
The common wisdom about walkable neighborhoods holds that density – proximity to destinations – determines the number of walking trips. An ideal walking distance of a quarter mile is usually prescribed between residences and the nearest transit stop or retail center.
I don't dispute that walking distance is important, especially when I'm lugging an armload of groceries. However, some trendy high-density development favors compactness at the expense of comfort and safety.
An award-winning transportation research paper found that pedestrians typically walked farther than they thought to reach a transit stop: a half mile instead of a quarter mile. It also cited an absence of barriers as a major factor in the decision to walk. In my opinion, such barriers, both physical and perceived, are a stronger deterrent for pedestrians than distance. They include dangerous intersections, isolated or unsafe areas, high traffic density, parking lots, narrow sidewalks and poor lighting. If a route is pleasant and obstacle-free, pedestrians may well underestimate the time and distance of their trips.
Several new housing developments in my city are built literally within a few hundred yards of a shopping mall. But all of these dense, "mixed-use" housing-and-shopping pairs are bisected by major roads, requiring residents to cross multiple lanes of traffic in order to access shopping. (Worse, there are no grocery stores to be found, just warehouse retail. Would you walk to Costco?)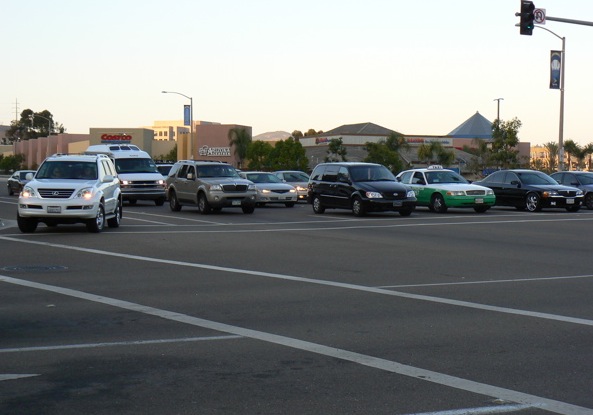 Most people are willing and able to walk more than a quarter mile; people who prefer walking would like to have the space to move. Time and distance are certainly an issue for hurried commuters, for the elderly or disabled, and during extreme weather. Still, a commute on foot can be a good replacement for a daily workout, especially when so many commuters today are sitting in their cars for hours, stuck in traffic. I have comfortably walked a few dozen blocks in New York City, but I would rather drive across the street in the neighborhood pictured above. If good urban planning is supposed to promote an active lifestyle, I wouldn't call walking 100 yards across a smoggy intersection active or healthy.
---
The Hyperloop's Prospects Dim
The media is coming around to the idea that the hyperloop is not a near-term solution for the country's transportation woes. It's too little, too obvious, too late.
The Great American Exodus: A Conservative's Perspective
During his keynote speech on September 11 at the National Conservatism Conference in Miami, Florida Governor Ron DeSantis describes the demographic shifts in America since he became governor in 2019 in what he calls the 'Great American Exodus.'
The Resilience of Bikeshare
The inherent simplicity of bikes makes shared mobility systems a crucial transportation option during natural disasters.
This six-course series explores essential urban design concepts using open source software and equips planners with the tools they need to participate fully in the urban design process.
This course aims to provide an introduction into Urban Design Sketching focused on how to hand draw master plans using a mix of colored markers.
View More