I&#39;m posting this blog entry live in front of a panel session of approximately 200 participants at the <a href="http://www.ohioplanning.org/conference/">2007 Ohio Planning Conference</a> at the Columbus Conference Center to demonstrate, live, how one posts to a blog.<br /><br /><img src="/files/u4/columbus-conf-ctr.jpg" alt="Columbus Conference Center in walkable downtown Columbus" title="Columbus Conference Center in walkable downtown Columbus" hspace="4" vspace="4" width="400" height="266" align="right" />I&#39;m presenting on &quot;Web 2.0 Tools to Communicate Planning Ideas&quot;. Here&#39;s the pitch:<br />
---
I'm posting this blog entry live in front of a panel session of approximately 200 participants at the 2007 Ohio Planning Conference at the Columbus Conference Center to demonstrate, live, how one posts to a blog.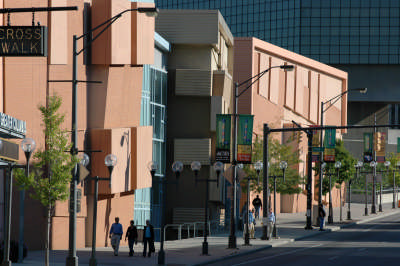 I'm presenting on "Web 2.0 Tools to Communicate Planning Ideas". Here's the pitch:
"You've read about hot new technologies like Blogs, Google Mashups, YouTube, flickr, Open source, Social Networking and Web 2.0. What are these technologies, and how can they be applied to planning? We'll explore how planners-- even with limited technical experience -- can put these technologies to use to communicate planning ideas."
Specifically, I'm focusing on five exciting Web 2.0 technologies:
1. Blogs
2. Web Surveys
3. Photo & Video Sharing
4. Mashups
5. Social Networking
For each of these technologies, I've assembled brief demonstrations. My example of blogging is to publish this blog live on Planetizen Interchange.
A few of the great blogs I've demonstrated during the session include:
Cuyahoga County Planning Commission Blog
http://planning.co.cuyahoga.oh.us/blog/
Bill Fulton, Ventura City Council Blog
http://fulton4ventura.blogspot.com/
Planetizen Interchange
http://www.planetizen.com/interchange
Planetizen Radar
http://www.planetizen.com/radar
Planetizen Interchange is an example of a Group Blog, while Planetizen Radar takes advantage of a technology called RSS to publish a list of all the planning-related blog posts on the Internet, updated every 15 minutes.
I'll post additional examples of how these Web 2.0 technologies can be used in planning in later posts.
---
The Hyperloop's Prospects Dim
The media is coming around to the idea that the hyperloop is not a near-term solution for the country's transportation woes. It's too little, too obvious, too late.
The Great American Exodus: A Conservative's Perspective
During his keynote speech on September 11 at the National Conservatism Conference in Miami, Florida Governor Ron DeSantis describes the demographic shifts in America since he became governor in 2019 in what he calls the 'Great American Exodus.'
The Resilience of Bikeshare
The inherent simplicity of bikes makes shared mobility systems a crucial transportation option during natural disasters.
This six-course series explores essential urban design concepts using open source software and equips planners with the tools they need to participate fully in the urban design process.
This course aims to provide an introduction into Urban Design Sketching focused on how to hand draw master plans using a mix of colored markers.
View More