The World's First Fleet of Driverless Taxis
<p>Heathrow Airport is set to launch what may be the world's largest trial of a personal rapid transit (PRT) system. The electric "pod cabs" will carry passengers and luggage from a parking area to a new terminal -- a journey of about four minutes.</p>
"The first stage of the project, costing about £30m, is due to come into service later next year to take passengers on a four-minute journey from a car park to the new terminal 5, which will open in the spring.
...The 'personal rapid transit system' is already being built and has completed trials. Each pod resembles a small car with two 'fronts' and sliding doors. It has conventional tyres."
The ULTra system, for Urban Light Transport, is scheduled to be operational at Heathrow by 2008 and could be expanded to other British airports by 2011. The technology has been developed by Advanced Transport Systems Ltd (ATS). The British Airports Authority (BAA) has also invested £7.5 million in the company to advance the commercialization of the vehicles and control systems.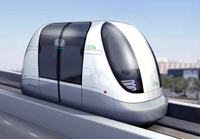 An example of the electric pods. (Image courtesy of Advanced Transport Systems Ltd., www.atsltd.co.uk)
The Bristol-based manufacturer of the pods, Advanced Transport Systems, features a variety of images on its website.
Thanks to Jerry Schneider