<p>Across the U.S., dozens of colleges and universities are planning or building major campus expansions. However, unlike the 1990s which saw gleaming bioscience research facilities appear on campuses, the new construction is calculated to help attract and retain faculty and students with amenities for living and shopping. Almost without exception, these projects are in a strictly neotraditional design mold. </p>
---
Across the U.S., dozens of colleges and universities are planning or building major campus expansions. However, unlike the 1990s which saw gleaming bioscience research facilities appear on campuses, the new construction is calculated to help attract and retain faculty and students with amenities for living and shopping. Almost without exception, these projects are in a strictly neotraditional design mold.
After decades of institutional architecture built for efficiency, schools without distinctive college towns or well cultivated campuses are finding themselves at a competitive disadvantage with universities with well cultivated campuses or college towns. Meanwhile, urban campuses are looking for ways to capitalize on their property, while providing amenities for the campus and local community. Here's a sampling of the many projects underway.
Perhaps the most ambitious -- and controversial -- of these projects is the pet project of conservative Catholic and Domino's Pizza founder Tom Monaghan: Ave Maria, Florida. Through a similar legal arrangement used by Walt Disney to develop Disney World, Moghnahan and his partner Barron Collier Companies are developing a campus and college town of 30,000 for the Catholic university he helped found, Ave Maria University. As the campus takes shape, university officials hope it will be ready for fall 2007 classes.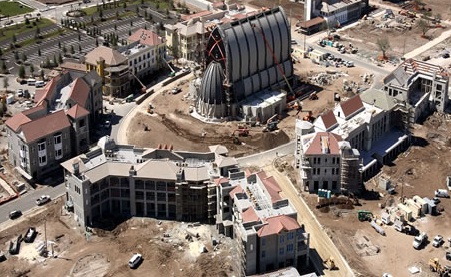 While so many projects are moving ahead rapidly, I can't help but wonder whether they will actually result in the sense of place of legendary college towns developed over decades. It seems unlikely these massive projects will support the diversity of retail and housing choice that is the hallmark of these memorable places.
Here at the University of Maryland where I am a student, administration officials are deep in negotiations with an as-yet unannounced development partner for the East Campus Project, where officials hope to transform a 38-acre parcel of land containing vacant greenhouses, aging dormitories, and bus parking into a dense, mixed-use project where faculty and students can "live, work, and play." A community group I co-founded is working hard to ensure the resulting project reflects the unique character of our community -- and is closely integrated to both campus and the surrounding neighborhoods.
---
'15-Minute City' To Be Built in Utah
A community that focuses on reducing the need for car ownership and providing effective multimodal transportation and diverse land uses will be built from scratch on the site of the decommissioned Utah State Prison.
Experts Express Pessimism Over Housing Costs
Although the current housing crisis has been compared with the housing crash of the late 2000s, experts caution that affordability issues could plague the U.S. housing market for years to come.
This six-course series explores essential urban design concepts using open source software and equips planners with the tools they need to participate fully in the urban design process.
This course aims to provide an introduction into Urban Design Sketching focused on how to hand draw master plans using a mix of colored markers.
View More