---
The story of Reston Town Center, the first suburban downtown in America, is a remarkable history lesson for modern day planners. A longtime resident comments on Reston's story, which is chronicled in a new book, and offers some suggestions for the community's future.

Reston Town Center was not much more than sketches on drafting paper when I started writing about it nearly 25 years ago. But those sketches embodied a vision that leaped off the paper. The vision declared that Reston Town Center would be a downtown inspired by America's great city centers. Shops, offices, hotels and even residences would be brought together in a provocative mix seen in no other suburban center. Reston Town Center would be more vertical than horizontal - an urban stage where, if you imagined hard enough, you could see Batman rappelling down the façade of a skyscraper on a moonlit night. Reston, which is located 22 miles northwest of Washington, D.C., hadn't seen so much excitement since it opened its doors as America's first major postwar planned community in the early 1960s.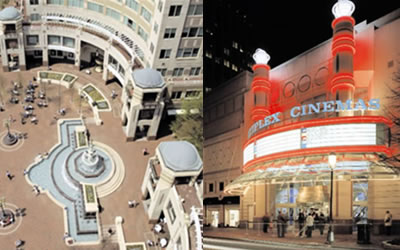 In 1990, when Town Center opened, what a thrilling moment it was to walk down Market Street through four blocks of diligently detailed urbanity that showed off their downtown genes, right down to the last cornice. Mercury Fountain, with its bronze trumpets of cascading water, was spectacular enough to accommodate Scott and Zelda Fitzgerald. Down the block, the Reston Multiplex's curved marquee paid homage to a revered Art Moderne landmark in Baltimore, the Senator Theater. There was a smorgasbord of eateries on and around Main Street, including an enviable Clyde's. Reston had come a long way from when it had two restaurants, one of which was the hot dog stand at the golf course.
When the first high-rise tower of residential condos was announced, I got in line to buy. From my 13th-floor window, I could see right down Market Street, and watch Town Center's westward expansion - higher and higher - against the backdrop of the Blue Ridge Mountains. This wasn't a panorama you could see in Mashpee Commons or Celebration or Valencia or in any of the other suburban town centers that had been rising all over America over the past 15 or so years. Reston Town Center was in a class by itself.
How Reston Town Center was conceived, gestated and grew into an authentic suburban downtown is a remarkable story, and the recently published "Reston Town Center: A Downtown for the 21st Century" (Academy Press Ltd., Washington, D.C., 218 pp., $45) captures a lot of what has been a nearly 45-year drama of bold, sometimes competing, visions, risky rolls of the dice and windfall profits.
The book was commissioned by Robert C. Kettler, chairman of KSI Services Inc., the developer of Town Center's Midtown, a sleek, towering complex of a thousand condos, apartments, townhouses and lofts designed by Robert A. M. Stern. But it's not anything like a fatuous vanity publishing project. The authors include Alan Ward, who was the chief landscape architect of Town Center, and Tom D'Alesandro, who was president of Reston's (and Town Center's) developer during a crucial period when everything could have fallen apart as ownership changed in fast real estate flips. They and other contributors know what they're talking about, and do so in language that, while tilted toward the Urban Land Institute audience, is accessible to any intelligent reader who's interested in post-sprawl suburbia. Complementing the text are numerous well-produced drawings that show how Town Center's design evolved from a street-less mega-complex with huge Brasilia-type plazas to the human-scaled grid of traditional American downtowns.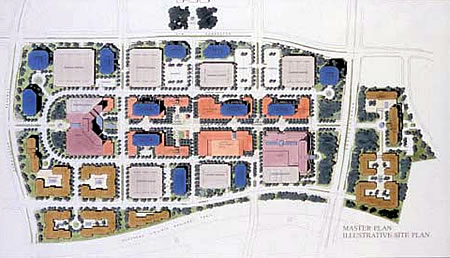 But one big chapter is missing: How the developers and indeed the whole Reston community missed the opportunity to create a civic space that was as grand as the private development that rose on 85 acres of oak forest.
Bob Simon, Reston's founder, who had come back to the community as a resident in 1992, joined with other community leaders in an attempt to persuade the developers of Town Center -- D'Alesandro in particular -- to find room for a performing arts center that would be bigger and more centrally located than the existing Reston Community Center in the south part of town. The developer's response was that the engineering of the high rises then being designed couldn't accommodate the clear space needed for theater seating.
Another possibility rested with a parcel of land that Mobil -- then Town Center's owner -- had agreed to donate to the Greater Reston Arts Center, provided that the nonprofit group could come up with the money to finance the development of a new headquarters on the site. GRACE wasn't able to raise the funds, and chose to accept a substitute gift of ground-level space in an apartment building being built at the western portal of Town Center's core.
An alternative solution would have been to arrange for the Reston Community Center to buy the land that GRACE gave up, and use RCC's public status to issue bonds to finance construction of an arts center. But Reston's fractured citizen leadership (both business and residential interests) didn't step forward, and RCC's citizen board of governors, taking its cue from the community, sat on its hands.
However, there is still a chance for Reston Town Center to have a civic jewel mounted in its downtown diadem.
Two blocks from Market Street lies the 21-year-old Reston Regional Library, a structure that has been derided for its single-story "chicken-coop" design since the day its design was unveiled. A new civic facility housing the library and a civic auditorium could be designed and built through a public-private partnership. Fairfax County could invite private developers to bid for the considerable low-density acreage it owns surrounding the library site, and rezone it upward in exchange for a major contribution earmarked for the new library.
Santa Monica, Calif., the city where I now live, recently opened a magnificent two-story state-of-the-art library with a spacious auditorium, beautifully landscaped patio and 500-space underground parking. The Santa Monica Public Library cost a princely $67 million. Without its frills and extras, it could be the model for a new Reston Regional Library.
The new library would close the civic gap that exists in Reston Town Center, a gap that becomes more obvious as the last few acres of the downtown core are filled in. Vision made Town Center into the magnificent downtown it has become, despite recessions, formidable market risks and fast-changing developers. As the clock ticks closer to the expected 2010 buildout, Reston's downtown needs another affirmation of its vision.
Tom Grubisich, a screenwriter. is the author of "Reston: The First Twenty Years" (Prentice-Hall, 1985) and co-founded The Connection Newspapers, which began in Reston. He is writing a biography of Robert Simon, the founder of Reston. He can be reached through [email protected].
The Right to Mobility
As we consider how to decarbonize transportation, preserving mobility, especially for lower- and middle-income people, must be a priority.
Where Pandemic Bike Improvements Won Out
While some cities are reverting back to pre-pandemic street configurations, others are taking advantage of the momentum for bike and pedestrian infrastructure to make pandemic-era projects permanent.
This six-course series explores essential urban design concepts using open source software and equips planners with the tools they need to participate fully in the urban design process.
Learn the tools for implementing Universal Design in planning regulations.
View More