Book Review - 'Cities in the Wilderness: A New Vision of Land Use in America'
In his "deeply insightful yet broadly accessible narrative of environmental progress", former Secretary of the Interior Bruce Babbitt chronicles the battles of environmental and land use law in the United States, with specific strategies for success at the local, state, and federal levels.

Cities in the Wilderness: A New Vision of Land Use in America
Written by Bruce Babbitt (Island Press, 2005) Reviewed by Planetizen Correspondent Erik Kancler
When Bruce Babbitt stepped into his post as Secretary of the Interior during the early days of the Clinton Administration, roughly two decades had passed since the groundbreaking environmental initiatives of the late 1960s and early 1970s. The Environmental Protection Agency (EPA) had initiated measurable improvements in air and water quality as a result of the Clean Air and Clean Water Acts, but efforts within the Department of the Interior to protect environmental resources through federal land use policy, using laws like the Endangered Species Act and National Environmental Policy Act, had gained little traction.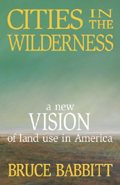 It wasn't that the federal government had abstained from land use planning, argues Bruce Babbitt in his best-selling book, Cities in the Wilderness. Quite the contrary, the Army Corps of Engineers and the Federal Bureau of Reclamation, in their efforts to control and divert the nation's flood waters, and the federal government's involvement in inter-state transportation planning, for example, played leading roles in shaping large-scale land use patterns, particularly in the West. The real problem then and continuing today is the federal government's attachment to the idea that "progress always follow[s] the axe and the plow," writes Babbitt.
As a result, implementation of environmentally-oriented land use regulations has remained largely in the hands of local and state agencies, writes Babbitt, many of which have neither the political will, expertise, or financial resources, to stand up to well-financed developers. "So long as the planning is intended to facilitate development, hardly a discouraging word is ever heard," he writes, and for that reason, suggests that strong environmental commitments will have to begin with federal leadership.
The thesis of Babbitt's manifesto comes through in the book's prologue: "I believe the time has come for an armistice followed by a peace conference to which not just westerners, but all Americans, are invited," he writes. "The outcome should be a new constitution for public lands." While the notion of such an armistice might seem far-fetched, Babbitt artfully retraces the battle lines of some of the most pivotal environmental confrontations of the past several decades, illustrating different components of what such a public lands constitution might look like.
In his analysis of recent successes and failures in federal land use regulation, Babbitt has crafted a deeply insightful yet broadly accessible narrative of environmental progress, worthy of recommendation for its historical context alone. Far more valuable, however, is his ability to charm out elusive and valuable lessons from a wide array of environmental conflicts, many of which occurred under his watch as Secretary of the Interior. The result is a book that can be enjoyed by a wide audience, from interested citizens to high-level policy-makers looking for inspiration and a fresh perspective.
Throughout the book, several themes emerge, none more common than the importance of developing incentives and penalties based on state and local compliance with federal guidelines. The Clean Air Act, for instance, grants the EPA power to withhold federal highway funds if state or local air-quality doesn't meet federal standards. "The prospect of losing highway funds is like the prospect of a hanging," writes Babbitt, paraphrasing Samuel Johnson, "it serves to concentrate the mind."
Similarly, he writes, "the leading cause of the destruction of natural landscapes is scattered development brought on and facilitated by freeways and highways, many built or subsidized by federal grants." Yet local and state agencies receive highway funds whether or not they pay any mind to the impacts of expansive transportation plans, and federal land use regulations have no provisions to prevent such activities.
Improved federal-state partnerships have many advantages, according to Babbitt: The federal government can provide crucial environmental policy direction at a national scale while individual states have the latitude to devise their own means of meeting federal guidelines. States also have greater knowledge of local systems, as well as credibility and planning capabilities that the federal government often lacks. Such partnerships have worked particularly well in adopting restoration plans for the Florida Everglades and the wetlands of California's Central Valley, and in many other cases where federally-listed endangered species have held up development, writes Babbitt.
Although the Endangered Species Act provides a mandate to plan for the recovery and survival of endangered species, many locations, including almost all land area outside of a few western states where most endangered species are found, lack meaningful ability to counter local development pressure. For that reason, Babbitt argues, "the statute should be expanded to apply before the fact of endangerment, more in the style of preventative medicine, designed to assure the health of the patient before debilitating illness sets in."
One of Babbitt's key strengths lies in his approach to delivering on the unfulfilled promises of existing land use regulations to meet a broader and more diverse range of needs. In most cases, his propositions are relatively straightforward, subtle, and yet powerful, ranging from local habitat preservation to large scale ecological restoration.
Yet Cities in the Wilderness provides more than grandiose dreams. Babbitt takes care to note many of the focused social and political strategies involved in successful environmental campaigns: grass roots interest, good press, regional concern, responsive leadership, and building consensus among multiple interest groups, which gives the press an opportunity to cover collaboration, rather than just another political quarrel. Using examples set by the habitat conservation plans for the California gnatcatcher in Orange and San Diego Counties, the open space conservation plan devised by Arizona's Pima County, and the protection of New Jersey's Pinelands, among other projects, Babbitt identifies the roles these elements have played in establishing meaningful environmental protections.
In today's political environment, regardless of whether these elements factor in at the local level, the sweeping regulatory changes required by Babbitt's vision may seem a distant possibility, and success stories of the past have thus far been confined to areas where beneficial circumstances already exist. Babbitt acknowledges this dilemma. "Perhaps progress will not come easily, or at all, in the short run," he writes. "History, however, instructs us that the trajectory of environmental protection is moving ever upward over time, even as the trend line occasionally breaks downward."
As the 2006 mid-term election draws near and the 2008 presidential election inches ever-closer, perhaps many of Babbitt's ideas will find their way into mainstream politics. Until such a time, Cities in the Wilderness serves as a thorough and well-articulated account of our nation's land use struggles, past and present, as well as a true vision for the future.
Erik Kancler is a professional journalist and planning consultant living in Central Oregon where he works as a staff writer for The Source Weekly, a contributing writer for the California Planning & Development Report, and a Research Affiliate for Solimar Research Group.
Editor's Note: Cities in the Wilderness is a Planetizen Top 10 Book for 2006.