The development and planning team behind Middlebrook Farm in Iowa explains how the master-planned community balances productive farmland with new community development.
---
With COVID-19 upending the way Americans live, some people are reconsidering whether the urban center they currently call home is where they really want to be. Essential goods and services have been interrupted and people are taking the time to consider many aspects of urban life, including both the availability and quality of food. Now that employers are rethinking traditional work environments and offering employees the flexibility to live and work from anywhere, it's also possible that the need to live and work in the urban core is diminishing for some. While many urban dwellers may dream of truly rural living, most would prefer the benefits of a rural environment with the amenities of an urban one.
An urban-rural blend like you get in an agrihood offers the best of both worlds: diverse opportunities and experiences coupled with an agrarian lifestyle and sense of well-being. This type of real estate development provides an opportunity to combine agriculture with urban amenities offering immense benefits for farmers, residents, and business owners alike. 
Middlebrook Farm, located just outside of Des Moines, is one of the nation's newest agrihoods, and the first in Iowa. It is focused on enhancing the quality of life and mercantile for residents and businesses by improving access to fresh foods that are grown, harvested, and prepared in the neighborhood, creating opportunities for wellness and offering new social connections that center on collecting, packaging, and distributing food. Middlebrook Farm will offer fresh produce and meat and dairy products to both residents and local restaurants in the region, creating true farm-to-table experiences for people. Additionally, Middlebrook Farm provides community activities, education, and retail offerings that provide residents, patrons, and visitors of all ages with experiences that cannot be found elsewhere in the metropolitan area. Likely, this will foster more social engagement, and a sense of community for people at Middlebrook. Each of the residential neighborhoods has access to small garden plots, pocket parks, and trail connections, as well as the convenience of a pedestrian-focused town center that establishes a civic and commercial heart for the community.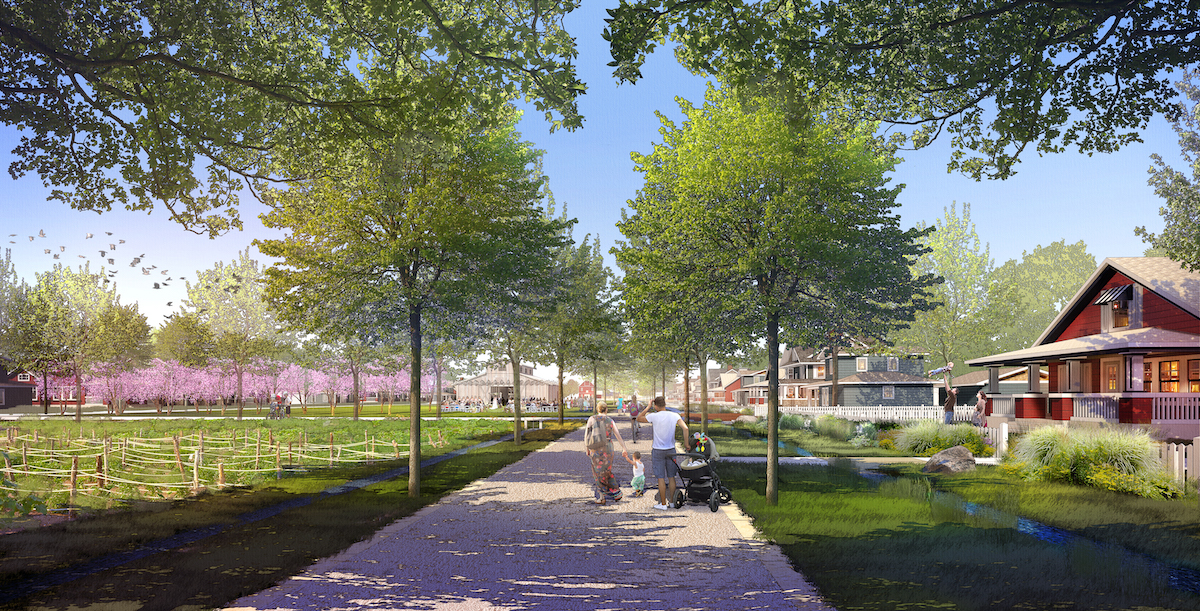 The idea of agrihoods is not new; it was created long ago, in times when people lived off the land and relied on each other for their sustenance, happiness, and well-being, with their homes located near the sources of their food. Juxtapose that to today, when people live far away from their food sources and require more resources and time to transport food to where it is needed. The building of public infrastructure like highways and the desire of people to live outside of the urban core has resulted in the rapid loss of farmland since the 1950s, when the United States accelerated its outward expansion from major cities. If COVID-19 has created a new, lasting fear about living in urban environments, it is likely that demand for living in the countryside will remain and more farms will be lost in years to come, especially as the U.S. population continues to grow. Middlebrook Farm is responding to these issues and others by:
Providing a Solution to Sprawl: By 2050, the demands on agriculture to provide sufficient food, fiber, and energy are expected to grow 50 to 70 percent larger than they are now. Given the dwindling land area of prime agriculture in the United States and the need to feed and house an increasing number of people, it is more important than ever to find a balance for development with agricultural land and natural resources needed for long-term sustainability. Agrihoods enable development to preserve land for farming where people live, invest in critical farm infrastructure, and subsidize a portion of the cost to operate a community farm. 
Reducing Barriers:  Some of the biggest barriers to new farmers are access to land, investment capital, and direct customers. Agrihoods help reduce those barriers and create a win-win-win for the developers, farmers, and residents, as well as for the land and broader community. 
Connecting Communities: Agrihoods make it possible for people to foster a deeper connection and appreciation for the land and those who cultivate it because the agricultural land is located just outside their back door. The proximity to their food sources assures residents about its quality and freshness. Additionally, access to locally grown fresh fruits and vegetables encourages a healthier diet and lifestyle.
The development model for Middlebrook Farm will demonstrate how productive farmland and new community development can be physically and economically integrated as a profitable and sustainable business. The idea of the "farm" is not to simply to provide a bunch of garden plots in neighborhoods that few people benefit from or that offers a homebuilder to a different marketing pitch. It is about creating a business venture that does not strain the community HOA or local government to support it.
Not only will Middlebrook Farm provide over 1,000 dwellings, ranging from single-family homes, townhouses, apartments, senior living, and high-end estate home, but 75 acres are devoted to agriculture and animal husbandry, with plans to include an apple orchard, sheep meadow, winery, greenhouse and hydroponic site, and flower fields. At full capacity, the collection of farms and gardens at Middlebrook will be able to supply enough vegetables and fruit to serve a community of over 1,000 families with locally grown, seasonal produce, enabling Middlebrook Farm to be commercially viable for the residents and businesses. Additionally, 40 acres of land remains devoted to natural open space with bike and pedestrian trails, neighborhood gardens, a naturalistic adventure playground, court games, and other park spaces.
The community plan will provide a variety of productive landscapes from small potager gardens to vegetable and flower fields to large scaled orchards. Residents and business owners alike will be able to reap the benefits in knowing where some of their food comes from and trust the quality of it because of the environmental agricultural practices the farm will conduct. Additionally, Middlebrook Farm will provide health and well-being to those who actively participate in the sowing, growing, and harvesting of food throughout the growing season. The act of farming can also provide an opportunity for the community to come together and bond. It can result in passing along the values of land stewardship and appreciation for the larger environment from generation-to-generation. The first neighborhood, called Great Western Crossing is approved but the larger Middlebrook community is still in an entitlement process with the city. The first 15-20 homes at Great Western Crossing are expected to be completed by June of 2021.
If we are not proactive, valuable farmland will continue to disappear as we continue building outward from city centers like Des Moines. Losing fertile ground will challenge the nation's ability to feed more people as populations continue to increase in the future. The cost to produce food will likely go up if we cannot produce more food on less land and with fewer resources. Agrihoods can be a small but important step in preserving productive farmland while balancing the need for new real estate development in growing cities. Agrihoods are a way in which the United States can future proof itself against the circumstances of the present and the future.
Jim  MacRae is a principal at Design Workshop, a land planning, landscape architectural, and urban design firm. Jim was the principal-in-charge of the Design Workshop team that master planned Middlebrook.
Steve  Bruere is the land developer who has created Iowa's first agrihood, Middlebrook Farm, just outside of Des Moines.
San Francisco Just Ended Single-Family Zoning
The San Francisco Board of Supervisors voted to Tuesday to eliminate single-family zoning, but pro-development advocates say additional changes are needed to unleash a wave of construction.
Biden's Environmental Legacy (So Far)
President Biden campaigned on promises to restore many of the environmental regulations rolled back by the previous administration, while promising new efforts to tackle environmental injustice and climate change.
This six-course series explores essential urban design concepts using open source software and equips planners with the tools they need to participate fully in the urban design process.
This course aims to provide an introduction into Urban Design Sketching focused on how to hand draw master plans using a mix of colored markers.
View More