Planopedia
Clear, accessible definitions for common urban planning terms.
---
What Are Housing Subsidies?
Housing subsidies can work in numerous ways, all with the common cause of easing the cost burdens of housing.
---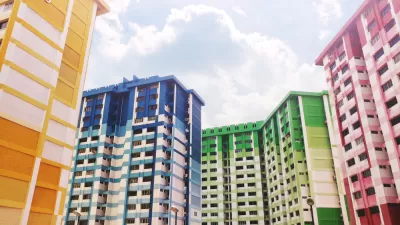 Housing subsidies are a housing policy tool designed to make the cost of housing affordable for low-income individuals and families. 
Subsidized housing is frequently associated with the blanket use of the terms like affordable housing, low-income housing, public housing, and social housing. Housing subsidies are usually associated with government programs, but nonprofit, religious, and charity organizations also run subsidized housing programs.
One of the most common (especially in the public perception) forms of housing subsidy is a direct payment provided to renters to cover some of the cost of rent on the private rental market. Direct payment of housing subsidies are sometimes referred to as housing vouchers and are most frequently associated with a federal program known as Section 8. 
Housing subsidies also include government funding for the development and operations of facilities that offer housing units set at a price affordable to low-income individuals and families. The United States more frequently relied on such public housing programs during the urban renewal programs of the mid-20th century, resulting in some of the most spectacular policy failures of the past century of U.S. urban planning, exemplified most potently by Pruitt-Igoe in St. Louis and Cabrini-Green in Chicago. For a contemporary example, the housing owned and controlled by the New York City Housing Authority is a source of constant criticism from both sides of the political aisle.
Housing subsidies are also offered in various forms to homeowners. The mortgage interest deduction, a tax break offered to homeowners, is by far the largest housing subsidy program in the United States. The mortgage interest deduction's example is frequently invoked to reveal that housing subsidies are much more common for middle- and high-income Americans—rather than for housing subsidies at the low-income end of the housing market, as is commonly perceived. 
Many housing subsidy programs face almost constant controversy, but especially housing subsidies that make accommodations for rent as a last resort for qualifying individuals and families. 
Housing subsidies are also a frequent target of discriminatory actions that limit the economic and health outcomes of Black, Indigenous, and People of Color in the United States. Renters receiving vouchers for housing subsidies are frequent targets for "Source of Payment Discrimination," a term used to describe the practice of landlords rejecting potential renters that depend on housing subsidies to pay the rent. Social housing advocates point to the failures of the public housing programs of the 20th century, with legacies that persist into the present day, as evidence of deliberately discriminatory and segregationist purposes. 
Types of Housing Subsidies
Housing subsidies in the United States can be conceptualized in a framework to help understand the distinctions in how each kind of subsidy works. 
Affordability Incentives
Mortgage interest deduction (the largest housing subsidy in the United States)

Low-Income Housing Tax Credit (the largest amount of money for the development of affordable housing funding in the United States)
Nonprofit housing development
Direct Payment Programs
Section 8 (The largest amount of money for rental assistance in the United States)

Rent relief (also known as rental assistance)

Eviction relief
Mortgage relief
Public housing

Housing cooperatives
International Examples
Housing subsidy programs in the United States are famously underfunded compared to the need. In many growing cities, the cost of housing is out of reach for many low- and even middle-class residents. Additional subsidies would also be useful in stabilizing many underinvested neighborhoods and shrinking cities. While the United State's history of housing subsidy programs is a story of underfunding and neglect, other countries and cities around the globe, led by the examples of Vienna and Singapore, have provided models of success for much more robust public investment in housing.
More planning terms