University of Southern California
Master of Urban Planning
---
---

The USC Price Master of Urban Planning (MUP) program prepares future leaders to improve the quality of life for urban residents and their communities worldwide by focusing on bridging social justice and innovations in data with the field's core roles at the nexus of human behavior, policy, and the built environment. USC and the Price MUP program have a unique set of strengths at the intersection of social justice, spatial and visual analysis, big data, and media.
At USC Price, we are committed to linking from data to questions of equity and social justice. We have built a core curriculum that focuses on questions of justice and inclusion, and we are committed to leadership on those questions. We train leaders and change agents, with a curriculum that focuses on emerging areas in urban planning and urban issues more broadly.
USC Price is ranked 3rd among the top five public affairs schools and 2nd in urban policy in the 2023 U.S. News & World Report.
Areas of Concentration
The Price MUP offers six areas of concentration:
Students may pursue dual degrees in the areas of Architecture, Landscape Architecture, Public Health, Public Administration, Public Policy, and Real Estate Development, among others. They also may earn one of several graduate certificates in conjunction with the MUP. The program offers courses allowing students to specialize in social justice or international themes that complement their concentration studies.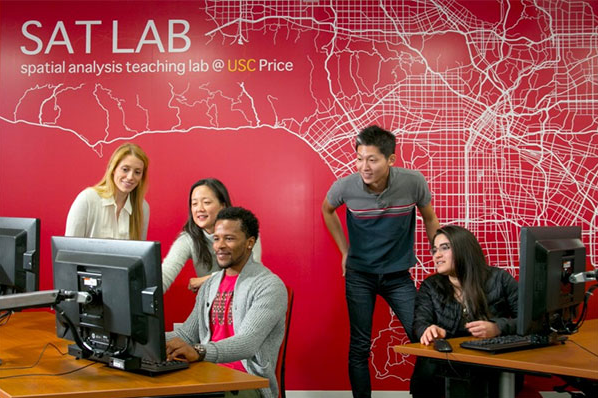 Gain Real-World Experience
Price MUP students can take advantage of nearly a dozen community-based labs or studios each year. Students work with clients and produce planning reports on real-world problems.
Examples include:
Planning Studios
Proposing new uses for land occupied by a health center in City Heights, San Diego
Enhancing economic opportunity in Los Angeles' garment district
Community elementary school relocation in City Heights, San Diego
Reducing homelessness in Skid Row, Los Angeles
Reducing truck congestion, Ports of Los Angeles and Long Beach
Planning for bicycle sharing, downtown Los Angeles
The new landscape of supply chain resilience, Los Angeles
International Labs
Housing plan for State of São Paulo, Brazil
Historic preservation in Varanasi, India
Eco-tourism in Costa Rica
Master-planned senior living in China
Urban redevelopment in Tokyo
World Cup/Olympic mega-events and neighborhood impacts in Rio de Janeiro
Mass Transit Railway (MTR) and transit-oriented development, Hong Kong
USC Price School students find careers with many influential public and private companies and organizations.  Recent positions and employers hiring MUP graduates include:
Public
Chief, Department of General Services, State of California
Director, Countywide Planning and Development, Los Angeles Metropolitan Transportation Authority
Deputy Director, California Governor's Office of Emergency Services
Deputy Director, California Strategic Growth Council
Operations Manager, Port of Los Angeles
Special Assistant to the City Manager, City of Santa Ana
Sustainability Coordinator, County of San Mateo
Private
Transportation Planner, Nelson/Nygaard Consulting Associates
Senior Analyst, Jones Lang LaSalle
Government Affairs Manager, Building Owners and Managers Association of Greater Los Angeles
Project Manager, Mesa Lane Partners Real Estate Development
Planner, MVE+Partners
Director of Government Affairs, Palomar Health
Director, Hilton Worldwide
Senior Consultant, Steer
Nonprofit
Policy Director, Los Angeles Business Council Institute
Program Manager, The California Endowment
Project Manager, Homeland Security Advisory Council
Department Program Manager, Northeast Valley Health Corporation
Assistant Project Manager, Skid Row Housing Trust
Quick Links
Contact Us
Sarah Esquivel
Associate Director of Recruitment and Admission
(213) 740-0399
[email protected]
Department Chairs
Marlon Boarnet
Chair, Department of Urban Planning and Spatial Analysis
(213) 740-3696
[email protected]
Liz Falletta
Vice Chair, Department of Urban Planning and Spatial Analysis
(213) 740-3267
[email protected]
---
Find More Programs

University of Southern California
Sol Price School of Public Policy
Department of Urban Planning and Spatial Analysis
650 Childs Way
Ralph and Goldy Lewis Hall, 102
Los Angeles, CA 90089-0626
US
Planning Accreditation Board
Find More Programs

University of Southern California
Sol Price School of Public Policy
Department of Urban Planning and Spatial Analysis
650 Childs Way
Ralph and Goldy Lewis Hall, 102
Los Angeles, CA 90089-0626
US
Planning Accreditation Board