Building in an Impossibly Narrow Spot
Israeli writer Etgar Keret has commissioned a home to be built in the narrow space between two buildings in Warsaw, Poland. The house will be 4 feet across at the widest point.
The narrowest spot in this unusual home will be just 28 inches across - "thinner than the average doorway," writes Suzanne LaBarre. The place is so thin it is technically against building codes and is only being allowed because it is classified as an art installation:
"The place will have off-grid plumbing inspired by boat sewage technology and electricity lifted from a neighbor. To save space, the entry stairs will fold up at the press of a button and become part of the first floor."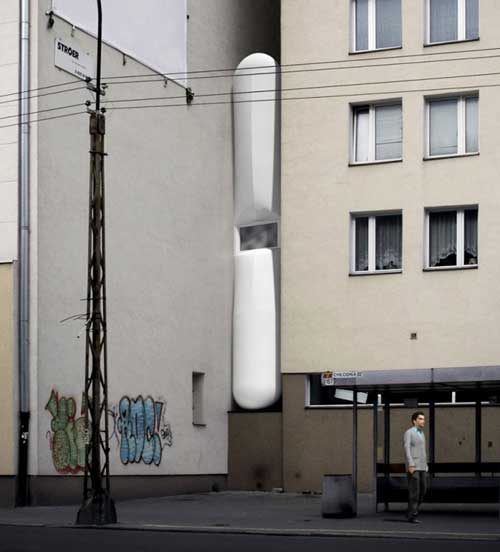 Courtesy of Centrala
Commentator Robert Krulwich thinks that the home is a violation of biological imperatives, namely, the "'Size/Abundance Rule', which says bigger animals live farther apart, smaller animals live closer together. Mr. Keret is hundreds (maybe thousands) of times bigger than a finch. His home territory should reflect that. Midsize mammals shouldn't live like midsize avians."
Topics