Swim Fan: Public Space in the River
Amanda Burden's High Line has elevated public space to new heights. "+Pool" design trio want to submerge it under water, specifically in the East River that runs through NYC.
Dong-Ping Wong, Archie Lee Coates IV, and Jeffrey Franklin envision an enormous, floating public pool shaped like a plus symbol (hence its name, +Pool) in the Manhattan riverbank.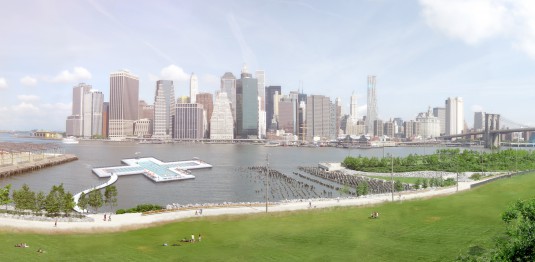 The proposal is well received by the public. Their immediate hurdle now is raising capital. "In order to build a full-scale mock-up of the pool [...] the project will need $500,000 in funding and that may require a corporate sponsor or the city's support," writes Cheryl Yau for Metropolis magazine. But the project is off to a good start. In less than a week after its campaign with Kickstarter, +Pool crossed the $25,000 benchmark.
"While +Pool isn't a restoration project like the High Line, it seems to be attracting just as much public interest, and will contribute in a similar way to the growing development of New York's waterfront," Yau observes.