Urban Planning Gift Ideas For Children (Your Budding Planner)
I've gathered some of the best here, properly field tested by my boys, to help you with your holiday shopping list.
Legos, trains, blocks and books -- I'm certain my interest in urban planning was spurred by playing with toys like these that involved building and understanding how things work. With twin 5-year old boys at home, I'm intimately acquainted with the latest in toy trucks, games and DVDs for budding urban planners. I've gathered some of the best here, properly field tested by my boys, to help you with your holiday shopping list.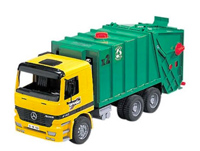 Bruder MB Garbage Truck ($55)

The Bruder line of toys are made in Germany from high-quality ABS plastic, and are very tough. My kids have put their Bruder garbage truck and fire engine to the test. The Bruder series are more expensive, but tend to be worth it. They're substantial (at 2 feet long and a foot tall), and are exceptionally realistic. For example, the MB Rear Loading Garbage Truck features a loading arm to dump trash bins into the loading section, a functioning trash compactor, side dial which can actually scoop out trash from the loading section into the body of the garbage truck, and the back loader opens up and pushes out the trash with the turn of a knob. My boys load shredded paper into the back over and over.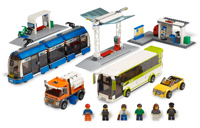 LEGO® City Transport Station ($100)

Some of the best quality time I spend with my boys is creating Lego buildings and spaceships together. This set is already on my holiday wish list; we'll have to see if I get it for me or for them. This special set features a solid set of urban planning-friendly vehicles: city bus, tram, street sweeper and sports car (for carpooling, of course). You can take the roof off the bus to see inside and open the tram doors to load passengers.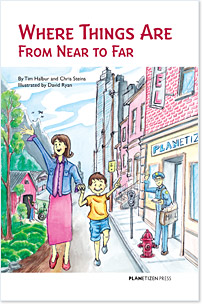 Where Things Are, From Near to Far ($20)

Forgive the plug, but I think this 22-page, full-color, 6"x9" hardcover book, written by Planetizen Managing Editor Tim Halbur and me, is both fun to look at and to read. The book was inspired by my desire for a book to introduce planning to my young boys. Also, for the holidays, Tim and I will sign a personal dedication to your budding planner. Email [email protected] with your children's names and how you'd like it to read. (Santa works here too, if you'd rather his signature.)

Richard Scarry's "What Do People Do All Day" ($12)

Maybe you remember this classic from your own childhood. The 64-page book includes stories about various animal characters explaining what busy people do all day, from building houses, delivering mail, growing food, caring for others. My kids love to see the pictures and follow along as I read to them.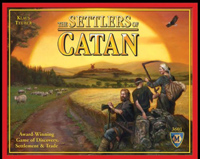 The Settlers of Catan ($35)

This family board game is recommended by Tim, and is for slightly older kids (10+) and adults. The Settlers of Catan has been translated into thirty languages from the original German and is wildly popular across Europe. The game has rapidly become popular in part because the mechanics of play are simple, while teaching complex dynamics. The goal is to reach ten points, but it is great for family play, since no one gets eliminated. Players build by spending resources (brick, lumber, wool, grain, and ore), represented by resource cards; each land type, with the exception of the unproductive desert, produces a specific resource. Players score one point for each settlement they own and two for each city. Various other achievements, such as establishing the longest road and largest armies, grant a player additional victory points.

Imaginarium Classic Train Table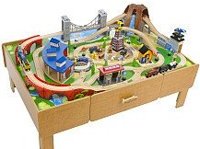 with Roundhouse Wooden Train Set ($200)
This is the ultimate gift for the kid who loves building train tracks. This holiday gift last year from the grandparents put all previous train sets to shame. The surprisingly sturdy play table includes drawers on each side for storage, and fits the included double-sided playboard, which features graphics one one side and a solid green on the reverse.

The set comes with a fueling station, airport tunnel with sound and working door, bridge with light and sound, a working crane with magnetic grapple, mountain tunnel with sound, and a roundhouse with five opening doors and working turntable. The sounds and lights can be activated using any wooden train engine or train car with magnets (such as Brio or Thomas & Friends wooden train sets). The set includes over 100 pieces and 23 feet of track as well as lots of accessories.

I have three helpful tips for you: First, setting up (read: BUILDING) the table the first time takes a good hour, but will take at least two hours if your kids are standing around trying to help while you build it. Second, once you have everything set up, take a high-resolution digital color picture of the train set you assembled according to the directions and save this on your computer. (Because you WILL lose the instructions.) Third, for maximum fun, you'll want to get at least 5-10 additinal trains (such as Thomas the Train engines). You can get these on Amazon. If you're on a budget, I've gotten some great deals on slightly banged up trains on eBay.

Even after a year with this gift, my kids regularly enjoy experimenting with building all sorts of different configurations, and eventually invariably want to rebuild the original configuration (which is where the digital photo comes in handy). At five, my kids can now break down the entire set, and rebuild it in about 20 minutes using the reference picture.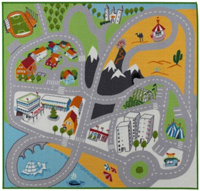 Ikea LEKPLATS Play mat ($15)
This simple play mat has a funky version of a city printed on the 5" square mat. It's quite portable for taking on vacations and using to help constrain the sprawl of toys all over the hotel room. Our kids use it at home as a simple blueprint to create cities with legos and Matchbox cars.

Mighty Machines Educational DVD/Shows ($6)

Mighty Machines is a children's television show about different types of machines and how they work. It currently airs on several Canadian channels, and from time to time on cable channels in the US, or via Netflix. Each DVD contains three 20-minute shows. The show is not animated; rather, you see real footage of the machines in action, and the characters are the featured "machines", such as a train, truck or bus. The show is narrated with voiceovers for the machines. My kids are captivated by the shows, which appear to be highly educational. As kids shows go, they are not painful to watch for adults. In fact, on one episode of "Making Tracks", I learned quite a lot about how a train track gets replaced. Our favorite DVDs are: All About Recycling, Making Tracks,  At The Garbage Dump, Making a Road, At The Train Yard, and All Aboard.

So what did I miss? What's your favorite urban planning-related gift for a child?