ULI's Odd Notion Of 'Global Excellence'
I write this blog from the concrete cradle of Nokia Plaza, an urban space so wondrous that the global arm of the Urban Land Institute has bestowed upon it one of five "
2010 Global Awards for Excellence
." In winning such a distinguished award, you'd think that developer AEG would have invited the Laker Girls and be pouring Champagne for an ebullient crowd here in one of the world's great public spaces. Except they're not. In fact, I'm pretty much alone.
I don't suppose the pigeons are carrying Cristal underwing?
I write this blog from the concrete cradle of Nokia Plaza, an urban space so wondrous that the global arm of the Urban Land Institute has bestowed upon it one of five "
2010 Global Awards for Excellence
." In winning such a distinguished award, you'd think that developer AEG would have invited the Laker Girls and be pouring Champagne for an ebullient crowd here in one of the world's great public spaces. Except they're not. In fact, I'm pretty much alone.
I don't suppose the pigeons are carrying Cristal underwing?
If I was writing this a few blocks away at Tiara Cafe, Groundworks Coffee, Lost Souls Cafe, then I'd have some company. Dakota from CurbedLA would likely be working on roughly the same piece as I'm writing now, and if Latino urbanism mastermind James Rojas popped in, with his building blocks and all, I wouldn't be surprised. Add some loft-dwellers, some City Hall staffers, and some garment industry workers and we'd have a grand old time.
So when do those places get their award?
ULI Los Angeles has been very progressive of late. Some conferences, including those promoting TOD and assuring the world that California's SB 375 will be a good thing for developers, could be mistaken for Congress for New Urbanism rallies. In fact, ULI's California contingent is among the many who have realized, finally, that the era of wonton, government-sponsored sprawl is ending. We can only hope the same for mega-developments. Apparently the folks back at ULI base camp didn't get the memo.
Then again, ULI, is a developers' organization and LA Live is nothing if not an impressive development. It is impressive in its size: 20 city blocks. It is impressive in its cost: $2.5 billion. It is impressive in its ugliness: grotesque.
The last point I cannot emphasize enough. Smack in the center of one of the more stylish cities in the world, LA Live brings the worst combination of mall architecture and Rust Belt massing imaginable. The Regal Cinemas building has nothing in common with the hotel tower which, in turn, reflects the Nokia building only insofar as they are all neo-Modernist rehashes with no sense of style and even less sense of humor. The whole thing is about as familiar with its adjacent neighborhoods as Christine O'Donnell is with the First Amendment. And, while LA Live evinces none of the intellectual weight of high Modernism, its looming pastiche and collage of commercial signs does a great job of making humans feel small.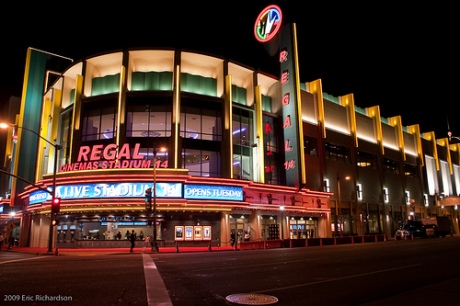 This aesthetic bankruptcy comes to a head in the Regal Cinema building, which, with flying buttresses and a color scheme that draws on the worst of the '70s, '80s, and Art Deco, looks like a parody of postmodern architecture, if such a thing were logically possible. Literally topping it all off, in full view of the 110 Freeway, is a prime example of the increasingly common accessory known as the "asshat." It's a pointless bulge that goes where the corner used to be. I regret the profanity, but now that the word has gained credence, how can any architect design one with a straight face? ("Say there young man, what do you call that thing?" "It's an asshat, sir." "Great! Let's build one.")
ULI's kudos do not, however, refer directly to design, so it's probably not fair to harp on it. Instead, ULI actually describes LA Liveas a wondrous urban place and a great example of planning. It credits LA Live for revitalizing its corner of Downtown L.A. and for providing a host of civic amenities. It also implies that there was some creativity involved, some overcoming of obstacles, even.
But let's remember that LA Live was developed on a parking lot and that parts of it, most notably the 54-story, coffin-shaped Ritz-Carlton hotel, absolutely begged the city for millions of dollars in tax breaks. If I had a parking lot and that much scratch I'd like to think that I'd come up with something that felt less like an airport mated with a mall and more like, say, a city.
One nice thing about cities is that they have public space. As LA Times architecture critic Christopher Hawthorne pointed out when it first opened, LA Live is not public space at all. First of all, if Nokia Plaza was public, it wouldn't be called "Nokia Plaza." As such, LA Live is a case study for the privatization of the American city and the de-democratization of the public realm. As with many other such spaces that are "open to the public" rather than actually public, people tend to pass through quickly. They know who the real owners are. So, in a city desperately lacking in neutral territory, don't expect to see demonstrations, picnics, or furtive romances to take place underits watchtowers. Adoration of professional athletes? Yes, that's fine.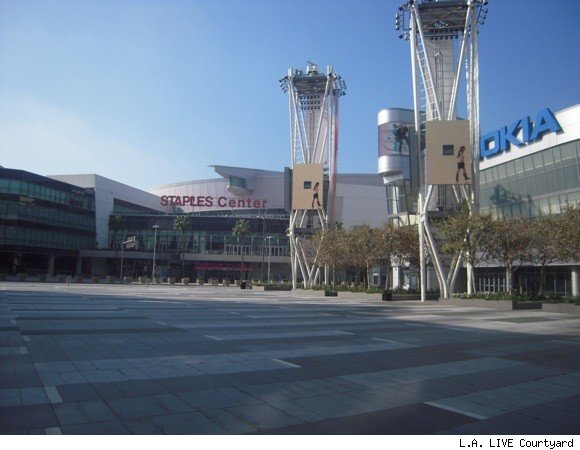 Another nice thing about cities is that they have public transit. ULI says that LA Live "implements" transit, except that last time I checked it was Metro that "implemented" transit in L.A. – and that the nearby subway and light rail lines have been there for years. Let's give them a half-star for "taking advantage of" transit.
As for "sparking further development," let us go no further than Sonny Astani's tale of woe. Astani, a philanthropist and seemingly nice guy, has given up his dream of putting Blade Runner graphics on his Concerto condo tower and replaced it with a desperate attempt not to get foreclosed on. Concerto is about two blocks from LA Live.
Finally, ULI credits LA Live for attracting events, such as concerts, to the Nokia Theater. Note to ULI: this is not a stretch. Last time I checked, Los Angeles, the "Entertainment Capital of the World," had little trouble attracting touring acts, nor did it have a shortage of venues. So if Godsmack, Yo Gabba Gabba!, and "Video Games Live" (WTF?) couldn't book the Nokia for their upcoming shows, I'm pretty sure they'd still have paid a visit to, say, the Ford, the Greek, the Bowl, the Shrine, or the Kodak. I do wish that some of those were more pedestrian friendly, so LA Live is an improvement over some venues, but it did not single-handedly bring pop music to Los Angeles. For that I think we can thank, say, The Beach Boys. 
Like any other developer AEG is of course free to build something as awful as it sees fit, but does a respected organization really have to give it one of five precious awards? I have never been to Warsaw's Miasteczko Wilanów, Singapore's Southern Ridges, the Rouse Hill (Australia) Town Center, or Philadelphia's Thin Flats, but now I don't want to. Because if those other winners of ULI's Global Excellence Awards are just as regressive as LA Live is, then I'll just stay home, unscrew some Boone's Farm, and download the theme song to Grand Theft Auto.  
Topics