---
In a rebuttal to Roberta Brandes Gratz's argument against shrinking cities, planner Brian J. Connolly argues that Detroit is beyond preserving and needs to increase density by concentrating development in more limited areas and cutting off services and infrastructure to areas that are almost empty. 
Surrounding the intersection of Chene Street and Warren Avenue in Detroit are blocks of urban prairie, a wasteland devoid of people and dotted by abandoned buildings. One would be hard-pressed to believe that this spot is three miles from the downtown of America's eleventh-largest city.
Areas like these are the subject of Mayor Dave Bing's plan to "right-size" Detroit, cutting infrastructure and services to the most blighted areas. By shrinking Detroit, Bing rightly recognizes opportunities for the city to save resources and focus development efforts in healthier areas such as Midtown and Cass Corridor, the riverfront and other revitalizing neighborhoods.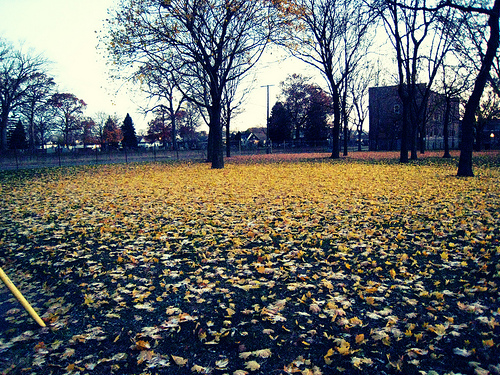 Earlier this week on Planetizen, Roberta Brandes Gratz rebuked the idea of shrinkage, arguing that a successful revitalization is built on preservation efforts. Gratz ignores Detroit's exceptional problems - no city has experienced the magnitude of abandonment that Detroit has, and no market exists to bring the city back.
Unlike neighborhood-decimating urban renewal, Detroit's right-sizing program targets areas that have neither people nor intact buildings. Preservation is important but in many Detroit neighborhoods, remaining buildings are too burned-out or unsafe for rehabilitation.
Preservation-based regeneration examples such as Georgetown, Harlem or neighborhoods in Brooklyn are not replicable in parts of Detroit. Some Detroit neighborhoods simply have nothing left to revitalize. Georgetown's regeneration was supported by its proximity to the nation's biggest employer, the federal government, and a large private university. Harlem's and Brooklyn's location in the New York real estate market was a key factor in their rebirth. Detroit has neither of these conditions.
Density is necessary, which is all the more reason Detroit must shrink. Detroit was always a low-density city. Closing vacant neighborhoods increases density by concentrating development in more limited areas.
To make right-sizing successful, Bing should integrate the program into a broader initiative with four elements.
Plan Comprehensively
First, instead of a piecemeal approach, right-sizing should be part of a citywide comprehensive planning effort. As portions of the city are closed down, stakeholders should be engaged to determine what a shrunken Detroit should look like.
An asset inventory would ground the effort in the city's strengths and direct the planning process. Afterward, updates to Detroit's outdated zoning ordinance would codify the city's goals, especially for closed-down areas, and could create a walkable and transit-oriented character for remaining neighborhoods.
Detroit has help available and models to follow. Recent national media coverage has planners itching to get involved, while philanthropic organizations stand ready to fund revitalization efforts. Local universities can contribute no-cost planning talent and generate ideas. Planning efforts in other large American cities, such as New York's PlaNYC program, can serve as models for a citywide planning effort.
Downsize Infrastructure
Second, although Bing's right-sizing strategy focuses on huge vacant areas, even Detroit's vibrant neighborhoods need infrastructure downsizing.
Midtown, one of the city's redeveloping neighborhoods, is an example. Its nine-lane-wide spine, Woodward Avenue, was outmoded in the 1960s by the construction of parallel freeways. Cutting vehicular lanes, offering transit options and adding pedestrian amenities would create an environment that encourages people to do more than drive through the neighborhood as well as improve pedestrian safety. Increased human activity would reduce crime, too.
Infrastructure right-sizing would reduce maintenance costs and build a more human scale, triggering investment. The successful rehabilitation of the downtown portions of Woodward, Broadway and Washington Boulevard in the early 2000s with landscaping and pedestrian amenities brought new development to the surrounding neighborhood and could be replicated elsewhere.
Focus Growth
Third, the right-sizing program should remain committed to targeted growth opportunities.
Detroit should rekindle momentum on initiatives such as riverfront redevelopment, façade improvements and streetscaping. The past decade saw over $1 billion in private investment go into downtown and riverfront projects, and these efforts should not be wasted. With its strong nonprofit sector, the city can build on these successes and pursue development projects for key sites, particularly downtown. An inventory of vacant properties would start this effort.
Additionally, good physical development breeds successful revitalization efforts. Detroit can avoid desperate approaches to development that produce strip malls, gated communities and monolithic office complexes. The city should foster positive relationships with developers through collaborative efforts that ensure high-quality design and construction that foster an urban character instead of the suburban character typical of some recent projects.
Moreover, Detroit should pursue some landmark developments to catalyze neighborhood revitalization. The city should tear down or restore eyesores such as the Michigan Central Depot and the derelict Packard plant. Seeking creative redevelopment options, such as conversion of the Depot into a convention center or other public use would symbolically reestablish the city's control over its destiny.
Engage the Suburbs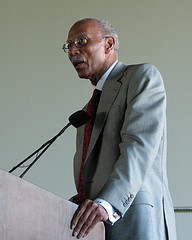 Mayor Dave Bing (photo: Dave Hogg).
Finally, the right-sizing plan presents a unique opportunity to engage the suburbs in a long-overdue regional dialogue. Detroit is not alone in its plight. The inner-ring suburbs have experienced abandonment and are in worse fiscal predicaments. The recent recession has exposed the whole region's overabundance of commercial and industrial space, and residential vacancies have crept higher even in outer suburbs. This shared reality should be addressed by the entire region.
Bing, a former sports star, businessman and quasi-suburbanite, is the best-positioned mayor in the city's history to reach beyond its borders. A City Council with new, young faces should open the doors to collaboration. Convincing arguments can make suburban leaders understand why Detroit's revitalization is of regional importance. Public education and media exposure are essential throughout the process.
Detroit is at a crossroads to which no city of its size has ever come, yet opportunity is knocking. The right-sizing agenda can be a foundation for rebirth, but must exude good planning.
In Bing, Detroit finally has a mayor who recognizes the city's reality and has the gravitas to build consensus. A strong nonprofit sector and philanthropic organizations are committed partners. The national media has taken interest in the city's redevelopment. Widespread interest in walkability, transit-oriented development and environmental sustainability can direct planning efforts toward high-quality development. By shrinking the city to a manageable size, the mayor might finally create a brighter future in Detroit.
---
Originally from the Detroit region, Brian J. Connolly is a professional planner with land use and economic development experience in federal and local government and the non-profit sector, including in Detroit. Connolly holds a Master of Regional Planning and B.S. in Urban and Regional Studies, both from Cornell University. After working in the New York City area for two years, Connolly will be returning to Michigan in 2010 to study real estate, land use and municipal law at the University of Michigan.
The Surprising Oil Tax in the Inflation Reduction Act
President Biden has made reducing gas prices paramount in his administration, so it was likely a surprise to hear a Republican senator last Sunday warn TV viewers that a revived and increased oil fee in the climate bill will increase their gas costs.
The Tide Has Turned Against Open Streets
Once a promising development for advocates pushing for a less car-centric future in cities, the open streets movement has ceded significant ground to cars since the height of the pandemic.
This six-course series explores essential urban design concepts using open source software and equips planners with the tools they need to participate fully in the urban design process.
This course aims to provide an introduction into Urban Design Sketching focused on how to hand draw master plans using a mix of colored markers.
View More