<p> You don&#39;t know how you get there, but you&#39;re there. And you can&#39;t leave. You&#39;re a prisoner among hundreds of other prisoners, but you&#39;re the only one who knows it. Or at least you think you know it. Are you really still a prisoner if you forget you&#39;re being held against your will? Existentialism aside, what if it&#39;s your environment that&#39;s taking away your sense of individualism? <br /> <br />
---
You don't know how you get there, but you're there. And you can't leave. You're a prisoner among hundreds of other prisoners, but you're the only one who knows it. Or at least you think you know it. Are you really still a prisoner if you forget you're being held against your will? Existentialism aside, what if it's your environment that's taking away your sense of individualism?
In 1967 and 1968, there was a British TV show called The Prisoner that supposed these questions, and painted a very dark and dystopian picture of possible extra realm beyond commonly experienced society, where unseen powers oversee and control the existence and limits of all those within their grasp. People are taken there, against their will, and not allowed to leave. People who knew something. Something they shouldn't have known. It's messed up to the point of inducing a deep state of paranoia or even schizophrenia.
I was probably 10 years old or even less when I first saw this show. The allegorical message of the show was probably above my head at that time; I wasn't too concerned about Big Brother or any sort of new world order surreptitiously dictating the culture and lifestyle I'd be subjected to. I just thought the show was cool. And that it looked cool.
I'm not exactly sure how I came to see this show as a little kid, but looking back on it, I realize that one of the main things that stuck with me about The Prisoner was the faux-utopian pastel sterility of The Village. It's top-down all the way, and a really bizarre vision of a maybe-not-so-unbelievable future world commandeered by a controlled chemical drip into an undetected IV in our arm. The Village is the physical representation of that drug-induced stupor, one so overwhelming and orchestrated that one has to constantly struggle against its physical prescription of appropriate behavior and mentality.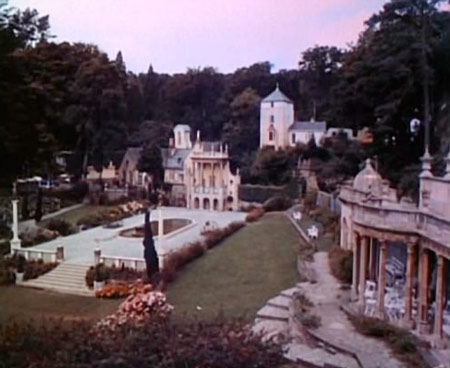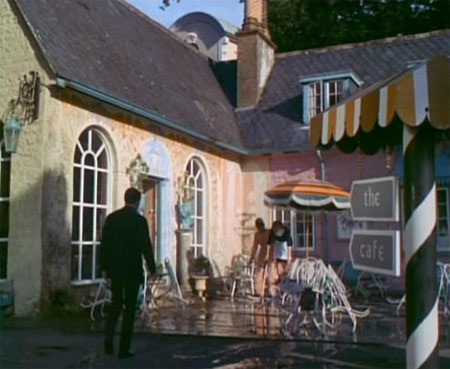 Granted, the show was filmed in the late '60s in the Welsh resort town of Portmeirion, so much of the aesthetic of the show is pre-existing. But the campy-ness of the setting was much more than a symptom of the times. The traditional design and the quaint color scheme used by the producers give the Village a theme-park sense of management where one need not concern themselves with why or how anything works, just that it does. The narrow walkways and superbright lawns, the umbrellas and outdoor seating, the old-fashioned signage and cottage-like living units – The Village is the physical representation of a certain sort of ideal. It's Seaside, Florida, on Quaaludes.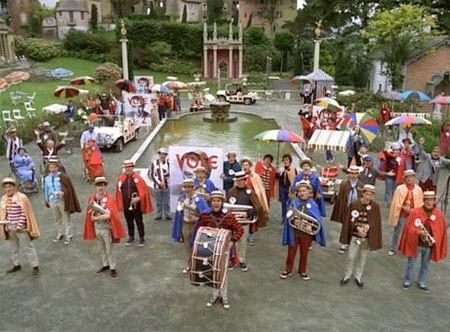 Beginning November 15, a new version of The Prisoner is airing on AMC. It's a six-part miniseries following the same storyline as the original (which ran just 17 episodes). I haven't been able to see too much of it pre-broadcast, but as you can see in the image below, the architecture and urban design of the new Village play just as important a role in creating that sense of control and lost control.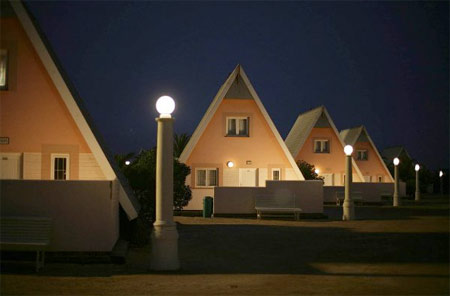 Scan ahead to about 1:00 in the video below to see a little bit of the urbanism and bizarro-town design that is likely to be one of the most interesting but underappreciated aspects of this new version of The Prisoner.
Whether the show itself is any good is up in the air; it's arguable that a new version wasn't needed at all, but we all know that remakes are an easy sell. Nevertheless, the show should be worth looking at for at least a few minutes. I wonder what impact it will have beyond the entertainment world. Can we expect some Prisoner-like hyper-controlling Villages in the near future? Are they already here? Are we in one right now?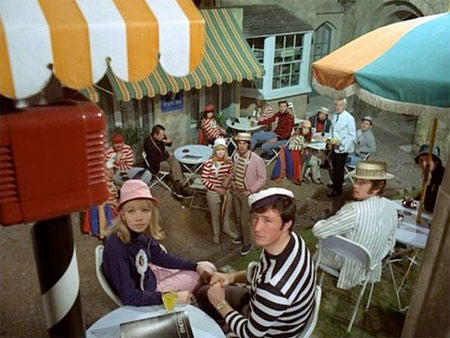 ---
How Sharrows Became Cycling's Most Hated Symbol
Originally designed as a low-cost way to encourage safer road sharing between bikes and cars, the sharrow has become a symbol of the lack of commitment to protected bike infrastructure in many cities.
Sports Stadiums Bring Few Economic Benefits
While their developers often tout jobs and local economic development as benefits of major stadium projects, research shows these venues often make little impact on local economies.
This six-course series explores essential urban design concepts using open source software and equips planners with the tools they need to participate fully in the urban design process.
This course aims to provide an introduction into Urban Design Sketching focused on how to hand draw master plans using a mix of colored markers.
View More