With the emergence of new traditional design patterns among contemporary architects, the standards and rules that have defined historic preservation are becoming obsolete. Steven W. Semes calls on planners and designers to create a new ethic of harmonious intervention into historic settings.
---
For the last half-century, historic preservation regulation has offered an essential defense of the cultural values embodied in our heritage environments. The need to conserve the most valued models of architecture and urbanism has motivated citizens around the world to defend the character-defining elements of these places from destruction or insensitive modification. While early preservation battles were aimed against willful destruction of historic properties for the sake of economic development or thoughtless "modernization," now the challenge is more likely to be preserving historic character from additions or alterations by noted architects that introduce discordant elements or styles, even at sites under the protection of preservation laws. The guardians of our historic places have too often yielded to the promoters of the "architecture of our time," with dismaying consequences. How did this happen?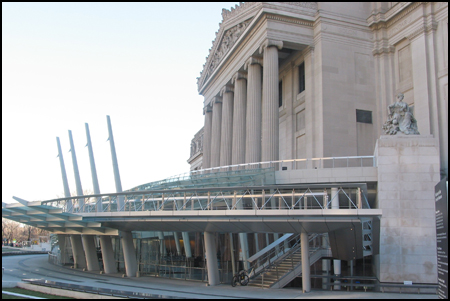 Current preservation philosophy tends to view historic buildings as documents of their time, deserving of preservation because of their historical significance, but having little relevance to how we design buildings and cities today. Naturally, contemporary buildings, too, must document their times by being unmistakable markers of the supposed difference between the present and the past. This view is the source of the seemingly unbridgeable gulf separating historic and contemporary architecture as viewed by the professional and academic mainstream. On the other hand, many others believe that historic places are or ought to be living entities that can grow and accommodate change without losing their character, and can also serve as models for new work in other places and times. In this view, the criterion that matters most is the appropriateness to its setting of a proposed intervention, rather than conformance with our expectations of what buildings built at a certain time ought to look like. Consequently, the architecture of the past and that of the present need not be antagonists, at least not in those places where preservation regulation aims at safeguarding our cultural heritage. We can choose continuity instead of contrast, without copying historic buildings and without introducing alien forms and materials that erode historic character.
The founding document of contemporary preservation philosophy, the Charter of Venice of 1964, insists that additions to historic settings "must be distinct from the architectural composition and must bear a contemporary stamp." Parts added to monuments "must be distinguishable from the original so that restoration does not falsify the artistic or historic evidence." In other words, reconstructions or additions that aim at presenting the original design intent in its wholeness are ruled out and, over time, the original design intentions of a historic place inevitably become obscured. Worse, in the hands of architects impelled by the aggressively oppositional aesthetic of much contemporary modernist design, the Charter's requirements have provided a convenient rationalization for the imposition of discordant new forms and materials in historic settings, resulting in the destruction of historic character.
In the United States, the spirit of the Venice Charter is embodied in the Secretary of the Interior's Standards for Rehabilitation, first issued by the National Park Service in 1977 and last revised in 1995. In addition to some sensible guidance, the Standards include this problematic requirement:
"The new work shall be differentiated from the old and shall be compatible with the massing, size, scale, and architectural features to protect the historic integrity of the property and its environment."
While the Standards do not require additions to traditional settings to be in a contrasting modernist style, as implied by the Venice Charter's "contemporary stamp," they do require new construction to be "differentiated" without defining how or to what degree, and to be "compatible" without offering criteria for achieving this objective. The unresolved tension between the two terms and the equal weight given to them in the text has produced confusion and widely divergent interpretations in practice.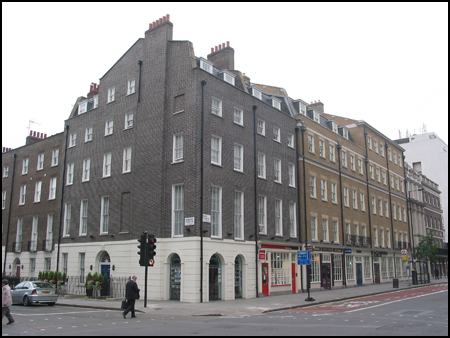 For additions to traditional buildings, "compatibility" is typically sought by maintaining abstract relationships of size, massing, color, materials, and horizontal façade alignments (i.e., aligning cornices and string courses) to provide a visual connection between new and old. Differentiation is usually provided by using an identifiably modernist style and, on occasion, a contrasting material palette for the new work. In the absence of a common architectural language, the juxtaposition of merely abstract "compatibilities" can create visual dissonance rather than the desired harmony. As an illustration of what they took to be a differentiated and compatible addition, the National Park Service Guidelines (issued as an accompaniment to the Standards) cited the 1981 addition by Harry Weese to Chicago's Newberry Library, despite its contrasting materials, disregard of the compositional and proportional logic of the adjacent historic structure, and nearly total absence of architectural character. An extension of the historic building according to its original design and materials -- clearly intended by the builders, who left the building unfinished -- would have better suited the historic structure and its urban context, but the Standards rule out this approach as presenting "a false sense of historical development." (Standard 3)
Just what a "true sense of historical development" might be is not addressed by the Standards. The phrase makes sense only if one accepts a deterministic historical narrative as the guarantor of meaning and authenticity in architecture, a philosophical stance that does not bear close scrutiny. In truth, the doctrine of differentiation has often served as a mask for simple stylistic bias. The Secretary's Standards and the Venice Charter both assumed that the modernist aesthetic would be normative for contemporary building culture forever, but today the pretense of a monolithic "architecture of our time" is no longer credible. "Contemporary" design is a diverse and contested arena that includes both avant-garde shape-making and the recovery of historic styles. Under these conditions, preservation regulations cannot legitimately require that any specific proposal be accepted or rejected solely on the basis of style. In my view, additions or new construction may be in the same style as nearby historic buildings, provided that the new work respects the typologies, composition, scale, proportion, ornament, materials, and craftsmanship typical of the setting. Violation of these same attributes for the sake of a questionable theoretical principle -- even more than ersatz and uninformed evocations of traditional architecture in inferior materials -- is a recipe for the loss of historic character.
Thoughtful preservationists and citizen activists are increasingly frustrated with the stylistic biases of authorities who seem blind to the visual consequences of their judgments. Over the last few decades, increasing numbers of architects have renewed traditional architectural practice, creating fresh new essays in historic styles -- neither copies of preexisting buildings nor banal "background buildings," but worthy new neighbors -- and these need to be accepted by the authorities as models of appropriate interventions in historic settings. The international organization INTBAU has called for reconsideration and updating of the Venice Charter. English Heritage has published new guidelines that explicitly deny a preference for either modernist or traditionalist designs. We await a clarification by the National Park Service that the Secretary's Standards are not to be construed to deny new traditional design in harmony with historic settings, and that new work need only be subtly distinguished from old so as to be identifiable by informed observers. Instead of promoting jarring juxtapositions between buildings representing antithetical concepts of architecture and the city, preservationists, architects, and urban designers can work together to bring about continuity and wholeness in our historic environments, recognizing them as works-in-progress that properly have a future as well as a past.
---
Steven W. Semes is the author of the newly-released book, The Future of the Past: A Conservation Ethic for Architecture, Urbanism, and Historic Preservation, published by W. W. Norton & Co. Semes is Academic Director of the Rome Studies Program and Associate Professor of Architecture at the University of Notre Dame. A practicing architect for over thirty years, he has designed a wide variety of projects for preservation and new construction throughout the United States. He is the author of The Architecture of the Classical Interior and a contributor to The Elements of Classical Architecture, both from W. W. Norton & Co. His essays and reviews have appeared in Traditional Building, Period Homes, American Arts Quarterly, and the National Trust Forum Journal. He is a Fellow Emeritus of the Institute of Classical Architecture & Classical America and was educated at the University of Virginia and Columbia University. He currently resides in Rome.
The Right to Mobility
As we consider how to decarbonize transportation, preserving mobility, especially for lower- and middle-income people, must be a priority.
Early Sharrow Booster: 'I Was Wrong'
The lane marking was meant to raise awareness and instill shared respect among drivers and cyclists. But their inefficiency has led supporters to denounce sharrows, pushing instead for more robust bike infrastructure that truly protects riders.
This six-course series explores essential urban design concepts using open source software and equips planners with the tools they need to participate fully in the urban design process.
Learn the tools for implementing Universal Design in planning regulations.
View More