Placemaking Through Zoning
Zoning is often portrayed as the great evil of city planning, but Les Pollock of Camiros argues that we shouldn't dismiss the power of zoning to create great communities.

For many of us, zoning means protecting the quality of life for residents and minimizing the adverse impacts of one property upon another. The original intent of zoning was, in part to do just that. Times have changed since zoning was first introduced in the early years of the 20th Century. Yet we seem to be stuck focusing on the techniques of zoning, rather than working to achieve better ends through development regulations.
Lately, the vogue has been to focus on the form-giving elements of zoning. But not everyone finds this approach favorable. Some planners are cautious about form-based zoning because they see it as too doctrinaire, too formulaic, too complex, or too dependent upon the designer's interpretation of generally stated values. Other planners are contemptuous of what is often called Euclidian zoning because it has resulted in land use separation that, in hindsight, they now see as undesirable.
Looking Beyond Zoning's Limitations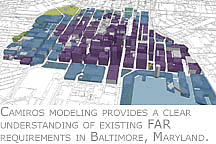 There is a move toward refocusing zoning as a community response to the broader planning vision. Zoning has evolved to include a mix of use-based, performance and form-based zoning in a manner that directly links land use, urban design and quality of life policies. But, why are we doing this, and where are we headed?
Underlying such thinking is the goal of building desirable and sustainable places where people find comfort in the settings we create and find those settings efficient to build, manage, and maintain. A sense of place is more than the form of the place; it is the function and level of activity that occurs there. Whether intended or not, the act of zoning can help to create or destroy the physical aspects of one's sense of place, because it is through zoning that a city regulates the way these placemaking elements come together. Consider the types of places found in any town: a town center, a neighborhood, a commercial highway, an industrial park. Thoughtful use of zoning can help to establish the character of each of these areas to reflect the scale of development, pattern of property ownership, function and modes of travel. But to do that, one must understand the type of environment to be created.
Placemaking reinforces those aspects of a neighborhood or district that make it distinctive and functionally unique. Thus, placemaking must incorporate the identity of an area, its cultural values, uses, levels of activities and physical scale and forms, into the pattern of development within that area.
Zoning Is Only As Good As The Quality Of The Vision
We should not lose sight of the fact that zoning is a purpose driven activity. Zoning as placemaking cannot be completed in a vacuum. Rather, it must be preceded by clear policy directions established by a community plan that is tempered by a clear understanding of the community values and development realities that affect the kind of places to be created. There are three sustainability principles which are critical to the development of place-based zoning in a community.
1. To support social systems within the community which embrace shared values by providing a transparent and equitable process of planning and change, maximizing social interaction within the cultural context, and protecting and enhancing community quality of life.
2. To support economic systems within the community which provide resilience by integrating changing market needs into flexible development forms, providing a diversity of economic opportunities consistent with the market, and meeting local needs by using local resources efficiently.
3. To support environmental systems which support green infrastructure by minimizing its impact on current and future environmental resources, minimizing land and transportation requirements, and maximizing the integration of the underlying ecology.
All of these factors must inform the zoning process. A proper combination results in a desirable, functional and comfortable environment for work, home or play. The key is that a city's development policy must be clear enough to provide a basis for such zoning. In essence, the identification of the desired place characteristics should emanate from the community's planning policies and related strategies.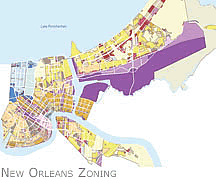 Work now in progress in New Orleans illustrates this relationship. At present, the City is preparing a new Master Plan intended to inform the structure of a new zoning ordinance. We believe that the hinge between these two elements is defining the community's neighborhoods and districts in terms of their place-making characteristics. The degree to which the plan identifies different characteristics of the residential neighborhoods and commercial districts will provide the basis for the use, form and performance criteria used to implement the character of each district. In this manner, zoning serves to implement a broad base of plan and design policies. It is more than creating regulations to limit adverse impacts; it is creating regulations to attain a desired pattern of development, which will help to provide the quality of life desired by the community's residents and businesses.
If we approach zoning from this broader viewpoint we no longer have to be troubled as to the specific approach we are taking. Rather, we can focus our efforts on identifying the types of places we want to create and determine how our zoning regulations can achieve the desired result. It may not be easy, since it requires careful understanding of community values, strong insights into the elements that underlie the desired community places and the ability to clearly articulate the kind of development we wish to achieve in various sectors of our communities. But, if we approach zoning from this perspective, we will have clear reasons for the regulations that we do craft. Only then can we be confident that our zoning regulations, will really help to achieve the goals of good city development.
---
Les Pollock is a principal consultant and co-founder of Camiros Ltd., an urban planning and zoning consulting firm in Chicago.