<p> This extended holiday weekend is much anticipated personally because it signifies the return to a recreational activity that thrills me more so than any other.  By this time most years the weather has warmed up enough to prevent any further delay in getting my cheap, little sailboat ready "for the season".  While there is very strong merit in, and a touch of <a href="/node/38336">previous discussion</a> on, the return to sailing vessels for the purposes of international commercial shipping, this Memorial Day weekend I rather turn to the merits sailing has as a sustainable, low-impact, and surprisingly cheap way of having fun and experiencing the splendor of nature first hand.  Won&#39;t you please take a few moments to consider how a traditional form of waterborne transportatio
---
This extended holiday weekend is much anticipated personally because it signifies the return to a recreational activity that thrills me more so than any other.  By this time most years the weather has warmed up enough to prevent any further delay in getting my cheap, little sailboat ready "for the season".  While there is very strong merit in, and a touch of previous discussion on, the return to sailing vessels for the purposes of international commercial shipping, this Memorial Day weekend I rather turn to the merits sailing has as a sustainable, low-impact, and surprisingly cheap way of having fun and experiencing the splendor of nature first hand.  Won't you please take a few moments to consider how a traditional form of waterborne transportation fits so perfectly in our modern, eco-minded plans to create beautiful, interesting communities.
To start, sailing is an easy to learn and incredibly fun outdoor activity that can be as leisurely as a state park hike or as thrilling as downhill skiing; it's entirely up to you to decide. There is, admittedly, a bit of learning involved - about awareness of wind and current direction, parts of the boat, safety procedures, etc. -  but I submit that the basics you need to scoot around are no more than any other equipment-based sport.  My eight-year-old brother was "captaining" our Sunfish, the prototypical minimalist/cheap sailboat, with less than ten minutes of instruction.  Once you've got the basics, every lake, river, or bay is a new adventure that changes as frequently as the wind, tide, weather, and time of day.  Sailing is safe for you and the coastal environment, makes for an original way to enjoy time with friends and family, develops a strong sense of understanding about our place in nature, and is entirely unencumbered by smelly, noisy motors or their associated costs.  When sailing you can be a few feet from lumbering dolphins, cruising horseshoe crabs, scattering blue shell crabs, and all sorts of fish.  In short, sailing is a simple, fantastic, and refreshing way to have fun outdoors.  Sold yet?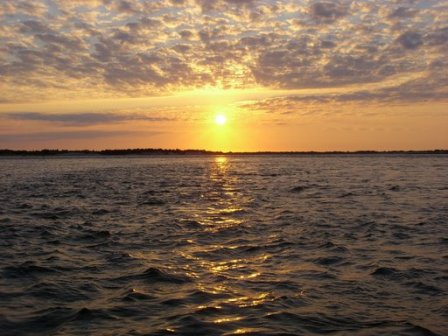 Close interaction with nature is often missed when a motor is involved  
Then let us now dispense with the unfair and entirely inaccurate stereotype that sailing is an elite hobby for the über-rich and ultra-snobby set.  It is, far and away, not.  In fact, sailing in many of its simplest, most enjoyable forms can actually be one of the cheapest ways to get out into nature on a regular basis with minimal fuss and an endless combination of experiences.  I am urged to make the case here by simply stating the fact that I sail must mean it is cheap; ask anyone who knows me and they will attest to my, um, frugal ways.  I learned to sail when I was an undergraduate student subsisting on the all-American part-time job/student loan combo.  At that time a dear friend had a rickety, twenty-five year old Hobie Catamaran (that couldn't have been worth more than $500, but don't tell him I said that), and anyone ever on a HobieCat knows fun with this boat means inviting friends to sail, for free.  Having a friend with a boat is by far the cheapest option; simply ply them with food and drink.  Later on in grad school at University of Tennessee I discovered the student sailing club/team where I cut my teeth on weekly competition-based practices and frequent regatta team trips, all free as a student and extremely fun (full disclosure: I bought a $70 life vest).  Many schools also have an outdoor club that offers cheap/free sports equipment to students which sometimes includes small sailboats.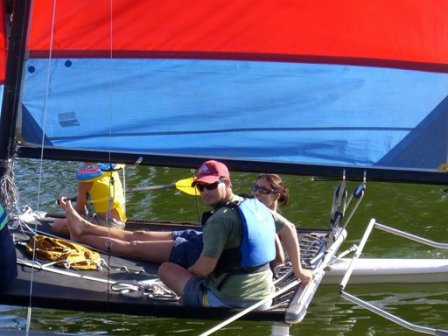 The author with family enjoying a quiet cruise on a Hobie Cat
Moving to Hoboken, New Jersey, perhaps the most challenging place to sail on the cheap, I found there are several ways to sail locally for next to nothing.  I discovered last summer a brilliant $25 per-"class" program offered by the Manhattan Yacht Club (breathe now - don't be afraid -  eschew the stereotypes - they're totally nice people!) using Lasers, a simple and very fun boat.  Hoboken recently opened a community boat house and adjacent beach/launch with direct access to the Hudson River and New York Harbor.  They've started by offering free kayaking, but hopes are that small sailboats are not far off.  Hopefully Hoboken, MYC, and others continue to expand similar ways of exposing a greater number of people to sailing.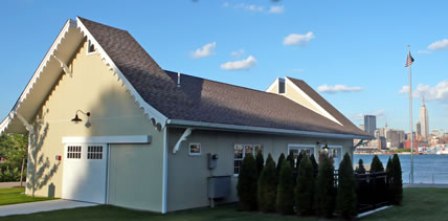 Boathouses, like this one in Hoboken, NJ, can activate a community's waterfront
If you prefer ownership, an aforementioned Sunfish can be had for less than $500 if you're patient, even in overpriced New York City!  If you don't have a yard/trailer hitch, I've found marinas within walking/biking distance that offer a cheap place (less than $300 per season) to keep a small boat right on New York Harbor!  There's even someone on craigslist looking to share his mooring ball rights in Brooklyn with someone who has a small boat!  I'm sure you can find a similar range of cost options, likely cheaper, in your own city.  If you have space in your yard, a cheap boat (and safety vests) is all you need.  When compared to the cost of skiing or mountain biking equipment (and access), perhaps it's a bit surprising that even in the most difficult urban environs, sailing is easily accessible to anyone, and on a minimal budget to boot!
Since this is a planning website, I'll end my post by making an appeal to our talented community.  Sailing has existed for thousands of years as a fun and enjoyable way for families and friends to share each other's company and experience nature first hand.  The frequent misconception that sailing is about snob-infested champagne sunsets is due more to lack of exposure than any kind of truth.  If we look to include sailing features as part our designs and plans, such as the Hoboken community boathouse mentioned above, we could re-introduce a lush tradition of our civilization to new communities at the same time as promote an entirely sustainable form of recreation that is safe and fun.  So the next time you have a waterfront development that yearns for something more stimulating than passive recreational areas, consider sketching in a few couples skimming across the water via wind power and a family rigging their boat at the water's edge; and get in touch if you're looking for an advocate!
---
Making Healthy Places
The editors of the book "Making Healthy Places," recently published in a second edition by Island Press, discuss the intersections of public health and planning, including key concepts such as green gentrification, health impact assessments, and AI.
The Great American Exodus: A Conservative's Perspective
During his keynote speech on September 11 at the National Conservatism Conference in Miami, Florida Governor Ron DeSantis describes the demographic shifts in America since he became governor in 2019 in what he calls the 'Great American Exodus.'
This six-course series explores essential urban design concepts using open source software and equips planners with the tools they need to participate fully in the urban design process.
This course aims to provide an introduction into Urban Design Sketching focused on how to hand draw master plans using a mix of colored markers.
View More