---
Development typically found only in large urban areas is increasingly popping up in smaller towns and rural areas, posing problems to municipalities as they try to adapt. After visiting many of these small towns in a recent cross-country trip, Wayne Senville discusses some of the challenges they face as the scope of development evolves.

Small cities and towns today are increasingly facing the same type of challenging development issues once reserved to far bigger cities and suburbs. This was brought home to me during my travels across America this summer.
Where's Berlin (Heading)?
One such small town is Berlin, Maryland (pop. 3,500), located about ten miles west of the popular resort community of Ocean City.
Commercial strip development lines a good part of U.S. Highway 50 between Berlin and Ocean City, including superstores like Wal-Mart. The contrast between Berlin's historic village center and the new scale of development is striking. One represents a compact, walkable pattern. The other, convenience and (perhaps) cost savings.

One of the challenges facing planners in Worcester County (which includes Berlin and Ocean City) is the recent arrival of national production homebuilders. Development in the Berlin-Ocean City corridor is taking a quantum leap in scale, at least by historic county standards.
Take the Glen Riddle project right along Route 50. Being developed by Centex, a national homebuilder, Glen Riddle will have over 600 units, two golf courses, and a 96-slip marina.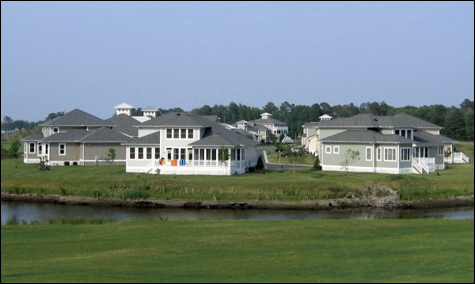 Many homes in Glen Riddle are priced well in excess of half a million dollars. These are prices that can be commanded from the increasing number of second home buyers and retirees arriving from the Baltimore, Washington, D.C., and Philadelphia areas.
According to Worcester County Planning Director Sandy Coyman, "this new development is symbolic of a trend ... until recently, most new home building was by local and regional businesses. Large, national companies increasingly dominate the market. The impact on the local construction economy is of growing concern."
Local homebuilder and developer Ron Cascio is also concerned about the threat national production builders pose to his livelihood and those of others. Cascio pointed out that area homebuilders typically buy supplies locally and work with local architects, construction workers, landscape firms, and others. He also believes that local builders and developers, because they actually live in the community, are more focused on the long-term quality of the housing they build.
The county has developed a new comprehensive plan, with growth center policies -- and it has had much success in preserving farmland. But there's no real strategy in place, at least as of yet, for enabling local homebuilders to compete against the economies of scale that national builders often have. When superstores have arrived they've often swamped local merchants. Will the same happen to another sector of the local economy?
Five Stars for Middleburg
A five star, 168-room resort spa is coming to the small town of Middleburg, Virginia (pop. 700), on the fringe of the Washington, D.C. metro area. The resort -- to be called Salamander -- has been controversial locally. As planning commissioner Lisa Patterson told me, "this has not been an easy issue by any means ... it tore the town apart when it was first proposed." And even its supporters acknowledge that it will forever change the character of the town.
The project is the vision of Sheila Jackson, a Middleburg resident who is co-founder of Black Entertainment Television. The resort will be built on 340 acres, 88 of which are located within the town's borders.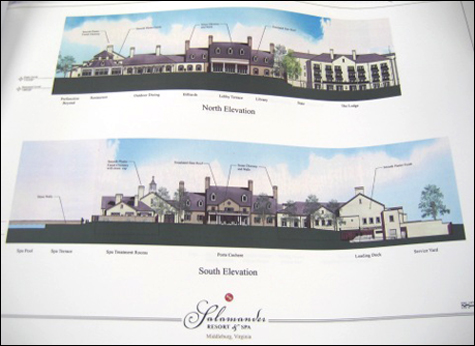 Since being proposed in 2002, the project has consumed an enormous amount of time for the towns' planners, including David Beniamino, who has been on the job the past two years. Patterson told me that the planning commission has been meeting three or four times a month just to focus on this complex project.
Part of the reason for the complexity is that the project involves more than just the resort spa. It will also include at least 61 residential homes and 12 dwellings designed as "workforce housing" for faculty at the Hill School in town.
And there's more, as the developer is asking for 30,000 square feet of commercial office space. Salamander will also have its own wastewater facility and two new wells.
One critical aspect of the project is its impact on town revenues. The town estimates that Salamander will bring in some $1.2 million annually in revenues to the town coffers. That represents a more than doubling of the current budget. As Jerry Schiro, the Town Administrator, told me, "the project will be a financial asset to the town, with very little demand on town services."
This is especially important, as Patterson explained, because the town faces major expenses for a new sewer plant needed to replace the current facility (now 35 years old), and also has a large debt burden for its water treatment plant. Without the project, town residents might be facing a huge hike in their property tax rates, Lisa noted, "or we'd be shopping for another big use to come in."
The town government is now behind the project. But there are still key details to work out, including how to integrate the residential and commercial components with the town's existing grid (the project site abuts the built-up part of Middleburg). For Beniamino and Patterson -- as well as many citizens -- it is critically important to tie the project into the rest of the town so that it's not an isolated pod.
However, some in the community still have serious concerns. Michael Morency, who owns several properties in Middleburg, said he'd be surprised if the fiscal impacts will be as positive as they are being projected by the town. An even more important concern to Michael is that with this project "the town has put all its eggs in one basket" and will be "captive" to the fortunes (and demands) of Salamander.
If the project turns out to be a white elephant, Michael noted, the town may face a worse alternative needed to replace Salamander. Others are also troubled by the major impact this scale of development will have on the town.
It won't be too many years before either the supporters or opponents are proven right. But one thing is certain, a project of this magnitude puts a crushing burden on both citizen planning commissioners and the town's lone professional planner.
The Changing Face of Moab
Moab, Utah -- about 1,700 miles west of Middleburg -- is set in a spectacularly beautiful part of the state -- justifiably famous for its canyon lands. While there, I heard about the challenges this small city (pop. 4,875) is facing.
City Manager Donna Metzler told me that "Moab is changing into a destination resort community, with many second or third home owners." This, as she explained, reflected the result of city policy to focus on Moab as a travel destination. This campaign had its roots in the closing of the Atlas Uranium Mill in 1984, sending shockwaves through Moab's economy. Local leaders felt that tourism offered a more solid future for the city.
One difficult challenge, however, has been that development proposals have grown increasingly complex, with large investment firms often standing behind the projects. Planning Commissioner Kara Dohrenwend noted that in the past the planning commission was largely dealing with relatively straightforward subdivision requests. Now, applications are more complicated and harder to evaluate under the city's older zoning provisions.
One project we spoke about is a 178-acre mixed use development in a sensitive area just outside the city limits. Metzler noted that "this kind of development is completely new to the city." City staff and planners have been negotiating a pre-annexation agreement that includes special zoning provisions. In fact, the city's new "master plan development process" emerged as a result of the difficulty of reviewing these larger-scale projects under the existing code.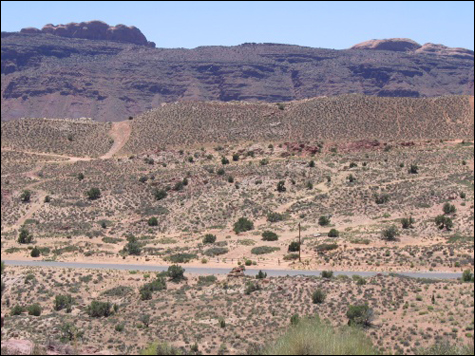 The master plan development process provides more flexibility, enabling developments that would otherwise not comply with local zoning. At the same time, it provides the city a greater opportunity to ensure that the development "fits" into Moab in an environmentally sound way. As Dohrenwend put it, "more flexibility in exchange for more rigorous review."
One problem, however, is that the review process is very time-intensive for both staff and the planning commission. Kara noted that meetings are now held at least twice a month, and can stretch from 6 to 10 p.m. And, she added, "developments are coming at us so fast, we don't have time to deal with long-range planning ... we're reacting to what comes in."
Troubling & Reassuring
My visits to smaller communities were both troubling and reassuring. Smaller cities, towns, and counties (understandably) don't have the staff and financial resources on hand to easily cope with large-scale development and national giants. It's also difficult for a locality -- and its planners -- to face projects that can, in a short period of time, change the face and character of the community.
It's also hard to say "no" to major developments, or isolate a city from growth pressures. The combined impact of land use laws (which set the rules for development), local fiscal benefits from new development, the desire many have to live in a growing community, and our capitalist system all work in favor of new development. But this is tempered by a fear of losing what we have -- especially if we live in places like Berlin, Middleburg, or Moab, that still enjoy a small town character and way of life.
---
Complete reports on Wayne Senville's six-week trip across America are available in the recently published Fall issue of the Planning Commissioners Journal. Ordering information is available through the Planning Commissioners Journal's website, or by calling 802-864-9083.
San Francisco Just Ended Single-Family Zoning
The San Francisco Board of Supervisors voted to Tuesday to eliminate single-family zoning, but pro-development advocates say additional changes are needed to unleash a wave of construction.
Something Old, Something New: Biden's Housing Plan
President Biden's Housing Supply Action Plan is a catchall of existing proposals, tiny tweaks, and things Congress would have to fund—plus a few genuinely interesting administrative moves. Here's the rundown.
This six-course series explores essential urban design concepts using open source software and equips planners with the tools they need to participate fully in the urban design process.
This course aims to provide an introduction into Urban Design Sketching focused on how to hand draw master plans using a mix of colored markers.
View More