Ontario's leaders look for "Places to Grow"
Think big.

That's what the people of Ontario and the Toronto region set out to do more than 5 years ago when they began a visionary planning process for the area known as the Greater Golden Horseshoe in southern Ontario, Canada. (The Greater Golden Horseshoe is the area around Lake Ontario that stretches from roughly Peterborough to the east, west through metropolitan Toronto, and around the west tip of the lake to the southern side and Niagara Falls — hence the horseshoe shape.)
Think big.

That's what the people of Ontario and the Toronto region set out to do more than 5 years ago when they began a visionary planning process for the area known as the Greater Golden Horseshoe in southern Ontario, Canada. (The Greater Golden Horseshoe is the area around Lake Ontario that stretches from roughly Peterborough to the east, west through metropolitan Toronto, and around the west tip of the lake to the southern side and Niagara Falls - hence the horseshoe shape.)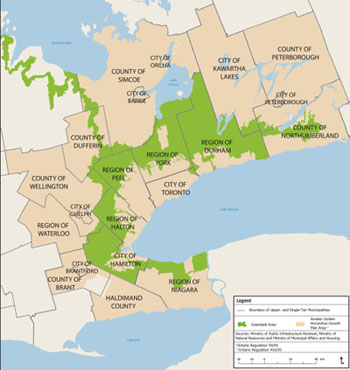 Image from "Places to Grow" courtesy of the Ontario PIR
The end result of that planning process is a forward-looking plan that echoes the great American planner Daniel Burnham's famous words: "Make no little plans. They have no magic to stir men's blood "

It has been nearly 100 years since Burnham laid out his own ambitious plan for another Great Lakes region. His "Plan Of Chicago" helped to preserve Grant Park and the waterfront as open space while also calling for a park within walking distance of every Chicagoan. Last month, the American Planning Association recognized Ontario's Growth Plan for the Greater Golden Horseshoe with the highly coveted Burnham Award, a yearly award that memorializes Burnham's reputation for big ideas, marking the first time that any jurisdiction outside of the U.S. has received the prestigious award.

I was selected to evaluate and review the Growth Plan last year, and I knew immediately that I was looking at a groundbreaking document that was both visionary and pragmatic. I told the Ontario Ministry of Public Infrastructure Renewal responsible for its creation (and implementation) "this plan will be a model for all of North America." Truly, Ontario is blazing a path that is attracting international attention.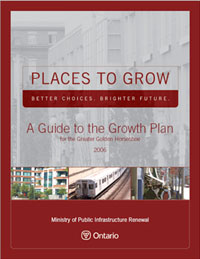 I traveled to Toronto last week to speak at the Province's "Places to Grow Summit", but my presence was hardly needed. The visionaries are already there, working hard to realize a future where nearly four million more people can be accommodated without destroying the scenic and natural beauty that makes the Greater Golden Horseshoe unique.

With the Greater Golden Horseshoe likely to pass the Chicago region in population within 10 years, it is clear that continuing development in the same form as the last 50 years would prove destructive to the region. With more than two-thirds of Ontario's population nestled in the region around Lake Ontario, representing nearly one quarter of Canada's total population, the success of the Province (and beyond) certainly rides on the success of the region's ability to embrace growth while also making it efficient and livable. Without a tough-minded, forward-looking plan the region risks becoming choked with gridlock, with no affordable housing close to jobs and shopping, no open spaces to enjoy, and hours spent in the car each just to meet daily needs.

Employers want to know that employees will be able to find housing they can afford in areas close to their jobs. The ability to attract and retain educated workers will have a tremendous bearing on the competitiveness and success of the region.

The name of the Ministry's initiative is especially appropriate: "Places To Grow." The goal, of course, is not to stop growth and development - a cure worse than the disease - but to embrace it and shape it in such a way that the region gets better, preserving the rural and natural landscape for future generations.

When I was Governor of Maryland, we set out to change the rules of the development game to steer growth to areas that were prepared to handle it. We, like most American states, had long been subsidizing sprawl through numerous fiscal decisions. Every time the State (or Province) decides where to locate the new school, build a road, or approve a new development, they are, in fact subsidizing development. The decision has to be made, however, as to what form of development to support.

The Provincial Government recognized this fact and will utilize approximately $7.5 billion (U.S.) in infrastructure investments over the next five years as a tool to steer development into areas that already have public transit and other infrastructure - making complete, vibrant, walkable communities the rule rather than the exception.

The first step is making development easier in areas with existing infrastructure to support it. The plan calls for 40 percent of all new housing to occur in existing urbanized areas. Currently, in much of southern Ontario, the average is closer to 15 percent. As The Star's Christopher Hume wrote, "the difference is what we call sprawl." Even the other 60 percent of new housing will have to be much more dense as in the past.

Through eight years of hard work in Maryland, we were able to permanently preserve 400,000 acres from development. In Ontario, a 1.8 million acre Greenbelt has already been set aside and forever protected from urbanization. This giant leap ahead preserves an area of ecologically and environmentally sensitive land larger than the state of Delaware.

The plan has been created, the die cast, the bar raised. The people of Ontario and the Provincial government have laid out an inspiring vision of the future, and in doing so issued a challenge to the rest of us in North America. Now will come the next challenge: ensuring that the plan becomes reality. It won't be easy; trail-blazing never is.

But with the courage and vision already shown, I have no doubt that the pathfinders in Ontario will continue to astonish a watching world.

Find out more about "Places to Grow" and the Greater Golden Horseshoe:
• Visit the home of the plan and the Ontario Ministry of Public Infrastructure Renewal
• Download the plan (PDF)
• The GGH in Wikipedia
• The APA Awards
• Christopher Hume in the Toronto Star on the Summit last week
• Christopher Hume in the Toronto Star on the release of the plan last year