As part of our effort to slow global warming, we should be correcting one of the great errors in the history of American city planning: the post-war binge of urban freeway building.
---
During the twenty-five years following World War II, American cities changed dramatically as freeways were sliced through them -- and it soon became clear that they had changed for the worse.
Instead of reducing congestion, the freeways encouraged people to move to remote suburbs and drive long distances to work and to shopping, increasing traffic dramatically. One study found that, five years after a major freeway project is completed in California, 95% of the new capacity fills up with traffic that would not have existed if the freeway had not been built1.
The freeways also blighted the older parts of our cities. For example, San Francisco stopped most of its proposed freeways and it remained an attractive and prosperous city, but right across the bay, Oakland had several freeways cut through its center, and nearby neighborhoods decayed and were half-abandoned.
Americans soon realized how destructive urban freeways are, and citizens organized to stop them. The first freeway revolt was in San Francisco, where the Board of Supervisors voted to cancel seven of the city's ten planned freeways in 1959, after neighborhood groups presented them with petitions signed by 30,000 people.
The freeway revolt spread, and by the end of the 1970s, it was impossible to build a new freeway through the center of most American cities. But a great deal of damage had been done before the freeways were stopped.
Undoing the Damage
A few foresighted cities have begun to undo this damage. Several have torn down uncompleted freeway spurs, which are relatively easy to remove because they are not important parts of the regional freeway system. For example:
San Francisco's Embarcadero Freeway

was planned to connect the Golden Gate Bridge with the Bay Bridge, but only 1.2 miles were built before it was stopped. During the 1990s, the city demolished this freeway spur and replaced it with a waterfront boulevard and new trolley line. The freeway removal made room for thousands of new housing units and millions of square feet of office space. In addition, once the freeway no longer cut them off from the waterfront, the entire new neighborhoods of Rincon Hill and South Beach were developed on what had been underused land.
Milwaukee's Park East Freeway was part of a plan to circle downtown with freeways, but only 1 mile of the Park East was built before this plan was stopped in 1972. In 2002-2003, the city demolished this freeway spur and replaced it with a traditional street grid. Hundreds of millions of dollars of new development have already been built, approved, or proposed in the 26 acre redevelopment district that had been occupied by the freeway or blighted because it was next to the freeway.
It is obviously more difficult to remove mainline freeways that are integral parts of the regional freeway network than to remove freeway spurs, but it has been done:
Manhattan's West Side Highway

, an elevated freeway along the Hudson River, collapsed and was closed in 1973. When it was closed, 53 percent of the traffic that had used this freeway simply disappeared. The political establishment took it for granted that they had to replace it with a bigger and better freeway, but citizen resistance delayed the replacement for two decades, and finally even the politicians saw that the city was getting along quite well without any freeway here. Instead of replacing the freeway, the city simply added new medians, a waterfront park, and a bicycle path to the surface street here.
Seoul, South Korea

, removed the Cheonggye freeway, the one major freeway that cut through the center of the city, in order to stimulate the economic revival of central Seoul's Dongdaemun district. The river that this freeway covered was restored as a park. Seoul built bus ways to replace the freeway capacity, with the goal of reducing automobile use from 27.5 percent to 12 percent of all trips.
Paris, France, has closed the Pompidou Expressway during the summer, covered the roadway with sand, and turned it into Paris Plage (Paris Beach), which has become a very popular attraction. Recently, the city decided to close the Pompidou permanently as part of a larger plan to reduce automobile use by 40%.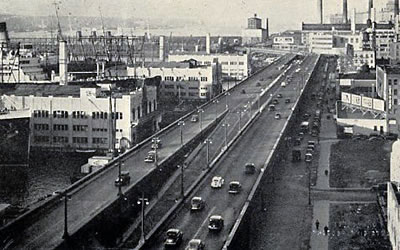 It's important to note that reducing road capacity does not reduce automobile use as dramatically as increasing capacity increases automobile use. Typically, only about 20 percent of the traffic that had used the road capacity disappears.
In the short term, Transportation Demand Management (TDM) policies can be used to mitigate the effect of freeway removal:
Parking Cash-Out: 

Businesses could be required to give employees commute allowances instead of free parking. Employees could use the allowance to pay for the parking they used to get for free, they could use it to pay for transit, they could keep part of the allowance if they car-pooled to work, or they could keep the entire allowance if they walked or bicycled to work. It is estimated that this policy could reduce commuter traffic (and peak demand for road space) by about 20%.
Congestion Pricing: As in London and Stockholm, drivers could be charged a fee for driving into the central business district at times when roads are congested. The revenues could be used to pay for better public transportation. This policy has been very successful where it has been tried, and the fee can be set at the level needed to reduce congestion to a manageable level.
In the long term, removing major urban freeways should be part of a more comprehensive approach to reduce automobile dependency by promoting public transportation and transit-oriented development. To slow global warming, we must move us from the heavy auto dependency of most American cities toward a more balanced transportation system that works for pedestrians and public transit as well as for automobiles.
Freeways in the Age of Global Warming
Many of the freeways built during the postwar binge are now approaching the end of their lifespan. Unfortunately, the political establishment seems to take it for granted that these freeways have to be replaced by bigger and better freeways, just as New York's establishment took it for granted that the West Side Highway had to be replaced.
For example, Philadephia is talking about undergrounding I-95, which cuts the city off from its waterfront.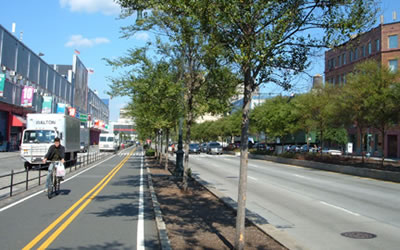 Likewise, Seattle is debating what to do about the earthquake-damaged Alaska Way Viaduct on its waterfront. An active citizen's movement and one of the local newspapers says that the Alaska Way should not be rebuilt; it should be replaced by surface streets and transit. But Washington's governor has run a referendum that just lets voters choose between an elevated freeway and an underground freeway, and Seattle's Mayor, Greg Nickels, supports the underground freeway.
Nickels has taken many minor steps to reduce greenhouse gas emissions in Seattle. If he would back freeway removal and more balanced transportation, he could make Seattle into a leader in fighting global warming - an example for the rest of the country and the world to imitate.
Instead, Nickels has backed an alternative that hides the traffic but does nothing to reduce the region's auto dependency and carbon dioxide emissions. He has not learned anything from the huge cost overruns of Boston's Big Dig. And he does not realize that, as global warming causes sea levels to rise, his underground waterfront freeway could turn into the world's largest underground swimming pool.
Rebuilding freeways in an age of global warming is like rebuilding deck-chairs on the Titanic, so passengers can keep following their old habits while the ship sinks.
Now that Seattle voters have rejected both alternatives for replacing the Alaska Way, the politicians will have to start looking at alternatives that are more environmentally sound.
Politicians are looking for a technological fix for global warming and are usually afraid to call for any changes in our way of life. But this is a case where we could change our lives for the better.
Just look at the people who enjoy walking on San Francisco's Embarcadero or walking by Seoul's Cheonggye River. These places are much more livable than they were when they were blighted by freeways jammed full of people driving as if there were no tomorrow.
Charles Siegel is the author of The End of Economic Growth and the creator of the web site Removing Freeways -- Restoring Cities.
1: Mark Hansen and Yuanlin Huang, "Road Supply and Traffic in Californian Urban Areas." Transportation Research A, Volume 31, No 3, 1997, pp. 205-218.
This six-course series explores essential urban design concepts using open source software and equips planners with the tools they need to participate fully in the urban design process.
Learn the tools for implementing Universal Design in planning regulations.
View More