Spanish-style Waterfront Home On a Private Island: $28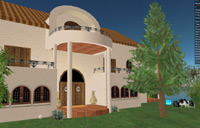 I'm making a prediction: While the real estate market in RL (real life) is cooling off, the real estate market in Second Life (SL) is heating up.

I was recently contacted via IM (instant message) by Elliot Eldrich. I interviewed Elliot several months ago for a feature-length article about urban planning in Second Life. (The article appeared in the January, 2007 issue of the American Planning Association's Planning magazine, but is now also available online.)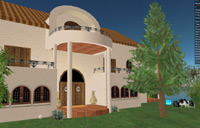 I'm making a prediction: While the real estate market in RL (real life) is cooling off, the real estate market in Second Life (SL) is heating up.

I was recently contacted via IM (instant message) by Elliot Eldrich. I interviewed Elliot several months ago for a feature-length article about urban planning in Second Life. (The article appeared in the January, 2007 issue of the American Planning Association's Planning magazine, but is now also available online.)
Elliot writes:
"Hello Chris, I saw your article that mentioned me. Just wanted to give you an update: I now own six islands, four residential and two commercial, and am also running a very profitable house sales business, selling houses I've designed and built for 2,500 to 4,000 Lindens [per month] each. My monthly income from SL now exceeds USD$1,000 a month. Just wanted to let you know."

Huh?

So "Elliot Eldrich" is actually an avatar (read: persona) in Second Life. He lives his real life in Spokane, Washington, as a semi-retired engineer, burned out after 23 years in Silicon Valley. He supplements his savings as a developer in this virtual environment. Linden (L$) is the currency in Second Life. (You can read my article for more on this topic.)

An enterprising class of tech-savvy "virtual real estate developers" are finding a handsome profit in acquiring virtual islands (about USD$1,675 for about 16 acres), and then leasing back the developed lots for a profit.

At first I shrugged off Elliott's IM as an interesting tidbit. Then a few days later, while reading a recent issue of the Second Life newspaper, The Metaverse Messenger, I was surprised to see a 1/3-page advertisement for urban living in Second Life: "Midtown: Making your skyline a little less boring."

A few pages later, I found another real estate ad -- this time a full-page -- for Darrow Estates, and advertising "Private Residential Living". The ad looked like it might have come right out of the glossy Urban Land Magazine.

I'm sensing a trend here.

The marketing pitch on Darrow Estates' website is not really so different from many RL (real life) developers:

"All of our land is on private regions... As such, we can maintain a community covenant to ensure a high quality of living, and low lag land away from the hustle of Second Life mainland. We hope you browse our site and learn about how cost-effective and more importantly, how different living in Darrow Estates can be."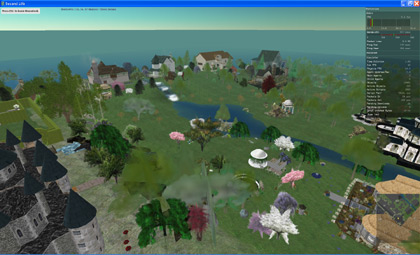 I visited Darrow Estates in Second Life. It turns out to be a pretty serene place, with community names like "Strawberry" and "Blueberry." (I kid you not.)

While gliding through the community (avatars can fly in SL), I happened upon Arlo Benelli, a resident of Darrow Estates, living in a sort of Spanish-style home in Blueberry:
[21:42] You: Hi
[21:44] Arlo Benelli: can i help you?
[21:44] You: Hi. I was curious about Darrow Estates. Am I intruding?
[21:45] Arlo Benelli: no that's ok
[21:45] Arlo Benelli: just like to check
[21:45] You: Are you a property owner of Darrow Estates?
[21:45] Arlo Benelli: this is my house
[21:45] You: Is it rude for me to just walk in like this?
[21:45] Arlo Benelli: not if your shopping the neighborhood :)
[21:46] You: Do you like Darrow Estates?
[21:46] Arlo Benelli: just had trouble with some newbies trying to take stuff
[21:46] Arlo Benelli: love them!
[21:46] Arlo Benelli: wonderful people here
[21:46] Arlo Benelli: this is not my normal look, btw
[21:46] You: Your house is very nice. It has the best architecture in the neighborhood.
[21:46] Arlo Benelli: bane [Bane Darrow, of Darrow Estates] is a great guy also
[21:46] Arlo Benelli: thanks-love the spanish style
[21:46] You: Did you design it?
[21:46] Arlo Benelli: look around all you want
[21:47] Arlo Benelli: visiting with a friend on the 3rd floor now
[21:47] Arlo Benelli: got the house from....
[21:47] Arlo Benelli: houses that jack built
[21:47] Arlo Benelli: low prims for the sizes
[21:47] You: If you don't mind me asking, how much $L was the house?
[21:48] Arlo Benelli: think it was 2500 [Linden, or about US$8)
[21:48] You: Wow. For this kind of architecture, you got a great deal. Many homes I see are not nearly as nice.
[21:48] Arlo Benelli: jack was the best that i had seen
[21:48] You: I'll have to check him out.
[21:48] Arlo Benelli: k-cya

After checking Darrow Estates' available properties it looks like I can get 4,096 square meters of covenant-protected land in Blueberry and a three-story, Spanish-style home for about USD$28 down and USD$25 per month.

Hmmmm....
Topics