Buying a home in a New Urbanist neighborhood in Eugene, Oregon becomes a practical lesson on the line separating academic discussions on New Urbanism and personal lifestyle choices for Professor Sriram Khé.

As a first year graduate student at the University of Southern California I enjoyed a guest professor's presentation on urban homelessness and the role of government. So, despite the intense self- consciousness of my newness in the US, I walked up to the professor's office in order to discuss the topic in detail, and asked him how he reconciled the everyday problems of the homeless people with his own affluence, particularly when his affluence was closely tied to research and talking about the homeless. He replied that it is up to the individual to draw the line that separates personal lifestyle from social problems.
In a sense, the professor's reply is the ethical, philosophical issue that I have been struggling with this ever since my undergraduate days: how do I draw that line between social problems and my own life? Growing up in India I always felt awkward and uncomfortable when we watered our garden while squatters stood outside the fence hoping to collect a pot or two of water. Eating candies in a railway station while malnourished children begged for food was another guilt-provoking event.
Looking back, I find it rather funny that I thought I would be able to find in graduate schooling answers to such troubling questions. Many years have gone by since I earned my PhD and now as a faculty I routinely lecture, discuss, and do research on social problems. Not only am I yet to find those all-clarifying answers, but more questions keep popping up and am still searching for that "line".
The latest one resulted from our home buying experience when thanks to our new jobs my wife and I relocated to Eugene, OR from Bakersfield, CA. Buying a home in Eugene became a wonderfully practical lesson on the line separating academic discussions on New Urbanism and my personal lifestyle.
New Urbanism champions planning and building urban neighborhoods that promote a sense of community. This means that, for instance, auto garages are behind the houses so that cars are de-emphasized and neighborhoods are walkable. Until last July, my exposure to New Urbanism was through professional and journalistic publications. As a transportation planner, I keenly followed issues such as urban sprawl, smart growth, and the "Los Angelization" of urban areas. As a university faculty, I taught urban geography and planning, where my students and I discussed these topics.
But, discussions on New Urbanism were nothing more than academic exercises. As disconnected as I am from Ethiopian poverty or nanotechnology, I was equally disconnected-at a personal level-from urban sprawl and New Urbanism. In fact, every once in a while I used to pat myself on my back that by being an objective observer I was doing a good job of leading a balanced discussion in the classroom. When I became actively involved with a few local organizations that sought to influence land use planning in Bakersfield, California, the research that I did furthered my understanding of the issues; but, the research findings were just academic work.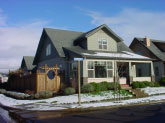 Thus, when we first spotted the house (photo on the left) that we eventually bought, my wife and I ignored it. Not because it was not spacious; its 1,983 sq. ft compared well with our 2,150 sq. ft. home in Bakersfield. But, the neighbor's house was too close, and the driveway to the garages behind the respective homes is a shared one. The streets are narrow, barely two lanes wide. There is practically no backyard space-after all, the house sits on a lot that is not even 5,000 sq. ft.! In other words, the house and the neighborhood were almost like the examples I would find in a textbook on New Urbanism and I was having problems with that.
However, my wife and I kept coming back to this house, and tried to picture ourselves in the house: would we be happy feeling that the neighbors are this close? How comfortable would we be sitting on the porch and exchanging more than a hello with our neighbors? Will we lose our sense of privacy? Interestingly enough, these are some of the same questions my students and I discuss in the classroom, and critics of New Urbanism raise these and other questions and argue that, therefore, consumers will not purchase such homes.
Well, even though we were not able to get rid of these insecurities, we bought the house, which is near the Willamette River-a tremendous contrast to the dry Kern River that runs through Bakersfield. In September 2003, the escrow closed, and my wife and I (and our dog, of course) moved into our new home. It is almost a year now and we couldn't be happier.
Two academic quarters after we bought the house, last spring, urban sprawl and planning were two of the topics that I covered in a course on urban geography. But this time, thanks to the personal experience with New Urbanism triggered by the experience of home-buying, I had to consciously make sure that I was an objective observer in the classroom and discussed all the aspects of the controversy without indicating my own personal preferences. As the discussion neared its end, I began wondering whether for the first time I had figured out where to draw that magical line between my academic life and personal decisions.
I was pretty excited, and a tad smug, about this sense of accomplishment until Katie in the front row (of course!) asked me, "Francesca and I were talking the other day about you, Dr. Khé. How come you don't drive a small car but drive a gas-guzzling Jeep Cherokee instead?"
For a moment it seemed as though Katie's question had set me back to when I started graduate school-trying to draw the line that separates academic discussions and personal lives. But, the long summer break has helped me recognize that the troubling questions never stop coming; they merely morph from homelessness to New Urbanism to something else. And perhaps academic life means a continuous attempt to redraw the line that separates what I teach from how I live.
---
Sriram Khé is an Associate Professor of Geography at Western Oregon University . Prior to this, he taught at California State University-Bakersfield , and was an Associate Planner with the Kern Council of Governments.
Topics