A San Francisco-based design studio describes the thought process behind an effort to push outdoor lighting design beyond the lowest common denominator allowed by bureaucracy and status quo thinking.
---
Close your eyes. Think back to your favorite urban moment, when the streets of Barcelona, San Francisco, or Lincoln, Nebraska faded away and you were an integral part of the hum of that community. You were fully present—immersed in the city.
In your memory, what do you see and how were you seeing it?
Was it full midday sun? Was it magic hour, with warm glowing storefronts and just a hint of overhead streetlights? Or was it a cool moonlit pier and the point light on your smartphone? Light is not only a critical component of memory for visual thinkers, but it is also a critical component of making an active and safe urban environment. In terms of hierarchy, light is not some secondary element to be applied after the architects and urban planners finish their form-finding exercises. Light influences form and form influences light—together they shape the city.
Our studio experiments. We build prototypes to test new ideas. Feedback and design development comes from how people use those prototypes. As we began to move out of the design of creative office space and into the urban realm, we found ourselves searching for a lighting solution that could move with our design approach. Unfortunately, the outdoor lighting market was lacking options that worked well for our urban prototyping ambitions.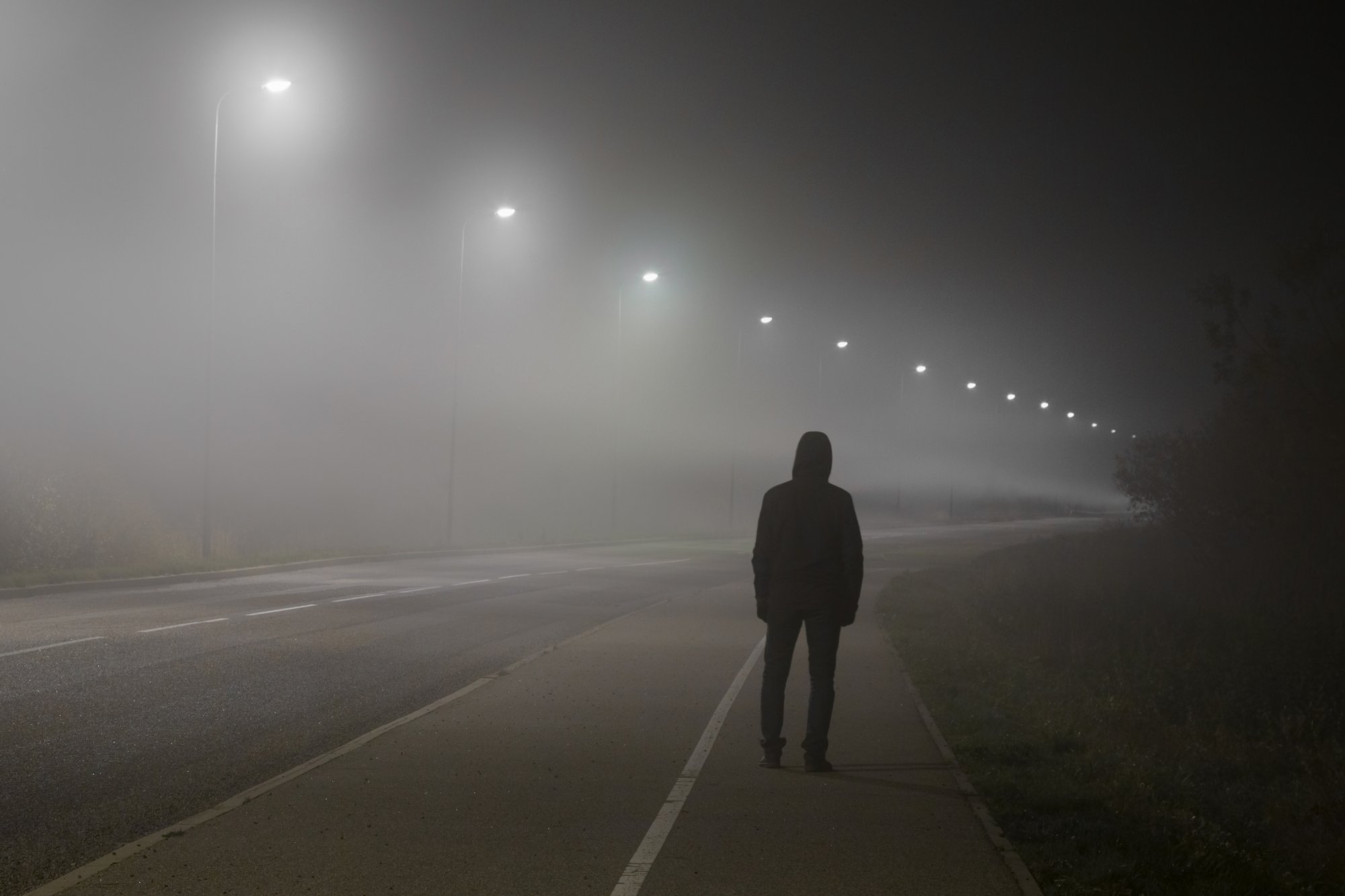 Don't get me wrong; there are many beautiful options for street lights. The unfortunate reality is that there are just a lot less places with beautiful street lights installed, and even fewer beautiful examples installed within the timeframe that works for an urban prototype. The reason for the scarcity of successful installations stems from an unhealthy relationship of economics and implementation.
The economics are simple. Lighting requirements are based on the quantity of light falling on the city surface (e.g., street, park, sidewalk, etc.). However, the cost of that light is a function of the number of light posts and the cost per light post itself. This encourages cities and developers to deliver the target amount of light using the smallest possible number of light posts. The result is a propensity for project teams to select very tall street lights each with their own high-capacity light output. This incentive is so strong, in fact, that many jurisdictions have restricted the amount of light pollution each light post can produce (that much light up high does not discriminate in which direction it shines.) The other economic dimension that makes outdoor lighting expensive is a byproduct of the high transaction cost for implementation. Transaction costs are high enough that a project team will provide light everywhere it could possibly need light on their site—not just where light is needed today, but anywhere where light might be needed tomorrow or in the next five years.
While cities and developers may be used to paying the hard cost of a Toyota Prius for each light post (this is a true cost statement, not hyperbole), the real complexity of outdoor lighting for even the most well-funded organization is the permitting process. Nationwide, you will almost always have to go through three types of permits to install street lights: 1) Planning, which approves the use and type of light fixture; 2) Department of Public Works, which approves and coordinates all the underground work to support that light; and 3) the Building Department, which approves the construction techniques and details. This process always takes months and oftentimes takes years. For well-funded cities and developers this timeframe makes it difficult to launch, iterate, and test new urban environments. For less-well-funded neighborhoods, this timeframe can be prohibitive, preventing communities from ever moving towards more welcoming, safer urban environments. Standing on the shoulders of Jane Jacobs's logic here, we would argue that to have eyes on the street, you first need to be able to see the street.
To prototype in an urban setting, we looked outside the standard outdoor lighting industry to related markets with well-established supply chains and readily available materials. First, we explored stage lights, which were great at achieving certain lighting effects but were unreliable to leave unattended. Next, we explored temporary lighting options for construction sites, which was much more reliable and durable; but fell short on atmosphere and aesthetics. We wanted something new, adaptable, and beautiful.
After a year of trial and error, we landed on a concept that we are affectionately calling Power Plants. Power Plants provide a similar amount of light as a typical streetlight but they do it via a distributed, net-zero-energy, battery-powered solution. The guts have the durability of construction lights. The fixtures are something for a brave new world. There is no structural need to go into the ground, and if your proposed installation is less than 180 days, you can leverage many of the temporary permit benefits used for tents, kiosks, or other urban prototyping elements.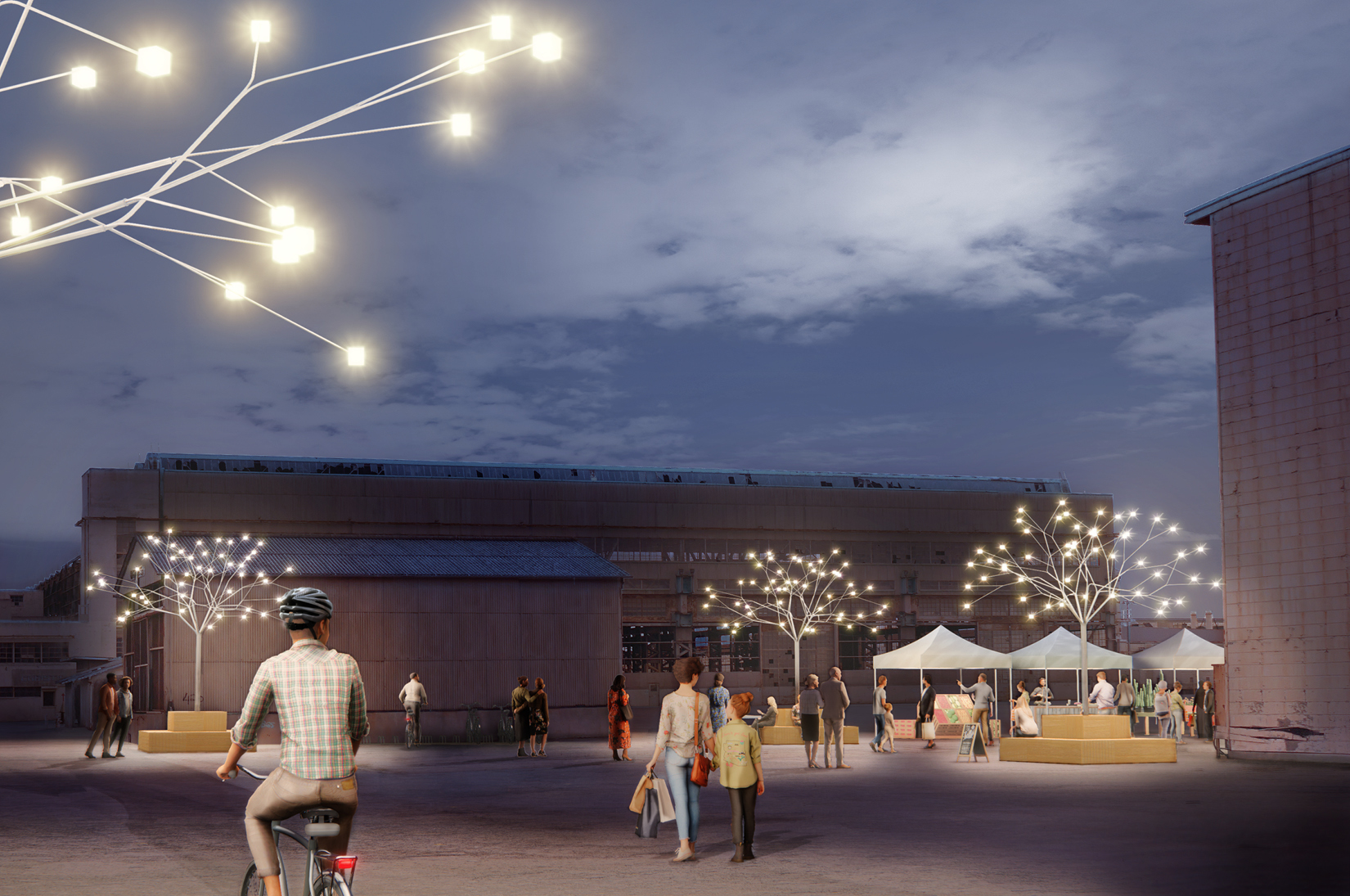 They are bright, moveable, and self-sufficient—a simple rotation of the "branches" creates the freeform feel of the canopy. The branches converge into a trunk which nests in a concrete base that is sized to be moveable by two humans with a hand truck. Simple wooden boxes tie into the concrete base providing additional resistance to overturning as well as a welcome seat for the urban explorer. We learned from earlier prototypes to oversize the batteries to provide for days, not hours, of light. (While most of our work is centered in California, not all of us are lucky enough to get so much sunshine.)
Perhaps the part of the Power Plants that we are most excited about is that it represents a different approach to architecture in the urban realm. One that acknowledges that we live in an ever-changing, networked world, and within that world there is still an important place for architectural creativity and knowhow—driving new productized solutions that work with our new normal.
Close your eyes, imagine that world. What do you see?
Nash Hurley is an Architect and Principal with VITAL, a research-based studio in San Francisco.
The Surprising Oil Tax in the Inflation Reduction Act
President Biden has made reducing gas prices paramount in his administration, so it was likely a surprise to hear a Republican senator last Sunday warn TV viewers that a revived and increased oil fee in the climate bill will increase their gas costs.
The Tide Has Turned Against Open Streets
Once a promising development for advocates pushing for a less car-centric future in cities, the open streets movement has ceded significant ground to cars since the height of the pandemic.
This six-course series explores essential urban design concepts using open source software and equips planners with the tools they need to participate fully in the urban design process.
This course aims to provide an introduction into Urban Design Sketching focused on how to hand draw master plans using a mix of colored markers.
View More