Urban villages can maximize accessibility and inclusivity, helping residents be healthy, wealthy, and happy. Here are specific targets for planning them.
---
I like the terms urban village or just village because they describe compact, mixed, walkable neighborhoods where it is easy to get around without driving. These can also be called transit-oriented development, new urbanism, location-efficient development, and recently 15-minute neighborhoods. Regardless of the name, they help residents become healthy, wealthy, and happy.
To understand urban villages, it is useful to think in terms of walksheds (a variation on the concept of watersheds), the area that people can reach on foot. Although walking distances vary, people who have a car and a free parking space at their destination will generally only walk for five to ten minutes before shifting to driving, and people who are car-free will generally walk about twice that distance, ten to twenty minutes each way, before most will ask for a ride or pay for transit or a taxi.
Most walkshed research has focused on transit-oriented development—a neighborhood organized around a transit station—but the concept can apply to other walkable communities including rural hamlets, traditional small towns, and large-city neighborhoods. In a previous column, Urban Villages: The Key to Sustainable Community Economic Development, I defined ideal urban villages as having at least 2,000 homes, and preferably more than 4,000 homes, within a half-mile walk of most commonly-used services including a full-service grocery store, a pharmacy, cafes, restaurants, schools, and parks. The majority of trips we make are for errands, so even people who must drive to work can reduce their vehicle travel and associated costs by a third or half by living in an urban village.
The table below defines some key urban village planning targets.
Multimodal Performance Targets
| | |
| --- | --- |
| Factors | Targets |
| Density. Number of people and jobs per area of land. | 15+ residents or jobs per acre. |
| Land use mix. | Walk Score over 70. |
| Commonly-used services (full-service grocery store, pharmacy, café/restaurant, elementary school, childcare, etc.) | Available within 10-minute walk of most homes and worksites. |
| Parks and recreation | Most households are within a ten-minute walk of local parks and recreational facilities |
| Diverse housing types and prices. | At least 20% of homes are affordable to lower-income households. |
| Jobs/Housing balance. | At least 0.5 jobs per capita. |
| | Sidewalks and crosswalks on 90%+ of streets. |
| Bikeability. | All ages and abilities bicycle facilities on all major roadways. |
| Roadway design speeds. | Most streets have 20 mph or lower traffic speeds. |
| Transit service quality. | More than 20-minute bus or train peak-period frequencies on major travel corridors. |
| Universal design. | All transportation facilities and services accommodate people with disabilities, handcarts, and other special needs. |
| Convenient and affordable carsharing. | Several carshare vehicles available within 10-mintue walk of most homes. |
| Complete streets policies and streetscaping. | All major streets accommodate diverse users and uses, with attractive designs and amenities, including shade trees and other landscaping, plus pedestrian-oriented street furniture. |
| Limited parking supply and efficient parking management. | Reduce or eliminate parking minimums, encourage property owners to efficiently manage off-street parking supply. |
| Efficient curb management | Manage curb space to favor higher-value uses (deliveries and short errands). |
| Quality public realm | Public spaces (sidewalks, paths, plazas, parks and public buildings) are well designed and managed for diverse community activities. Commercial buildings are oriented toward sidewalks. |
These features allow people to reach common destinations without driving, but to achieve potential infrastructure savings, and reduce congestion, crashes, and emissions, it is also necessary to provide incentives to use the most efficient mode for each trip: walking and bicycling for local errands, public transit when traveling to other urban neighborhoods, and driving only when it is truly the most cost-effective option for a particular trip.
Auto Traffic Reduction Incentives
Low traffic speed, complete streets roadway designs, and traffic calming.
Bus- and bike-lanes, so non-auto modes are competitive with driving.
Reduced parking supply, parking pricing, unbundling and cash-out.
Commute trip reduction programs.
Residential trip reduction programs.
Together, these features have synergistic effects: they create neighborhoods where residents own fewer vehicles, drive less and rely more on affordable, resource-efficient modes, as illustrated below. As a result, residents save money, are more likely to achieve physical activity targets, have more economic and social opportunities, spend less time commuting, and impose lower costs on their community. Well-planned urban village are the key to health, wealth, wisdom and generosity.
Per Household VMT and Emissions by Neighborhood Type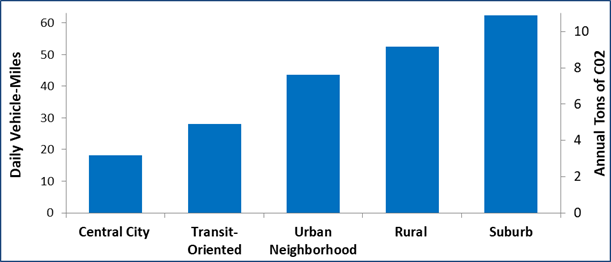 What do you think? Have I overlooked any key features of urban village planning?
Information Resources
AARP and CNU (2021), Enabling Better Places: A Handbook for Improved Neighborhoods, American Association of Retired Persons.
Kristin N. Agnello (2020), Child in the City: Planning Communities for Children & Their Families, Plassurban.
Kristin N. Agnello (2018), Zero to 100: Planning for an Aging Population, Plassurban. 
Boston (2021), Transportation Demand Management (TDM) Point System, City of Boston.
CALTRANS (2014), Main Street, California: A Guide for Improving Community and Transportation Vitality, California Department of Transportation.
CIVITAS is a European Commission supported initiative to help introduce sustainable urban transport strategies.
Andres Duany and Robert Steuteville (2021), Defining the 15-minute City, Public Square.
The 15-Minute City: Putting people at the center of urban transformation.
Gehl Architects (2010), Our Cities Ourselves: 10 Principles for Transport in Urban Life, Institute for Transportation and Development Policy.
Complete Streets (www.completestreets.org) is a campaign to promote roadway designs that effectively accommodate multiple modes and support local planning objectives.
GreenTRIP is a certification program for new residential and mixed use developments that implement transportation and parking management strategies, similar to LEED building certification.
Knight Frank (2020), Walkability and Mixed Use - Making Valuable and Healthy Communities, The Prince's Foundation.
NACTO (2012), The Urban Street Design Guide, National Association of City Transportation Officials.
NACTO (2020), City Limits: Setting Safe Speed Limits on Urban Streets, National Association of City Transportation Officials.
Oh the Urbanity. This YouTube channel includes outstanding short videos that discuss and illustrate key urban planning concepts.
Project for Public Spaces works to create and sustain public places that build communities.
San Francisco TDM Tool, and Step-by-Step Instructions for Creating a TDM Plan, provide guidance for transportation planners and engineers, developers and building managers to encourage more efficient transportation, for various land use types and conditions.
Streetspace Allocation Option Generation Tool, developed by the Centre for Transport Studies at University College London for the European Union's MORE (Multi-modal Optimization of Roadspace in Europe) helps redesign, reallocate, or regulate streetspace to meet specific community policy goals, including accommodating various modes, minimizing pollution emissions and supporting local economic development.
Tools for Measuring Public Life by the Gehl Institute help measure how people use public spaces and better understand the relationships between those spaces and activities that take place in them.
---
Planning for Congestion Relief
The third and final installment of Planetizen's examination of the role of the planning profession in both perpetuating and solving traffic congestion.
Urban Design, Transport, and Health
The Lancet medical journal published a series of articles that explore how to evaluate and guide urban planning decisions to create healthy and sustainable cities. Live long and prosper!
This six-course series explores essential urban design concepts using open source software and equips planners with the tools they need to participate fully in the urban design process.
This course aims to provide an introduction into Urban Design Sketching focused on how to hand draw master plans using a mix of colored markers.
View More