Dublin (Calif.)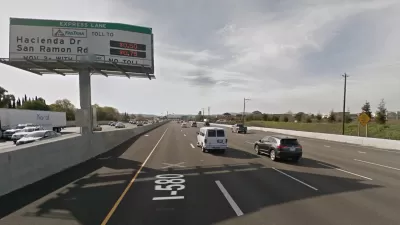 Bay Area Express Lanes Turn a Profit
Not all of them, just the I-580 lanes. One of the reasons is that most users are actually paying, unlike the other two express lanes where a majority of users are clean-air vehicles or carpools, neither of which pay.
The Bay Area's Coming 'Freeway Revolution'
This will not be a revolution against freeways, as some may have hoped, but a revolution marked by new express lanes totaling 550 miles, beginning with a new stretch of 14 miles on I-580 through Dublin, Pleasanton, and Livermore in the East Bay.