The University of Texas at Arlington
Master of City and Regional Planning
---
---
The University of Texas at Arlington is located in the heart of the Dallas Fort-Worth Metroplex home to over hundreds of cities and townships in the area. The Metroplex is the fastest growing metropolitan area in the United States home to over seven million people. Given our unique location, our students have access to an urban laboratory in addition to unique professional opportunities.
MASTER OF CITY AND REGIONAL PLANNING (MCRP)
The Master of City and Regional Planning program is the only PAB accredited planning master's degree in the Dallas-Fort Worth area. The program has a broad focus on metropolitan planning and sustainability. The program will prepare individuals to hone in on areas of urban sprawl, pollution, economic development, aging infrastructures, and more. The program is composed of 48 total credit hours and can be completed in 2 years at a full-time rate. A student who is well-prepared through an undergraduate degree in planning or related field and has as well five or more years of relevant and verifiable professional experience may be eligible to complete the degree in 30 credit hours.We admit students into the program year round (fall, spring, and summer).
The Master of City and Regional Planning program has a solid alumni network, as we have been graduating students since 1978. Our program is organized around planning for metropolitan sustainability and resilience and the following strengths have been highlighted in its accreditation:
Extensive alumni network

Internship opportunities

High rate of job placement

Two outreach centers: the Institute of Urban Studies and the Urban Design Center

A good balance between theory and practice in the curriculum

Mentorship program: New students are partnered with alums of the program who live and work in the DFW metroplex
Our mentorship program pairs new students with practicing alums of the program. This allows student mentees to shadow their professional mentors and receive guidance related to the profession, career paths and AICP certification.
MCRP graduates are employed in the public, private and nonprofit sectors and have made careers in a variety of planning areas such as:
Transportation Planning 

Community Development 

Development Review

Environmental & Natural Resource Planning 

Urban Design & Planning
The Master of City and Regional Planning program is also exploring the Future of Hypermobility with a course designed in partnership with AECOM to explore untapped modes of transportation through multidisciplinary instruction.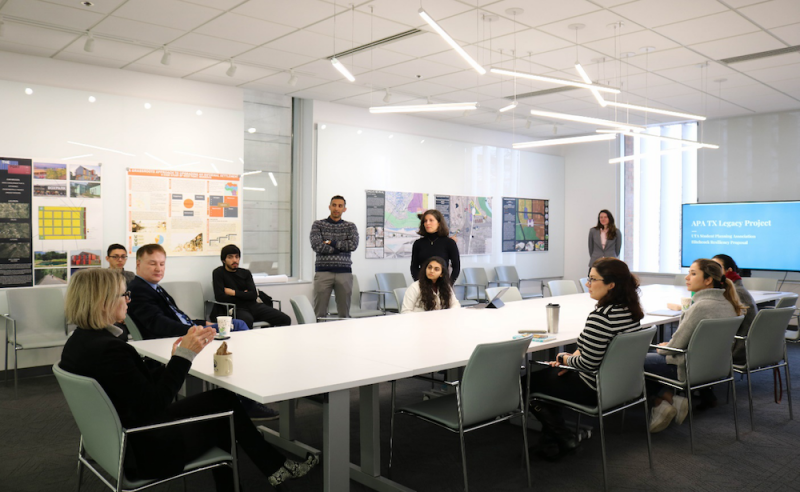 PHD – URBAN PLANNING AND PUBLIC POLICY (UPPP)
The Ph.D. in Urban Planning and Public Policy (UPPP) integrates the academic disciplines of urban planning and public policy by training Ph.D. students to conduct independent research that makes a substantive contribution to their chosen planning and policy subfields. The program prepares doctoral students for academic careers and for leadership in research positions in the public, private or nonprofit sectors. UPPP graduates have secured academic and research positions at research universities and institutes, think tanks, and public planning agencies nationally and internationally.
The UPPP Ph.D. has four key areas of focus:
Housing

Urban Design

Transportation Analysis, Planning and Policy

Environmental Planning Policy/Sustainability
Students have opportunities to gain research experience in the Institute of Urban Studies (IUS) and Center for Transportation, Equity, Decision and Dollars (CTEDD), both research centers employ students to work on multidisciplinary projects. The centers actively collaborates with our surrounding community to identify and resolve practical, real-world problems by offering the substantial experience and expertise of the university's multidisciplinary students, faculty, and staff. Our reach runs from community groups to nonprofit organizations to private sector representatives to public agencies.
CERTIFICATE PROGRAMS
DUAL DEGREES
MCRP + Public Administration

MCRP + Social Work

MCRP + Architecture

MCRP + Landscape Architecture

MCRP + Civil Engineering

MCRP + Environmental Science & Engineering
NEXT STEPS
Interested in learning more, please visit: https://www.uta.edu/cappa/academics/planning-publicaffairs/planning/index.php.
Please contact us:
Email: [email protected]
Phone: 817-272-2801
Text: 855-202-6818
Other programs at this university
---
Find More Programs

Adrian Parr, Dean,
Guoqiang Shen, Program Director
James Brown,
Program Contact
The University of Texas at Arlington
College of Architecture, Planning and Public Affairs
Department of Planning and Landscape Architecture
601 W. Nedderman Drive
Suite 203, Box 19108
Arlington, TX 76019
US
Planning Accreditation Board
Other programs at this university
Find More Programs

Adrian Parr, Dean,
Guoqiang Shen, Program Director
James Brown,
Program Contact
The University of Texas at Arlington
College of Architecture, Planning and Public Affairs
Department of Planning and Landscape Architecture
601 W. Nedderman Drive
Suite 203, Box 19108
Arlington, TX 76019
US
Planning Accreditation Board