University of Colorado Denver
Master of Urban and Regional Planning
---
---
Located in the vibrant heart of Downtown Denver and just minutes from the magnificent Rocky Mountains, the Master of Urban and Regional Planning (MURP) program at the University of Colorado Denver is an innovator in experiential, hands-on planning instruction, providing a world-class education at an affordable price.  
Denver as a Living Lab
As the cultural, intellectual, and economic capital of the Rocky Mountain region, fast-growing Denver is at the cutting edge of many new trends in sustainable and equitable urbanism but still faces many challenges common to urban areas such as homelessness, income segregation, gentrification, housing shortages, and sprawling land development. In this way, MURP students learn from both the city's successes and its challenges.
Experiential Learning and Engagement
Hands-on experience and direct interaction with communities and the region's planning professionals are cornerstones of the MURP program. Our nationally recognized research faculty are leaders in their fields, yet make teaching a priority. Additionally, our students are taught by some of the nation's top professionals, including practicing planners, land use lawyers, urban designers, health practitioners, and real estate developers. Students get hands-on experience working with real-world clients through class projects, studios, internships, capstone and thesis projects, and research assistantships.
Rigorous Curriculum and Diverse Faculty Experience
Our curriculum includes a combination of core planning courses and a diverse array of specialized planning electives. Required core courses survey a wide range of foundational topics such as land use and transportation, planning methods, planning law, planning history and theory, real estate development, environmental planning, physical planning, and professional practice. Students self-direct their elective choices to suit their passions and career goals.
Integrated Planning Technologies
We integrate throughout our curriculum key professional technologies in realms such as digital mapping, 3D modeling, data visualization, and geographic/spatial analysis. We leverage our faculty's extensive expertise and our state-of-the-art computing facilities to provide students with quality instruction in tools for visualization, mapping, graphics and modeling. Additionally, we offer a certificate in geospatial technologies.
International Learning Opportunities
Through lecture courses that focus on global planning issues and studios that involve on-site coursework and collaborations in other countries, students can broaden their educational experience and enhance their understanding of planning issues throughout the world. 
Dual Degrees
Successful planning and city-building requires expertise, breadth, interdisciplinary understanding, and creativity. To that end, the MURP program offers eight dual degree options with University of Colorado master's programs in Applied Geography/Geospatial Sciences, Architecture, Business Administration, Engineering/Transportation, Historic Preservation, Law, Landscape Architecture, Public Administration, and Public Health.
Professional and Career Development
We provide students with instruction, guidance, and resources for understanding the many career paths within planning and allied fields and how to strategically position themselves to achieve their professional and personal goals. We enable students to be prepared for not only their first job after graduate school, but for a lifelong career. We have an excellent job placement rate, an outstanding AICP exam pass rate that exceeds the national average, and over 1,400 CU Denver MURP alumni throughout the US and the world.
Affordability: Students from Western States Pay In-State Resident Tuition
The CU Denver MURP Program is a qualified WICHE-WRGP program (Western Interstate Commission for Higher Education –Western Regional Graduate Program)—the only graduate urban planning program in the Rocky Mountain region that offers this opportunity. Most residents of the 15 WICHE states who are accepted into the MURP program will pay only Colorado in-state resident tuition—a savings of more than $20,000. WICHE states and territories include: Alaska, Arizona, California, Colorado, Hawaii, Idaho, Montana, Nevada, New Mexico, North Dakota, Oregon, South Dakota, Utah, Washington, Wyoming, and the Commonwealth of the Northern Mariana Islands.
Web Links
Find out more about our MURP program, curriculum, students, faculty, and a lot more, please visit: cap.ucdenver.edu/murp
---
Find More Programs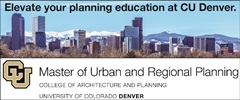 University of Colorado Denver
College of Architecture and Planning
Department of Urban and Regional Planning
Campus Box 126, PO Box 173364
1250 14th Street
Denver, CO 80217-3364
US
Planning Accreditation Board
Find More Programs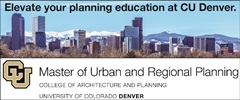 University of Colorado Denver
College of Architecture and Planning
Department of Urban and Regional Planning
Campus Box 126, PO Box 173364
1250 14th Street
Denver, CO 80217-3364
US
Planning Accreditation Board