Bricks or Bullets? Obama Chooses Defense Over Housing
The federal government has largely abdicated its responsibility to build affordable housing. Nowhere is that more clear than in the comparison between President Obama's proposed $6 billion to HUD for housing production and $626 billion for defense.
President Obama recently released his version of the 2015 federal budget. As usual, there was a minimal increase to the appropriations for HUD. The President's budget allocated approximately $47 billion for HUD. More than $30 billion of HUD's budget is allocated to tenant based or project based vouchers (i.e., Section 8) or to the maintenance of existing rental assistance for households. The remainder of HUDs budget is devoted to other existing programs such as operating subsidies for public housing. Only $6 billion, or approximately 13 percent, of HUD's budget is devoted to new housing production or planning for new housing production.
In other words, if you are lucky enough to have a federal rental subsidy, you are likely to keep it. However, the federal government has largely abdicated its responsibility to build more affordable housing in this country. Given the current housing crisis in cities such as New York, San Francisco, and other growing urban areas, and given that 13 percent, or 39 million, of Americans live in poverty, the federal government's reluctance to build more affordable housing is at best irresponsible.
Many Americans may argue that the country simply cannot afford to devote more resources to affordable housing. The Great Recession is still in our recent history. But for those Americans who are unemployed, the Great Recession is still here. The Tea Party and other conservative Republicans have argued ferociously that domestic programs, including affordable housing, need to be cut further.
But do they? President Obama's budget also allocated $626 billion to the defense budget. National security comprises a whopping 54 percent of the discretionary national budget and nearly 20 percent of the overall budget. The four countries with the largest defense expenditures, which are China, Russia, Japan, and the United Kingdom, spend $436 billion combined.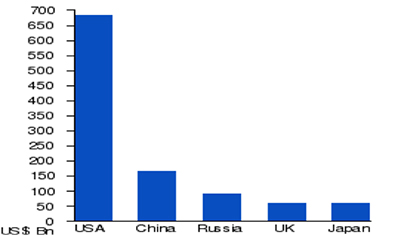 The American fascination with national security and war is simply not sustainable. A one percent cut to the defense budget would allow HUD to double its production of affordable housing. A seven percent cut to national security would allow the United States to double the funding for HUD entirely. Even with a 30 percent cut to the defense budget, the United States would still have a larger defense budget than the other four largest countries combined. 
The stated mission of the Pentagon is to be capable of fighting a major war on two fronts. Although this was necessary during World War II, the threat of two wars today pales in comparison to the threat faced by so many Americans who live below the poverty line and cannot afford decent shelter. Every country must be prepared for the eventuality of war. However, every country should also provide basic public services to all of its residents. These choices need not be mutually exclusive. Thankfully, the United States is wealthy enough to do both.
[1] "The 15 countries with the highest military expenditure in 2012 (table)" (PDF). Stockholm International Peace Research Institute. Retrieved 15 April 2013.
Topics