The Little Prince Meets the Big City
When considering city life, we often look to Jane Jacobs or William H. Whyte. But an exhibit commemorating the 70th anniversary of the children's classic "The Little Prince" at New York's Morgan Library surprises as a field guide for urban living.
A vision of Manhattan is presumably the last thing that comes to mind when reading "The Little Prince," the beloved novella by Antoine de Saint-Exupery set in the stark, wind-swept desert. However, as the current exhibit at the Morgan Library reveals, the book was partly penned amidst the clamor of New York City during a brief period Saint-Exupery spent in exile from his native France during World War II.
Lent a spacious penthouse on Central Park South at the close of 1941 (as well as a mansion on Long Island), Saint-Exupery sketched and scribbled furiously on onionskin paper over the next two years, eventually dropping the completed manuscript off at his friend Silvia Reinhardt's house with the sheepish confession: "I'd like to give you something splendid, but this is all I have."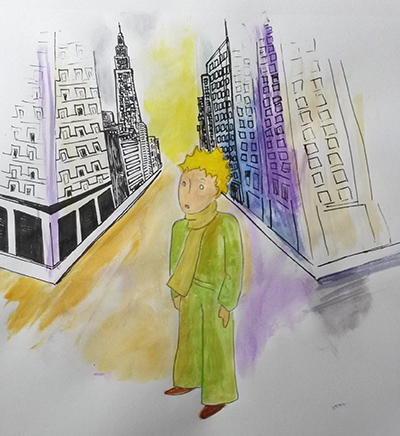 That his time in New York was an unhappy one is widely acknowledged, filled with loneliness, alienation at technological advances, and despair over what he called the "hard heart" of city life. However, there were bright spots of mirth. Friends remember him "at the height of his powers, experimenting with green slime in his Central Park South bathtub, filling the sky outside of the apartment with fleets of paper airplanes, tossing water bombs out over Gramercy Park, and blowing pumpkin-size glycerin bubbles with a rolled-up newspaper." He relished in bringing visitors to the top of the Empire State Building, and drank coffee and smoked obsessively with fellow artists at cafe La Vie Parisienne.
Out of these measures of anguish and folly wriggled the little prince.
Have we any cause, then, to consider our flaxen-haired protagonist as a Virgil of sorts for city living? Might his oft-quoted prescriptions for life offer any guidance in an urban setting?
Let's consider the text.
On his journey from Asteroid B26, the prince makes a stopover on several planets, each of which contains a solitary resident. He is introduced to a businessman who does nothing but count his money and boast of owning the stars. "I have so much work to do!" he explains to the prince. "I'm a serious man...I can't be bothered with trifles! I'm a serious person...I have no time for daydreaming." Perplexed, the prince travels to another planet where he meets an exceedingly vain man who seeks only to be admired, followed by an explorer who is too busy to actually explore.
No subtlety here: Saint-Exupery is clearly warning of the perils of one-dimensional pursuits. Cities by definition attract ambitious people, and there's a pull nothing short of magnetism to attain financial success. But these all-too-familiar archetypes make for dreadful citizens of the world, not to mention lousy conversationalists.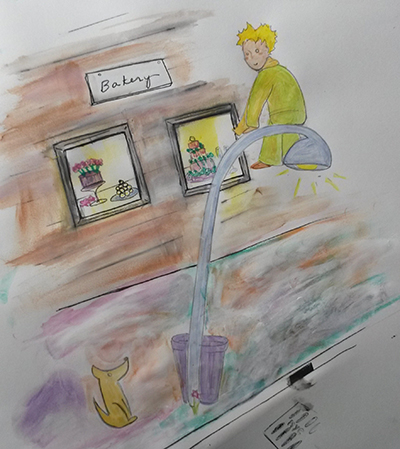 Our prince is a master in the art of "flanerie" and in that respect, a consummate urban creature. As Baudelaire espoused, the flaneur is the "modern artist-poet, a figure keenly aware of the bustle of modern life, an amateur detective and investigator of the city, but also a sign of the alienation of the city and of capitalism." Our prince ambles through the galaxy, asking simple yet largely unanswerable questions of everyone he meets. He is puzzled by the strangeness of grownups and their obsession with pursuits solely material or pragmatic in nature. "The children are the only ones pressing their noses against the windows of airplanes" he observes, ruefully.
The city as we know it is a congregation of gadgets designed to save time, a secular temple to the gods of efficiency. And yet cities unfurl and retract to their own blink-and-you'll-miss-it rhythm. What is everyone actually doing with all that time saved, with all those efficiencies achieved? Surely not watching the sunset paint the sky into an improbable shade of aubergine. The prince proffers a humble suggestion: "If I had fifty-three minutes to spend as I liked, I'd walk very slowly toward a water fountain."
To wander is not to waste time.
A critical passage of "The Little Prince" finds our hero, near despair, attempting to befriend a desert fox. Initially prickly, the fox explains that first they must tame each other, which means to create ties. Until they do, they exist as one in a hundred boys and foxes, each with no particular need of the other. Once they are tamed, however, the miracle of intimacy unfolds. "Be very patient. First you'll sit down a little ways from me...I'll watch you out of the corner of my eye and you won't say anything. Language is the source of misunderstandings. But day by day, you'll be able to sit closer..."
The very same logic may be applied to cities. Choose something: a scraggly patch of weeds, a fledgling art collective or a cantankerous neighbor and work diligently to tame it. It may take some time, and there will inevitably be misunderstandings in the process. That's okay. You depend on the city to flourish. Make it need you in return, and it will become endlessly yours.
"It is only with the heart that one can see rightly--what is essential is invisible to the eye"—the axis upon which the novella revolves and a line that Saint-Exupery fiddled with endlessly—also has applications in an urban context. Some of the best parts about living in a city are often invisible, or at least partly obscured. The disappointments, longings and lustrous hopes of its residents. The endless layers of architectural palimpsest. The ways—both subtle and not—that history continues to reverberate. Listen out for these transmissions, though not by using the most obvious apparatuses. Beware: you won't always hear the pleasant hum of string quartets or the satisfying crunch of a fresh croissant. Cities are medusas of staggering contradictions, by turns fetid and dulcet, endless and terminal, comforting and shocking--things which are all worthy of your attention, no matter their level of difficulty or delight.
Go, interrogate, create ties, and work in ways, however small and imperfectly, to make the city err on the side of kindness.
You wouldn't want to disappoint the prince, would you?
"The Little Prince: A New York Story" exhibit is running at the Morgan Library until April 27th, 2014.




Illustrations by R. Bobby Chien
City illustration: le petite prince arrives in the city
Bakery illustration: tame the city - make it your own
R. Bobby Chien resides in Seattle, WA, where she frequently spends her days seeking artistic inspiration through rain drop speckled glass and finding delight in wombat videos.
Topics