Abu Dhabi is updating its strategic development plan. Consultant Todd Litman reports on the city's recent urban planning charrette.
---
Last week I participated in a design charrette for the Abu Dhabi Urban Planning Council's strategic Plan Capital 2030 update. It is a fascinating and challenging project. Let me share some highlights.
This three-day event was exciting and important. People from various professions and organizations were involved, including nationals (Emirate citizens) and expats (foreign professionals). I was truly impressed by the quality of participation, particularly by young people and women, who were articulate, passionate and creative. It was clear that residents truly care about their city and want to find innovative ways to improve it.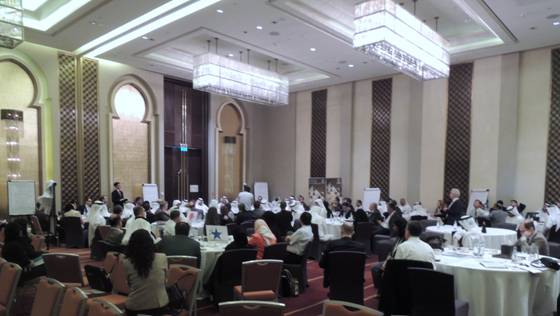 The Abu Dhabi Plan 2030 update program included a three-day planning charrette during September 2013.
Abu Dhabi has experienced tremendous growth during the last half-century, since oil was discovered there in 1957. To put it into perspective I prepared the graph below which compares Abu Dhabi and Ancient Rome's population growth. Abu Dhabi took approximately three decades to reach one million residents, compared with six centuries required by Rome. Although such growth is occurring in other cities around the world, it is a unique event, resulting from the combination rapid population growth and urbanization unprecedented in human history. Because cities are complex organisms, managing such growth is extremely challenging.
Time Required To Reach One Million Population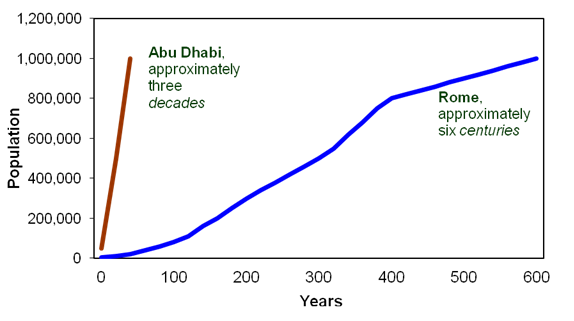 Abu Dhabi took approximately three decades to grow from 50,000 to a million residents, compared with six centuriesrequired by ancient Rome.
Abu Dhabi is to be commended for its outstanding planning programs. It has a strong commitment to sustainable development, called Estidama in Arabic, and has developed an excellent set of planning guidelines and tools to help achieve its goals. In my international professional work I often cite its Urban Street Design Manual as an example of best practices; many of its recommendations can be applied in other cities, particularly those in hot climate. Its new Public Realm Design Manual is also outstanding, the Estidama Pearl Rating System (equivalent to the LEED sustainable building and community design rating system) is being widely applied thorughout the city, and other planning documents are excellent. These sustainable planning practices are being well implemented in new developments. A larger challenge is to incorporate them in existing neighborhoods.
Among the greatest planning challenges relate to social sustainability (also called quality of life, livability or community wellbeing) objectives. These involve values that cannot be bought with money, in fact, they are often threatened by wealth; they depend on people's behavior and relationships. They include:
Close families, friendships, and community cohesion
Safety and security
Faith and culture
Pride and dignity
One vision we discussed is that it should become normal for families to walk together to neighborhood services and activities. The city recently established policies to encourage development of mosques; their target is a local mosque within 350 meters (a 5-10 minute walk) of every home. I suggested that the city should use this effort to help establish complete local community centers that include parks, shops, daycare centers, schools, recreation centers and healthcare clinics, in addition to mosques. The specific set of facilities and services in each center should respond to neighborhood needs, with parks, daycare and primary schools located in areas with many young children, and tea shops and senior centers in areas with many older residents.
To illustrate this concept, during my summary presentation to the entire audience I described how, many decades ago, my wife's grandfather insisted that the new synagogue he helped build in Edmonton, Canada should include a gym so young people would have opportunities to exercise during cold Canadian winters, and to encourage them feel comfortable in the synagogue and accompany their families to services. I initially hesitated to tell this story - I wasn't sure if it would be appreciated by a Muslim audience - but was encouraged to do so by local professionals who assured me that Abu Dhabi is proudly multi-cultural. I'm glad I did. The story was well-received, and it reminded us that good planning reflects universal human values and experiences, including the joy of exercise, family love, and the importance of faith and culture.
Planning cannot force people to exercise, love their family or become friendlier with their neighbors, but good community design can support these objectives. Urban design can help create:
Walkable neighborhoods, in which it is convenient, safe and comfortable for families to walk to local services and activities, including mosques, tea/coffee shops, schools, plazas and parks, shops, medical clinics and other local activities.
Multi-modal transportation systems, with good walking conditions and public transport services, so young people, seniors, and other people who cannot drive have independence.
Small-scale, participatory neighborhood activities, such as local festivals and celebrations, cultural and art events, adult education, sports and games.
Implementing these improvements will be challenging. Many neighborhoods are well established and surrounded by wide arterials with heavy traffic. The city will need to establish a planning process through which neighborhoods can initiate a community center development program, with funding to purchase land and build facilities. Similarly, the city will need to change exisiting roadways to reflect its new, multi-modal design standards, and convince motorists to reduce their speed, and in some cases, change modes.
Abu Dhabi recently established public transit bus services and is planning a rail transit network. The nearby Dubai Metro has demonstrated that public transit can attract travelers in this region, provided it has quality service and is well integrated. This requires attention to design details, such as convenient user information, pleasant waiting areas, and good walkability near stations.
Walking is sometimes difficult in the Persian Gulf region due to high heat and humidity, but this can be addressed, in part, with good design that maximizes pedestrian connectivity, and provides shade and ventilation on walking routes, and plenty of opportunities to sit and enjoy a cold drink. Here in Canada we face similar problems with extreme cold, which can be uncomfortable and even deadly, but that doesn't stop us from walking and cycling; dealing with cold is part of our life and culture, and a challenge that we address through appropriate community design and individual initiative. This is not to suggest that improving walkability will cause Abu Dhabi residents to up driving altogether, but with good design the city can create neighborhoods where it will be normal for entire families to walk to their local services and activities, and as a result, will enjoy improved health, more family time, and better community interactions.
International consulting can be challenging: there are often logistical problems, language and cultural barriers, and sleep deprivation. It requires trust, patience and clear communication. Being a good listener is particularly important when working with different cultures. As with any planning process, our role is not to tell people what they should do, rather, it is to help identify what they can do, and the best path forward based on their community's needs and values.
I feel honored to have been invited to contribute to this planning process. The three-day planning charrette was truly exciting. It was organized by an outstanding team of professionals that includes the Urban Planning Council's staff and outside consultants. Thank you for this amazing opportunity!
---
The Hyperloop's Prospects Dim
The media is coming around to the idea that the hyperloop is not a near-term solution for the country's transportation woes. It's too little, too obvious, too late.
The Great American Exodus: A Conservative's Perspective
During his keynote speech on September 11 at the National Conservatism Conference in Miami, Florida Governor Ron DeSantis describes the demographic shifts in America since he became governor in 2019 in what he calls the 'Great American Exodus.'
The Resilience of Bikeshare
The inherent simplicity of bikes makes shared mobility systems a crucial transportation option during natural disasters.
This six-course series explores essential urban design concepts using open source software and equips planners with the tools they need to participate fully in the urban design process.
This course aims to provide an introduction into Urban Design Sketching focused on how to hand draw master plans using a mix of colored markers.
View More