It's Halloween time again, the day when dressing up in silly costumes is required of every conscionable person. Some opt for the scary ghost or the sexy nurse, but others, more thoughtful others, make more of this opportunity.
---
It's Halloween time again, the day when dressing up in silly costumes is required of every conscionable person. Some opt for the scary ghost or the sexy nurse, but others, more thoughtful others, make more of this opportunity. Others like you, my clearly intelligent and attractive reader, who use this opportunity to spread a message with their costumes. Costumes that make an impact. Costumes that enlighten. Costumes that are, uh, related to urban planning concepts. What better way to celebrate this annual day of costuming than with an outfit that tells the world that you are interested in urban planning? Obviously there could be no better way. And so, it is with only a small amount of shame and embarrassment that I present this third edition list of Halloween costume ideas for urban planners.
Pocket Park
Show your friends how to take advantage of underused urban spaces with this pocket park costume. Simply take a pair of pants, turn the pockets inside out and draw a little park. Pull those pockets out on Halloween and plant that seed.
Inclusionary Zoning
Here's a costume especially useful for the new parent. Think of yourself as an apartment building, and your deadbeat unemployed baby as a low-income renter. Just carry the kid around and you've turned your apartment complex into a mixed-income example of equitable housing.
Personal Rapid Transit
Think pods are the future of public transit? Help convince your friends by dressing up as your own automated podcar. Dress all in white, top yourself off with a motorcycle helmet and you're on a path to the future of transit.
Banned Plastic Bag
Cities across the U.S. are getting so fed up with ubiquitously littered plastic shopping bags that they're instituting all-out bans. Great for gutters, but kind of a bummer for the bags themselves. Sympathize with their plight by pasting plastic bags all over your body and sulking about your impending eviction from urban life.
Ruin Porn
Bemoaned by citizens of struggling cities like Detroit and Youngstown, images of crumbling buildings have been overused by the media to illustrate the tough situations being faced by these cities -- images derisively referred to as "ruin porn". Make a statement about this manipulative reporting by dressing up as your own broken down, bruised personification of a hobbled city and, well, re-enacting porn. This will probably work much better in a city like Detroit -- and with a partner.
Traffic Calming
Stand on the side of the road and yell at cars to slow down. This is more of an act than a costume, but it's sure to make a positive impact on Halloween, America's most pedestrian-oriented holiday.
And if you think I'm the only person dorky enough to come up with urban planning costume ideas, let me introduce Planetizen Intern Emily Laetz, who offers these following ideas:
Greenbelt
Easily one of the cheapest/easiest options for those in need of a quick urban planning Halloween costume. Simply tie a thick strip of green material around your waist, and voila! Great success. And, this costume gives you full permission to glare at or verbally joust with any of your fellow planner friends who decide to dress up as
sprawl
this year.
Roundabout
Cut out a large cardboard circle to go around your middle.  Adhere fake (or real, depending on availability and your own ambition) flowers and plants to your torso and head.  I guarantee you SOMEBODY who gets and appreciates the costume (most likely a fellow planner-nerd) will have fun running circles around you at some point.
If you can round up four other individuals interested in being cool by wearing an urban planning Halloween costume you could make an inherently awesome 5 Lynchian elements of urban spatial organization (paths, edges, districts, nodes, and landmarks) a la Kevin Lynch's The Image of the City.  Creativity rules on this one, so go wild! Interpret it literally, figuratively, perhaps diagramatically.....You know you have always wanted to dress up as a node!
If for some reason you love dressing in monochrome outfits (think 1980's track suits, pajama onesies, etc.), or have one lying around the house, a greenfield or brownfield could make a great planner costume for you.
If you don't feel like dressing as a traffic cone, etc., be an urban planning celebrity... anyone with a blond bob hairstyle or wig and black rimmed glasses could make a great Jane Jacobs.  Or get weird and channel your inner Buckminster Fuller. I know you gentlemen are all are secretly dying to do this.
Indeed. Thanks, Emily!
If this all sounds like a bad idea now, it was an even better bad idea last year and the year before, so be sure to check out the first and second editions of this list to find many other guaranteed-to-get-you-laid urban planning costume ideas!
Update:
Reader Ned Russell from New York City ran with Emily's roundabout costume idea and sends in this picture. Well done, Ned!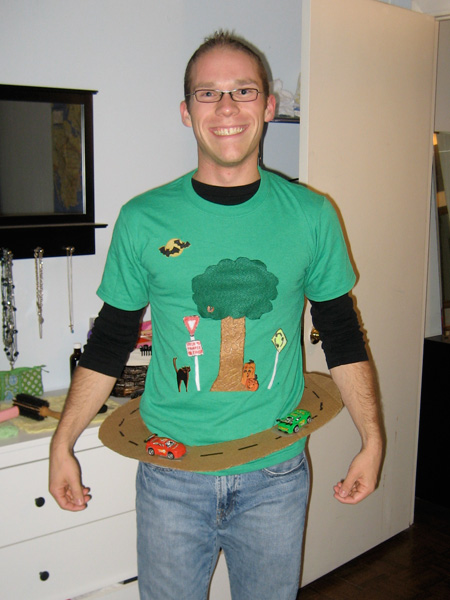 ---
The Right to Mobility
As we consider how to decarbonize transportation, preserving mobility, especially for lower- and middle-income people, must be a priority.
Early Sharrow Booster: 'I Was Wrong'
The lane marking was meant to raise awareness and instill shared respect among drivers and cyclists. But their inefficiency has led supporters to denounce sharrows, pushing instead for more robust bike infrastructure that truly protects riders.
This six-course series explores essential urban design concepts using open source software and equips planners with the tools they need to participate fully in the urban design process.
Learn the tools for implementing Universal Design in planning regulations.
View More