Yesterday's infrastructure can become tomorrow's agriculture, says Ed Harwood, by converting underused industrial warehouses and factories to hydroponic and aeroponic growing.
---
With more people than ever before moving to cities, the world is becoming increasingly urban. This is also true in the United States, where after decades of suburbanization, the tide has been reversed, and people are moving back into cities. However, as development patterns shift, some older areas are falling into disrepair.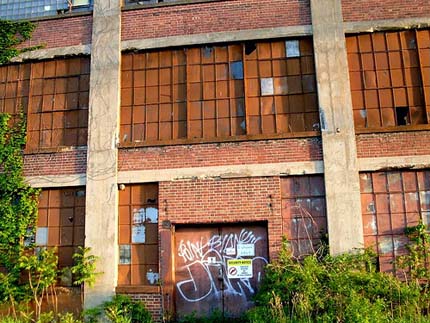 Decades of de-industrialization, the outsourcing of production and other changes in the global economy have decimated the industrial bases of countless mid-sized American cities. The current recession has only served to reinforce this trend, with cutbacks in municipal services and infrastructure projects taking their toll in cities which have not succeeded in attracting new businesses and residents.
In some extreme cases, cities are even considering razing entire districts. Flint, Michigan, for example, is looking at contracting its built environment by as much as 40% in order make municipal services more cost-effective. The US government has taken notice, and is thinking about how to apply Flint's model so some 50 or so "rust belt" cities in the Midwest and Northeastern USA.
Even in thriving cities, older industrial districts have fallen into disuse. While owners of former factories and warehouses continue to shell out for taxes and maintenance, their buildings have long ceased to serve their original purpose. In many places around the country, cities and building owners are looking for new uses to step in and revitalize these spaces.
While many possible solutions have been proposed to solve these problems, one stands out for its economic potential and common sense logic: urban agriculture.
Long discussed by environmentally-concerned designers and theorists, urban agriculture has moved beyond theory in recent years to become a viable and competitive option, providing fresh and healthy food without the added costs and externalities of long-distance transportation.
Imagine this: as the city's inhabited spaces contract, leaving behind half-built landscapes dotted with industrial buildings, urban farmers move in to fill the void. Working in partnership with the authorities, green-minded entrepreneurs convert enormous, unused built spaces into fertile and productive vertical farms. Within a short period of time, fresh produce, grown just outside of town, fills the farmers' markets and the supermarket shelves.
Vertical farms are not only an innovative and interesting potential solution to the holes in America's urban fabric, they are potentially a game-changer in a troubled food system.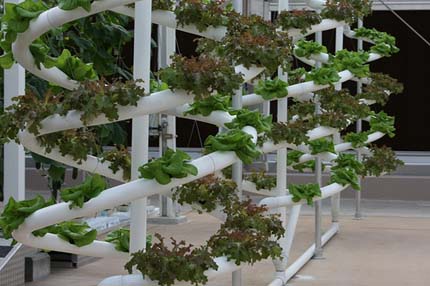 The Perfect Storm of Conventional Agriculture
Chronic food safety issues refuse to go away. Time Magazine recently listed "leafy greens" as one of the ten most dangerous foods in America. Contamination issues and recalls of leafy greens and other food crops have become worryingly common.
Pests and invasive species are also on the rise. Every year brings with it previously unseen nuisances in the form of insects and viruses with origins in other parts of the world. Meanwhile, familiar local pests are becoming resistant to commonly used pesticides and herbicides.
Agricultural work has become dirty, dangerous and difficult. As farm jobs become less and less attractive, farmers are forced to hire migrant labor, and pay ever more for it.
Environmental factors are also becoming increasingly significant. On average, food travels between 1,500 and 2,500 miles just to reach our plates. But with rising fuel costs and transportation-related pollution, such long supply lines are quickly losing their appeal to both producers and consumers.
Furthermore, climate change, already underway, is expected to cause an increase in traumatic weather events, such as floods and draughts. These are lethal to conventional agriculture. Land and water shortages also loom in many places; we aren't making more of either.
Urban agriculture presents solutions to all of these problems. By controlling environmental factors, food safety issues are resolved; growing plants indoors (sometimes even without soil, using methods like hydroponics and aeroponics) makes it harder for pests to settle in.
Urban farming creates healthier workplaces and more attractive jobs, as well as much-needed business opportunities for forward-thinking entrepreneurs, and its environmental credentials are solid, using less water and energy and producing vastly less pollution and carbon emissions than conventional agriculture.
The American economy is changing, and with it the urban landscape. American cities need to find new ways to revitalize themselves, and new methods for growing food closer to home. By reimaging unproductive infrastructure to create a new sustainable industry, urban agriculture could be the key to solving both of these problems at once.
---
Ed Harwood, Ph.D., is founder and CEO of AeroFarm Systems LLC. He previously served as Associate Director of Cornell Cooperative Extension for Agriculture and CEO of Topline Waikato, Inc. Ed has degrees in microbiology and animal science from Colorado State University and a Ph.D. in Dairy Science from the University of Wisconsin-Madison.
The Right to Mobility
As we consider how to decarbonize transportation, preserving mobility, especially for lower- and middle-income people, must be a priority.
This six-course series explores essential urban design concepts using open source software and equips planners with the tools they need to participate fully in the urban design process.
Learn the tools for implementing Universal Design in planning regulations.
View More