<p><img src="/files/u10085/ipad.jpg" alt="iPad" title="undefined" width="300" height="186" align="right" onmouseover="undefined" onmouseout="undefined" />Earlier this week I read a <a href="http://mitatlawrence.net/projects/classes/dusp-lawrence-practicum-2004/">report about creating a geographic data system</a> for a community group in Lawrence, Massachusetts. The document contained detailed technical documentation for how to use iPAQ handheld computers to collect geocoded data. Since the data was collected and managed in geographic information system (GIS) software, it required pages of technical instructions. This case seemed a prime example of how GIS tools missed the mark for planners who need to work with geographic data, but in a different way than technical analysts. The purpose of the project was to empower community youth to collect basic data, a task ill suited to software designed for data management by experts using hundreds of attributes and a fine degree of precision.<br /><br />One day later, I found myself reading Newsweek&#39;s <a href="http://www.newsweek.com/id/235565">cover story</a> about the iPad, which reported that Apple expects to sell hundreds of thousands of the sturdy, easy-to-use devices in the coming months. Could the iPad be used for planning? I have <a href="/node/40512">previously written</a> about the potential for the iPhone to augment city life. Since then the types of apps I described have only grown in popularity: navigation apps that use transit data, apps to report potholes or other issues to city officials, augmented reality apps providing information about your surroundings, and geographic networking and gaming like <a href="http://foursquare.com/">FourSquare</a>.<br />
---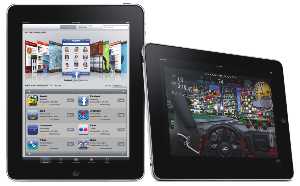 Earlier this week I read a report about creating a geographic data system for a community group in Lawrence, Massachusetts. The document contained detailed technical documentation for how to use iPAQ handheld computers to collect geocoded data. Since the data was collected and managed in geographic information system (GIS) software, it required pages of technical instructions. This case seemed a prime example of how GIS tools missed the mark for planners who need to work with geographic data, but in a different way than technical analysts. The purpose of the project was to empower community youth to collect basic data, a task ill suited to software designed for data management by experts using hundreds of attributes and a fine degree of precision.
One day later, I found myself reading Newsweek's cover story about the iPad, which reported that Apple expects to sell hundreds of thousands of the sturdy, easy-to-use devices in the coming months. Could the iPad be used for planning? I have previously written about the potential for the iPhone to augment city life. Since then the types of apps I described have only grown in popularity: navigation apps that use transit data, apps to report potholes or other issues to city officials, augmented reality apps providing information about your surroundings, and geographic networking and gaming like FourSquare.
The iPad shares the capabilities that make the iPhone so useful in urban contexts: it is highly mobile, location aware, and some iPads are 3G-connected. For planning, an important difference is the larger screen. Not only does it make it easier to record data in the field, it could be used to pull up renderings, images, and other data on the go. In a small meeting, the iPad could sit on the table allowing for the functionality of a touch table without the hassle and expense of the real thing. In short, it creates the potential for collaborative mobile computing with an easy-to-use yet technically sophisticated device.
Of course, much of the potential will be limited by the available software. The functions I am describing may not be sufficiently lucrative to attract developers, or seem too specialized for Apple to include in their store. Assuming that like the iPhone, the browser can query the device's location, one solution could be websites designed for planning purposes. Someday we could even see an city data portal, pulling up local property ownership, zoning, land use, permitting, and crime data as you walk down the street.
Then again, planners are often the first to point out that problems are rarely solved by technology, no matter how "magical" it is (to use Apple's term for the iPad). New devices only expend our toolkit for the hard work of good planning.
---
Planning for Congestion Relief
The third and final installment of Planetizen's examination of the role of the planning profession in both perpetuating and solving traffic congestion.
Urban Design, Transport, and Health
The Lancet medical journal published a series of articles that explore how to evaluate and guide urban planning decisions to create healthy and sustainable cities. Live long and prosper!
This six-course series explores essential urban design concepts using open source software and equips planners with the tools they need to participate fully in the urban design process.
This course aims to provide an introduction into Urban Design Sketching focused on how to hand draw master plans using a mix of colored markers.
View More