<p> A few weeks back, I had a meeting at the University of Southern California&#39;s campus. It was a moderately nice day by Los Angeles standards, which in other parts of the country would equate to the best day of the year weather-wise. As I walked among the brick buildings, I was impressed by the number of bicycles parked willy-nilly around the grounds. </p> <p> <img src="/files/u20704/cruisers_at_USC.gif" alt="Cruiser bikes on the USC Campus." title="Cruiser bikes on the USC Campus." width="301" height="226" /> </p>
---
A few weeks back, I had a meeting at the University of Southern California's campus. It was a moderately nice day by Los Angeles standards, which in other parts of the country would equate to the best day of the year weather-wise. As I walked among the brick buildings, I was impressed by the number of bicycles parked willy-nilly around the grounds.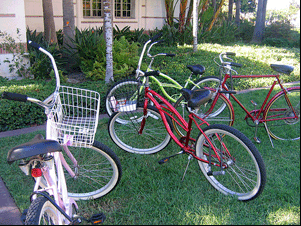 What impressed me even more as I kept walking was that these weren't just any bicycles, but a particular kind of bicycle: cruisers. Everywhere I looked, brightly-colored cruiser bikes were locked to poles, laying on the grass, or carrying their passenger to their next class. 
If you're not a cyclist, the obvious question here is, "What's a cruiser, and what difference does it make?" A "cruiser" is a classic bike style that is designed more for comfort than speed. The cyclist need not hunch uncomfortably over the handlebars, craning his or her neck up to see the way ahead. Big cushy seats and an upright posture make for more wind resistance, but a more pleasant ride. Cruisers are only really good for short commutes, but are also good
haulers with baskets and racks for saddlebags on many models (full disclosure: I ride a cruiser myself on my 4-mile commute to work).
For the last few decades, the cruiser all but disappeared as bikes became big business. Road bikes claimed the market, and you rarely saw someone biking who wasn't in full spandex. A revival of the cruiser began in the mid-90s as people began to reconsider biking as a transportation mode.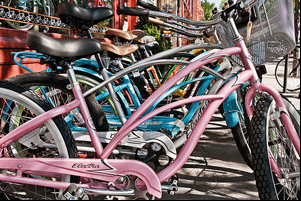 Which makes the explosion of bikes on campus an excellent omen. Cruisers are bicycles for everyday people who need to get from here to there, and don't see it as an aerobic activity or preparation for a triathalon. Granted, a college campus is always going to reflect different demographics and uses than your average work commuter. But if this many students are using cruisers to get around, I think we can expect a much wider acceptance in the near future of the bike as a way of getting from place to place. Cities are woefully underprepared, and need to seriously consider gearing up for the growing bike share in our communities.
---
San Francisco Just Ended Single-Family Zoning
The San Francisco Board of Supervisors voted to Tuesday to eliminate single-family zoning, but pro-development advocates say additional changes are needed to unleash a wave of construction.
This six-course series explores essential urban design concepts using open source software and equips planners with the tools they need to participate fully in the urban design process.
This course aims to provide an introduction into Urban Design Sketching focused on how to hand draw master plans using a mix of colored markers.
View More