<p> Urban planning is one of those things people don&#39;t realize they can relate to. Everybody understands cities, so why can&#39;t they understand how they are planned? Well, there&#39;s really no reason. Urban planners -- steeped in the inner workings of the urban world -- probably aren&#39;t the best to try to communicate this idea. So bring in the artists.<br /> <br />
---
Urban planning is one of those things people don't realize they can relate to. Everybody understands cities, so why can't they understand how they are planned? Well, there's really no reason. Urban planners -- steeped in the inner workings of the urban world -- probably aren't the best to try to communicate this idea. So bring in the artists.
Art has an incredible communicative power, especially in regards to concepts that are otherwise hard to verbalize or explain. In the world of urban planning, art could be a great way to improve public understanding  of projects, acceptance of new ideas, or simply to expand the idea of the city from a place to an evolving and interactive experience.
I'm no art historian, but I've seen my share. I enjoy a museum every now and again. I've visited various galleries and MOMAs. I've even been to the Louvre. (Fun fact: the 'R' is silent!) And in my daily scouring of the web for urban planning news, I've come across a handful of pieces that place a magnifying glass over the city, urban life and the development and use of land. Here are some of my favorites.
The first piece is actually a painting I saw at the Louvre, by Eustache Le Sueur ("Plan de l'Ancienne Chartreuse de Paris" ~1645). It depicts angels flying into Paris with a plan for a new fortress. The thought of a city plan being valued enough to be carried by angels may please some planners, but it's hard to imagine a plan being produced today worthy of such adoration...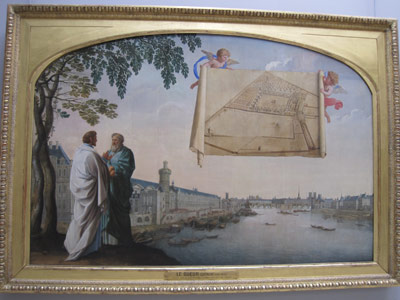 This piece from artist R. Crumb shows "A Short History of America" as it developed from an untouched woodland setting to a developed city. The final panel asks "What's next?"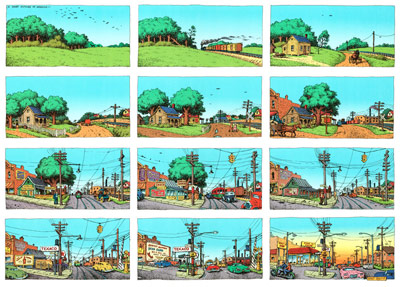 The artist later answered his question by adding an additional three panels that foresee the possible future: ecological disaster, a high-tech city of the future, and a return to a more 'ecotopian' way of life.
The artwork of Josh Keyes takes a post-people look at the intersection of urban areas and wildlife, imagining the re-use of urbanized, infrastructural spaces by the animals they've displaced.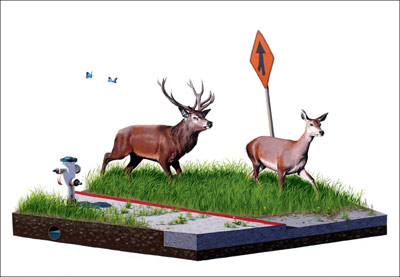 On a similar theme, the paintings of Don Simon splice animals into the unfortunate effects of urbanization, like "The Herd 2", which places buffalo into the bumper-to-bumper congestion of a typical freeway, or the self-explanatory "Cows on Garbage 2". Our friends at Grist recently interviewed the artist and posted this video on their site. Very cool. (Also check out Grist's just-published "Art in a changing climate" series for some more environment-related art.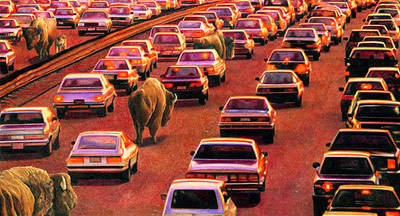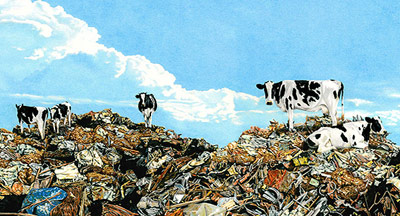 The works of painter Jeff Gillette take this theme further, focusing on the informal settlements and slum dwellings of the world and their relation to the heavily commercialized and indsutrialized "developed" world beyond.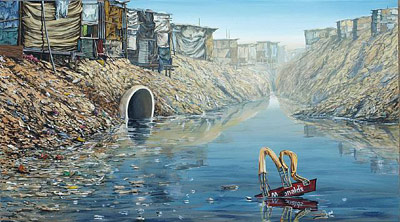 Urban graffitti is a well-documented realm that I'm not going to get into in this discussion, but I want to include a few graffitti-inspired pieces that imagine the facade of the city as a canvas.
The first is this projection by Jaybo AKA Monk, which simply blasts a piece onto a building.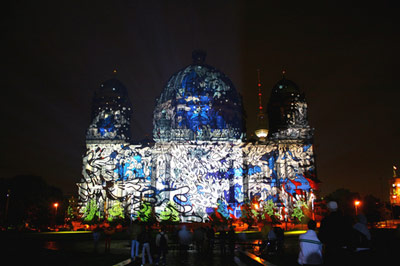 The second is this amazing projection display created by Apparati Effimeri for an Italian art festival. The project is really more of a binge of trip-out visuals than an urban statement, but still a great way to temporarily reuse public space.
And finally, here are a few pieces that simply take the city and give it a new aesthetic:
Shoe City
Read more about the shoe city at Gizmodo
Pizza City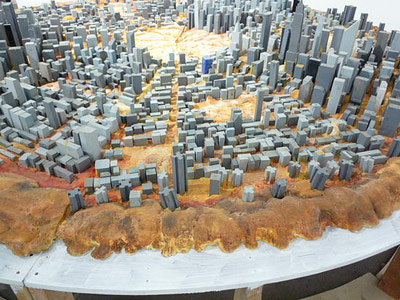 Read more about the pizza city at Art Fag City.
Paper City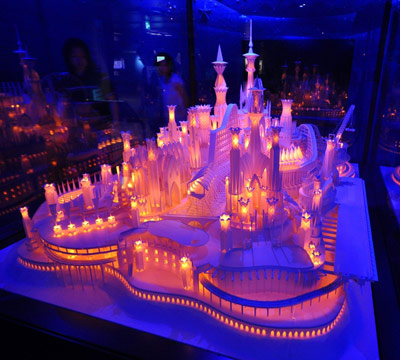 Read more about the paper city at Tokyobling.
You might have noticed I called this post "Art for Urban Planners - Part One". I don't have a Part Two -- not yet anyway. If you know of any other urban planning-related art, let me know. I'm certain it's out there, and sharing it could really help some of the underappreciated or overexploited urban places in the world.
---
How Sharrows Became Cycling's Most Hated Symbol
Originally designed as a low-cost way to encourage safer road sharing between bikes and cars, the sharrow has become a symbol of the lack of commitment to protected bike infrastructure in many cities.
Sports Stadiums Bring Few Economic Benefits
While their developers often tout jobs and local economic development as benefits of major stadium projects, research shows these venues often make little impact on local economies.
This six-course series explores essential urban design concepts using open source software and equips planners with the tools they need to participate fully in the urban design process.
This course aims to provide an introduction into Urban Design Sketching focused on how to hand draw master plans using a mix of colored markers.
View More