As technology becomes more an integral part of planning and public outreach around planning, the need for a "creative touch" becomes increasingly important. While technology can increase the quality and quantity of public input, it can also diminish the quality of human interaction and creativeness. As we look for technologies that engage citizens, we also need to find ways to utilize art materials, maps and other visuals, and encourage storytelling.<br />
---
As technology becomes more an integral part of planning and public outreach around planning, the need for a "creative touch" becomes increasingly important. While technology can increase the quality and quantity of public input, it can also diminish the quality of human interaction and creativeness. As we look for technologies that engage citizens, we also need to find ways to utilize art materials, maps and other visuals, and encourage storytelling.
In Routt County Colorado, as part of their Vision 2030 process, they used keypad polling and content management web technologies to collect ideas, let people identify what qualities of community character are most important and most threatened, and vote on the issues submitted to the larger group. At the public workshops, they also used photos and statements collected from students at the local school to inspire participants to share their own memories of living in Routt County. These two activities were critical in adding energy and excitement to the evening.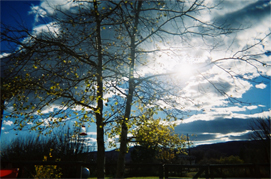 In preparation for the first activity, local schools engaged in an art project tied to the initiative. Students were given disposable cameras to take pictures of the things they like most in their community and to add statements. These images were then shown at the public workshops both as a PowerPoint and posted on a physical display in the room. The photos and statements reminded people why they are engaging in a conversation about the county's future – to sustain the elements of community they find important and to pursue activities that continue to build a sense of community for future generations.
The second activity involved going around the table and having people share their favorite memories of living in the valley. For those who were not shy to speak into a microphone, they used microphones attached to the computers at each table and collected stories digitally. In the end over 100 digital stories where collected.
Without these two activities they would have missed great stories and information about what makes a place special. As science and technology play a more prominent role in public gatherings, it is critical also to identify creative and artistic activities that balance the technical tools.
---
The Hyperloop's Prospects Dim
The media is coming around to the idea that the hyperloop is not a near-term solution for the country's transportation woes. It's too little, too obvious, too late.
The Great American Exodus: A Conservative's Perspective
During his keynote speech on September 11 at the National Conservatism Conference in Miami, Florida Governor Ron DeSantis describes the demographic shifts in America since he became governor in 2019 in what he calls the 'Great American Exodus.'
This six-course series explores essential urban design concepts using open source software and equips planners with the tools they need to participate fully in the urban design process.
This course aims to provide an introduction into Urban Design Sketching focused on how to hand draw master plans using a mix of colored markers.
View More