Best of the Worst in Planning for 2007
Keeping track of the weird things that occur in the planning and government world – from rules prohibiting screaming on amusement park rides to "green" cremation techniques – isn't really necessary. But someone should do it anyway.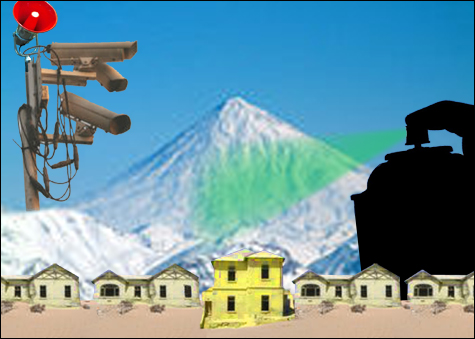 The "just add ice" argument to combat global warming
As an alternative to burial, cremation is no longer green enough, say some environmentalists, because it releases smoke and mercury into the atmosphere. The industry is considering "promession," in which the deceased's body is frozen in liquid nitrogen to minus-320 degrees Fahrenheit and then shaken until it disintegrates into powder.
Source: This is London
RIP (and GPS) in peace
For green burials, there are now at least six cemeteries in the United States that require biodegradable casings and for bodies to be free of embalming chemicals. One cemetery in California goes even further, banning grave markers. Instead, the owner indicates that families are issued a Google map with GPS coordinates so they can find their loved ones.
Source: Los Angeles Times, 10-28-07; Evening Standard (London), 10-10-07
Greenest envy
One recipient of Marin County (California) Green Business certificates for environmental awareness was Pleasures of the Heart, a sex-toy and lingerie store that sells (among other things) rechargeable vibrators and erotic undergarments made of organic bamboo fabric.
Source: Marin Independent Journal, 8-15-07
Just wait until the "gloss" vs. "semi-gloss" argument heats up
A New Jersey appeals court ruled against the town of Voorhees, which had waged a nearly three-year battle with a businessman because it disputed the shade of paint he had used on his restaurant. Town officials said it wasn't "sandy" (the required color for buildings in that particular shopping center), but rather "creamy yellow." The township spent $20,000 fighting for "sandy yellow" and the restauranteur spent $70,000 to show that "creamy yellow" matched the other buildings.
Source: Courier-Post (Cherry Hill), 3-22-07
Wait until town leaders in Voorhees, New Jersey hear about this one
In February, the government of a county in China decided to improve the "feng shui" (the harmony of the physical environment) for villagers near a mountain not by planting trees, but by spray-painting the mountainside green. According to an Associated Press reporter, an employee at the county "forestry" department declined to comment on the matter.
Source: Globe & Mail (Toronto)-AP, 2-14-07
Hey! Don't run on the sidewalk! And pick up that wrapper!
Great Britain has an estimated 4 million surveillance cameras monitoring public spaces. Recently, the government in one area announced that it will attach loudspeakers in 20 districts so that officials who monitor the locations can actually scold citizens who are spotted engaging in "antisocial" behavior.
Source: Agence France-Presse, 4-4-07
Next up, the "no eating in restaurants" rule
The Scandia Family Fun Center in Fairfield, California, operates a super thrill ride (168 feet high and spinning at 60 miles per hour). The ride is called "The Screamer." Because of neighborhood residents' noise complaints, riders are now prohibited from screaming, and are subject to ejection from the park.
Source: KOVR-TV (Sacramento), 3-31-07
Is this room stretching, or is it only your imagination?
In February, when housing officials in a German town ran out of small apartments for low-income residents, they decided to put them in quarters that were larger than regulations allowed. However, the officials made the residents close off some rooms to stay within the allotted space, and said inspectors would make regular visits to see that no one cheated.
Source: Reuters, 2-5-07
Most tourists probably don't think about the dangers of book reading when they're traveling
The local government's Tourist Information Center in Swindon, England, told author Mark Sutton that his World War I-themed book could not be sold in its bookstore unless Sutton demonstrated that he had liability insurance in case readers, for example, suffered paper cuts turning the pages.
Source: Evening Standard (London), 2-24-07
But isn't the goal to get away from the Mexican government?
In January, the Mexican government considered a proposal from its states' migrant assistance offices to hand out satellite-tracking devices to its citizens who plan to immigrate illegally to the United States, so that they could be located in case of an emergency after crossing the border.
Source: San Antonio Express-News, 1-5-07
Dial Nos. 1 and 2 for directory assistance
Officials governing a busy area in London proximate to the West End, Big Ben and the Houses of Parliament launched "Satlav," a toilet-finding service for cell phone users. Now, people in the area can text the word "toilet" and receive a text back with the address of the nearest public restroom. The system covers 40 public toilets. The council said it hopes the service will stop people from urinating in alleyways, saying that 4,500 litres of urine ends up in Westminster streets each year.
Source: CNN, 11-29-07
Rick Bishop, AICP, is the Executive Director of the Western Riverside Council of Governments (WRCOG).